Consistent experience across AWS and on-premises environments
Powering Customer Innovation
Real Estate

Zillow Transforms Real Estate Using AWS

Zillow helped bring the real estate industry online, then reinvented the home-search process using AWS Cloud. Using AWS, Zillow delivers accurate home data to buyers, sellers, and renters, allowing them to make informed decisions in fast-paced markets.

Learn More

Growing Demand for Speed and Scale

When Zillow created its home-valuation tool—Zestimate—nearly 15 years ago, it had to develop an on-premises machine learning framework to process an array of data. But, as its popularity and complexity grew, Zillow needed a better way to deliver Zestimates on nearly 100 million homes across the country.

Faster, More Dynamic Home Valuations

Zillow moved its Zestimate framework to AWS, giving it the speed and scale to deliver home valuations in near-real time. The more dynamic valuations better reflect both the unique features of each home and what's happening in the local housing market, so customers have the latest data as they explore the buying or selling process.


Reaching Customers at the Market's Pace

In hot housing markets, homes can go from listing to offer in just days. Zillow built AWS technologies into its infrastructure to quickly and reliably deliver hundreds of millions of emails each month, keeping customers apprised of the latest listings, home statuses, and more.

Media & Entertainment

Live Nation Entertainment Innovates Faster, Reduces Costs, and Improves Application Availability Using AWS

Learn how the world's leading live-entertainment company uses AWS Cloud to deliver improved experiences to its customers faster.

Learn More

Seeking a Better Customer Experience

Live Nation is the global leader in live entertainment that produces concerts, sells tickets, and connects brands to music. In 2016 Live Nation announced it was moving its global IT infrastructure to AWS in an effort to deliver better experiences to its customers.


An Easy Migration

The company moved 118 applications and 668 servers to AWS within 17 months without adding headcount or budget.


Business-Changing Benefits

By moving to AWS, Live Nation has moved from troubleshooting hardware to delivering on innovative ideas that serve its customers better. Since implementation, Live Nation realized a 58-percent reduction in total cost of ownership, supported 10 times as many projects with the same staff, and saw a 99-percent improvement in application availability.


Fitness

Peloton Powers Connected, At-Home Fitness Community Using AWS

Learn how the global interactive fitness platform is growing its business and serving its members better using AWS.

Learn More

Transforming Home Fitness

Peloton was founded in 2012 by a team of five people, and launched on Kickstarter in 2013. The company was born on AWS and delivered its first bike in 2014. In seven years, Peloton has grown to more than 1.4 million members who collectively have ridden hundreds of million of virtual miles.


Powering Communities at Scale

Peloton uses AWS to power the leaderboard in its live-streamed and on-demand fitness classes, and it requires high elasticity, low latency, and real-time processing to deliver customizable rider data for the community of more than 1.4 million members riding together from their homes.


Launching New Features to Serve Members Better

Using AWS, Peloton can quickly test and launch new features to improve the unique experience of home-based community fitness.


Healthcare

GE Healthcare Helps Detect Critical Conditions Faster Using Machine Learning on AWS

Learn how GE Healthcare uses Amazon SageMaker to build, train, and deploy machine-learning models that help radiologists identify health issues faced by people around the world.

Learn More

A Mission to Improve Lives

*510(k) pending at US FDA. Not available for sales in the United States.


Better Care Using Machine Learning

GE Healthcare uses AWS and Amazon SageMaker to ingest data, store data compliantly, orchestrate curation work across teams, and build machine-learning algorithms.


Better, Faster Models

GE Healthcare reduced the time to train its machine-learning models from days to hours, allowing it to deploy models more quickly and continually improve patient care.


Gaming

Epic Games Uses AWS to Power Worldwide Game Fortnite


Learn how Epic Games uses AWS to deliver Fortnite to more than 200 million players around the world.


Learn More

Building a Foundation on the Cloud

Epic Games has been using AWS since 2012 and is now all in on the AWS Cloud, running its worldwide game-server fleet, backend platform systems, databases, websites, analytics pipeline, and processing systems on AWS.


An Overnight Sensation

In 2017, Epic Games launched Fortnite, a cross-platform, multiplayer game that became an overnight sensation. In its first year, Fortnite's user base grew by more than 100 times to 200 million players worldwide.


Pushing the Boundaries of Scale

AWS is integral to the success of Fortnite. Using AWS, Epic Games hosts in-game events with hundreds of millions of invited users without worrying about capacity, ingests 125 million events per minute into its analytics pipeline, and handles data-warehouse growth of more than 5 PB per month.


Providing the Best Gaming Experience

Using AWS, Epic Games is always improving the experience of its players and offering new, exciting games and game elements. The company plans to expand its use of AWS services in the future, including machine learning and containerized services.


Logistics

Matson Operates Its Global Shipping and Logistics Businesses on AWS

Learn how Matson is using AWS to drive innovation and world-class customer service, while achieving operational reliability, security, and infrastructure cost savings.

Learn More

Real-Time Container Tracking

Matson built a flagship mobile application for global container tracking that allows customers to perform real-time tracking of their freight shipments. Other valuable features in the application include interactive vessel schedule searching, location-based port map lookups, and live gate-camera feeds.

Mobile Device Access

All mobile devices access AWS via Amazon API Gateway. This provides highly available edge located endpoints for access into resources within Matson's existing virtual private clouds.

Serverless Computing

The AWS Lambda functions are designed using the microservices pattern and are modeled around specific ocean-based business contexts, such as shipment tracking and vessel schedules.

Database Configuration and Storage

Amazon DynamoDB manages configuration as well as user-feedback configuration and user-feedback notifications sent from mobile devices. DynamoDB Streams provides real-time notifications to Matson's customer service team.

Data Monitoring and Alerts

Matson's customers rely on accurate, up-to-the-minute container tracking and vessel status information. Monitoring and alerting of system events is achieved by using Amazon CloudWatch, Amazon SNS, Amazon SES, AWS Lambda, and CloudWatch Logs.

End-to-End Serverless Application

Matson can now offer customers an end-to-end serverless application to help track their shipments, and has no infrastructure to maintain.

Energy

BP Improves Effectiveness and Gains Cost Agility and Speed for Its Critical Business Apps

See how BP simplified and modernized its suite of SAP applications, improving user experience while gaining cost agility and enhanced performance.

Learn More

Managing Critical Business Apps

BP's IT organization manages SAP applications used by thousands of employees worldwide for supply chain, procurement, finance, and more.

Improving Speed & Cost Agility

To improve speed and gain cost agility, BP used Amazon EC2 to migrate these core business apps to the cloud. In addition, the team built EC2 X1 instances to increase scale and to power their real-time analytics.

Increasing Performance

The team can now stand up systems on demand in hours instead of weeks or months. BP is seeing performance increases across the board, including a 40 percent speed improvement for the Lubricants ERP system.

Securing Data
Find. Buy. Deploy.
AWS Marketplace is a digital catalog with thousands of software listings from independent software vendors that make it easy to find, test, buy, and deploy software that runs on AWS.
Learn More
Engineered for the Most Demanding Requirements
Learn How Our Customers Build on AWS
Global Network of AWS Regions
The AWS Cloud spans 76 Availability Zones within 24 geographic regions around the world, with announced plans for nine more Availability Zones and three more AWS Regions in Indonesia, Japan, and Spain.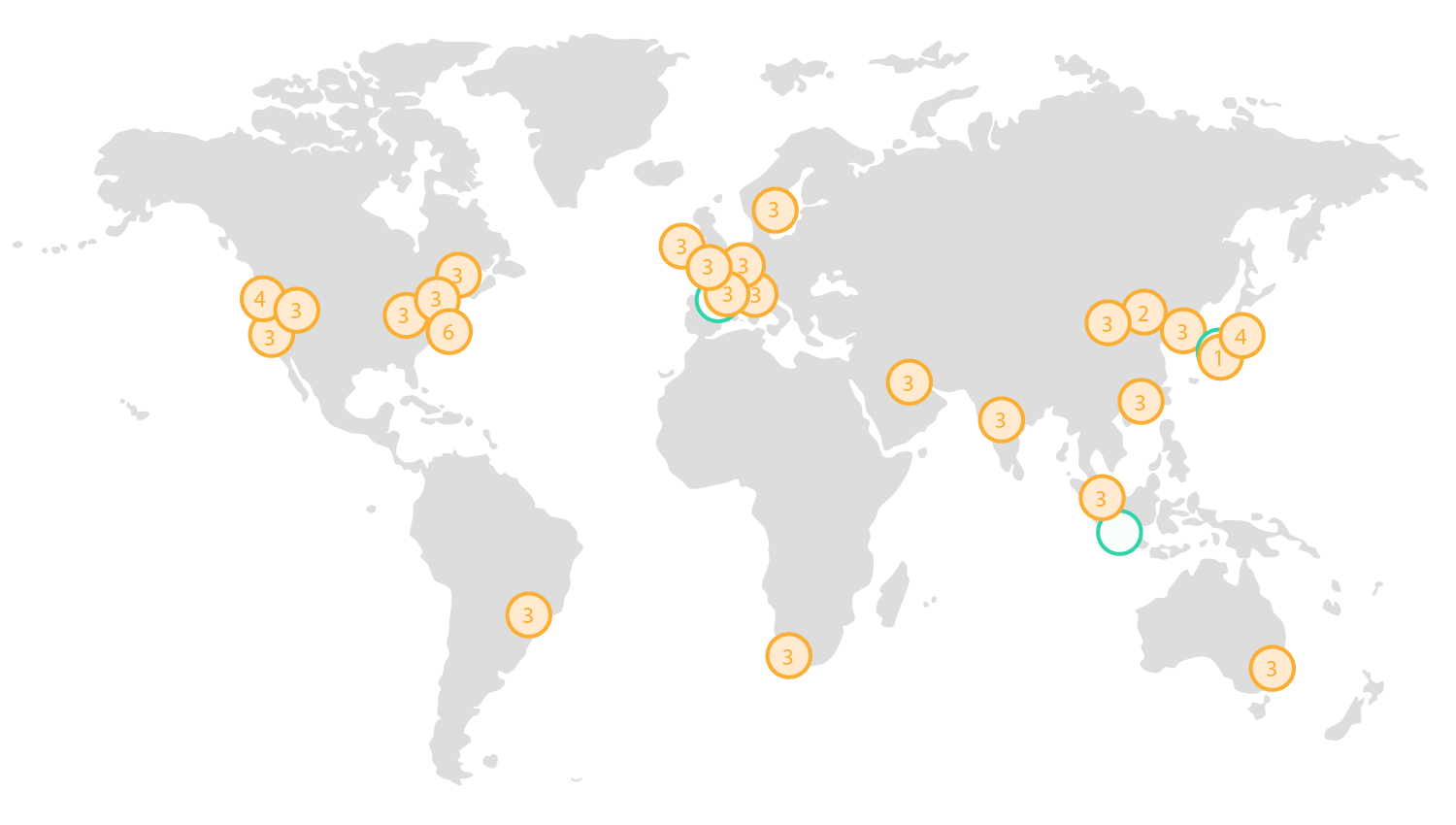 Regions & Number of Availability Zones
US East
N. Virginia (6), Ohio (3)
US West
N. California (3), Oregon (4)
Asia Pacific
Mumbai (3), Seoul (3), Singapore (3), Sydney (3), Tokyo (4), Osaka-Local (1), Hong Kong SAR (3)
Canada
Central (3)
South America
São Paulo (3)
Mainland China
Beijing (2), Ningxia (3)
Europe
Frankfurt (3), Ireland (3), London (3), Milan (3), Paris (3), Stockholm (3)
GovCloud (US)
US-East (3), US-West (3)
Middle East
Bahrain (3)
Africa
Cape Town (3)


New Regions (Coming Soon)
Learn More