Amazon S3 POST Support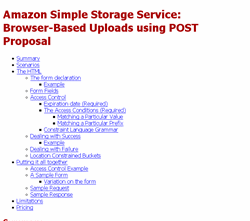 The Amazon S3 team is looking for feedback on their proposal to support browser-based file uploads. This feature will allow developers to build web-based applications which support upload of local files to Amazon S3 without the need for an intermediate server.
If you are interested in helping to shape the definition this feature, you should definitely read the proposal and then visit this thread to let them know what you think.
— Jeff;