The AWS Solution Providers Program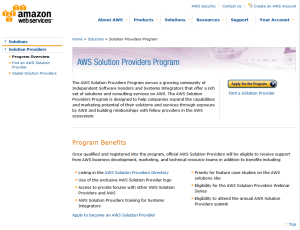 Our new AWS Solution Providers Program is designed for Independent Software Vendors and Systems Integrators with an offering built on AWS.
Among other benefits, official AWS Solution Providers are listed in the AWS Solution Providers Directory, have exclusive access to the AWS Solution Provider logo, and receive specialized Systems Integrator training. They receive priority for case studies and are eligible to participate in a webinar series.
We've already put together case studies for a number of solution providers including Appirio (ASCAP), AiCache (Woot.com), Cirrhus9 (Ehabhi), CloudAngels (imageloop.com), Cycle Computing (Varian), directthought (Xerox), Eton Digital (StudentBox), InstallFree (Global Data Systems), Model Metrics (Salesforce.com), Moonwalk (Stanford University), Peritor (Mein Prof), SOASTA (Intuit), and Zeba Consulting (Spot-On).
The application process starts here. If you are providing software or services to the AWS community, please feel free to apply today.
— Jeff;