WebServius – Monetization System for Data Vendors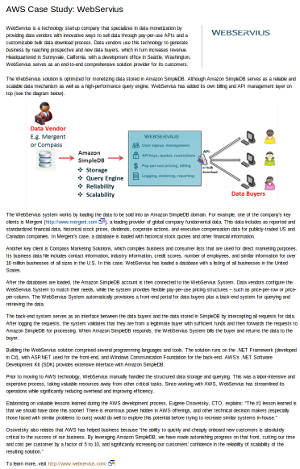 Do you own the rights to some interesting structured or semi-structured data? If so, you may find AWS-powered WebServius to be of interest. They make it easy for you to monetize your data by providing you the ability to sell access via pay-per-use data access APIs and a bulk download process.
Their system is optimized for use with data stored in Amazon SimpleDB. WebServius handles each aspect of monetization process including developer signup, API key management, usage metering, quote enforcement, usage-based pricing, and billing. In short, all of the messy and somewhat mundane details that you must address before you can start making money from you data. You can access the data in three forms (normal and simplified XML formats or JSON).
As a data vendor you have a lot of flexibility with your pricing. You can price your data per row and/or by column. WebServius offers a free plan for low-traffic (up to 50 subscribers or 10,000 calls to the access APIs, rate-limited to 5 calls per second) access and several usage and revenue-based pricing plans for higher traffic and/or paid access to data.
You can see WebServius in action at several sites including Mergent (historical securities pricing, company fundamentals and executives, annual reports, and corporate actions and dividends), Retailigence (retail intelligence and product data), and Compass Marketing Solutions (rich data on over 16 million business establishments in the US).
You can read more at the WebServius site or in our new WebServius case study.
— Jeff;