Build private skills for Alexa for Business organizations using the new Alexa Skills Kit developer console
We're excited to announce that the redesigned Alexa Skills Kit (ASK) developer console allows you to publish and distribute Alexa for Business private skills as a developer.
Previously, you needed to download and use the Alexa Skills Kit (ASK) Command Line Interface (CLI) to submit and distribute private skills. For a description of the process, check out Akersh Srivastava's post, How to Build Private Alexa Skills with Alexa for Business.
Many developers have told us that because they were already using the console for the development of public skills, they would prefer that same experience to build and publish private skills. Amazon has now launched a new version of the ASK developer console that supports the creation and distribution of private skills directly, without needing to use the ASK CLI.
Okay, so what's a private skill?
An Alexa skill can be thought of as an application powered by voice. A request such as, "Alexa, tell Pizza Now to start my order" launches a specific skill. In this case, the skill is to order a delicious meal that will make you happy and cause you to consume far more calories than you probably should. Imagine that a company called "Leaning Flour of Pizza," with many franchises around the country, builds and launches a pizza ordering skill, "Pizza Now". They want their skill to be available to every Alexa user. Therefore they want a public skill that can be found in the Alexa Skills Store.
Now imagine that Leaning Flour of Pizza wants to give each of their local store managers the ability to quickly check how many pizzas have been ordered, or to query the remaining inventory levels within their store. Although they could accomplish this via desktop or mobile applications, they can provide intuitive, voice-powered access to their data by creating an Alexa skill: "Alexa, ask Pizza Report what ingredients the Bakersfield store is low on." In this case, however, the information isn't relevant to the public. It's information to which only their store managers need quick access. Therefore, they make it a private skill that is only available to employees of their company.
Alexa for Business private skills allow companies to build custom skills for their business and make them available only to their organization, without the need to certify or to have the skill publically available on the Alexa Skills store.
Great! What's Alexa for Business?
Alexa for Business is an AWS service that allows customers to harness the power of Alexa for use in their organizations. It provides companies with a way to manage Alexa devices and functionality, and adds conferencing and built-in productivity capabilities. Private skills, described above, allow companies to create functionality specific to their use cases and systems.
Got it… now back to the console
You can use the new ASK developer console to get access to an enhanced skill building experience, and create and distribute your private skills without ever leaving the console.
Here's how that works.
Walkthrough of the new console's private skill features
For more information about submitting and distributing private skills via the new developer console, see Create and Publish Private Skills (Developer Console).
Getting to the new console
You can access the new console at:
https://developer.amazon.com/alexa/console/ask.
You may notice a couple of interesting changes immediately. Color-coded dots tell you if you're looking at a skill in the "Development" or "Live" stage. If you have any private skills that are already in the Live stage, you see a link called Manage Access. That link takes you to a section to distribute your skill to Alexa for Business organizations. I explain more about that later in this post.
Touring the creation of a private skill
To create a new Alexa skill via the console, choose Create Skill, provide a name, and then choose Next, Custom, and Create Skill.
On the top navigation bar, choose Launch.
On the left navigation pane, choose Availability. This is where you specify that you want your skill to remain private and to not publish it to the Alexa Skills store.
For Who should have access to this skill?, choose Alexa for Business Organizations.
After you've saved this and filled out the rest of your skill information, submit the skill by choosing Submission, Submit for Review. When you specify your invocation name, ensure that it matches the examples in your language locale on the Preview pane. Also ensure that your examples start with "Alexa," using a capital "A".
Private skills don't get published to the Alexa Skills store. However, it may take up to two hours for the skill to be marked as LIVE after submission.
Distributing your private skill to Alexa for Business organizations
On the skills list page, choose Your Alexa Consoles, Skills.
After your skill has reached the Live stage (shown by the word "Live" next to a small green dot), choose Manage Access.
To distribute your skill for Alexa for Business organizations, specify each organization's Alexa for Business identifier, or Amazon Resource Number (ARN), one at a time. You could also put them in a CSV-formatted list. A CSV may be useful if you develop common private skills to be accessed by a large number of companies or business units with separate Alexa for Business organizations.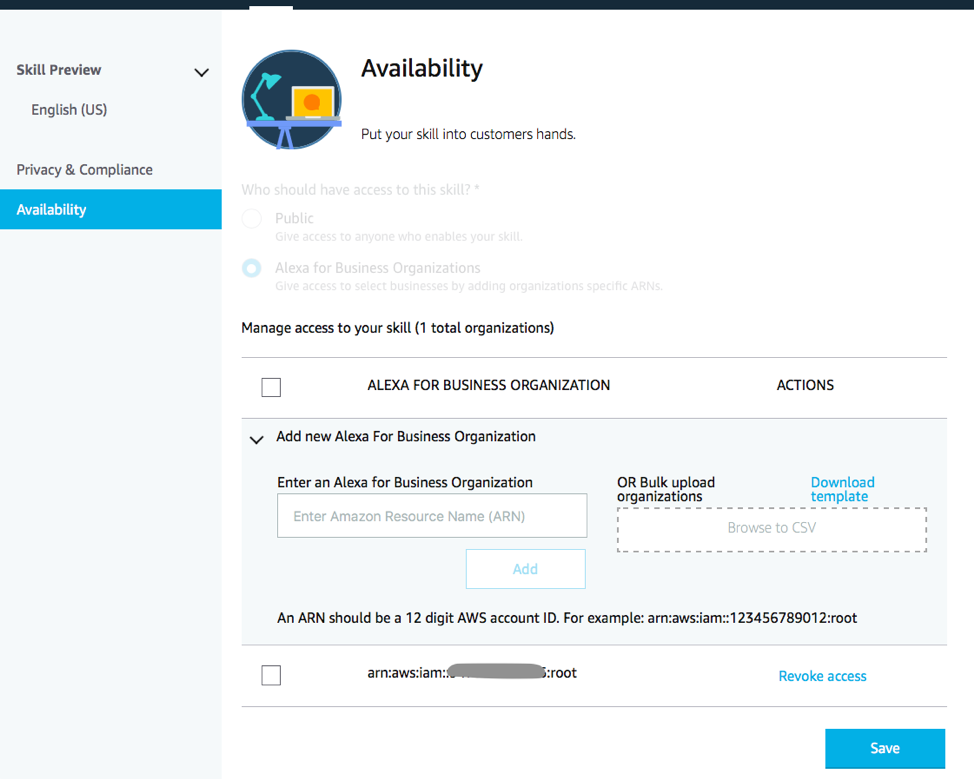 Tip: The AWS account ID should match the one shown in your company's Alexa for Business organization AWS console, under Skills | Private Skills | Show IAM ARN.
Choose Save and that's it! Your Alexa for Business IT admins can now go into the AWS Management Console to review, enable, and manage access to your skill.
Wrap up
With the new capabilities in the redesigned ASK developer console, you can submit and distribute your Alexa for Business private skills without using the ASK CLI.
If you're new to Alexa for Business, check out these links:
Let us know how things go. We're interested in hearing your experiences and use cases for private skills, in the Alexa for Business forums!