Solving the UTL_FILE conundrum in Amazon RDS for Oracle
A common technique for transferring files between a database and various application servers is to use the Oracle feature UTL_FILE. This approach allows client servers to copy files into and then read files from a POSIX-compliant directory. It also allows the database to write to and read from those same files by using PL/SQL routines.
However, there's a challenge to this type of file transfer when moving Oracle databases into Amazon RDS During the move, the database can continue to read and write files to a POSIX-compliant directory. However, these directories are not exposed to external systems, thus preventing external systems from accessing them. For a lot of organizations, this issue blocks their adopting Amazon RDS for Oracle.
This blog post takes you through the process of solving this problem. It solves the problem by integrating an Oracle RDS instance with an Amazon S3 bucket using Oracle PL/SQL routines. This provides an external file transfer mechanism like the functionality that is currently provided by UTL_FILE.
This blog post only deals with the process of modifying an Amazon RDS for Oracle instance. You can find additional reference information in the following documentation topics. These take you through the process of creating an RDS for Oracle instance and gaining access to that instance:
You can also find reference information in the following documentation topic, which takes you through the process of creating an S3 bucket with which to test this process:
In all cases, the S3 bucket and Oracle instances are private to the Amazon VPC. Public access is not required for this solution.
Prerequisites
You need to fulfill five prerequisites before you can create an S3 interface into RDS for Oracle, as listed following.
This blog post does not describe how to perform these steps.
You need an S3 environment with a suitable bucket. This should be a private bucket, not a public bucket.
You need a mechanism for copying files into and out of an S3 bucket. AWS CLI is the easiest way to do this.
You need an Amazon RDS for Oracle instance:

This instance must be at least Oracle 12cR1.
The instance must be associated with an option group that contains the APEX options.
The database can be Standard Edition, which allows the license-inclusive model to be used.

You need an external environment that can connect to the Amazon RDS for Oracle instance.

Oracle Instant Client is the easiest way to achieve this. If you are using Oracle Instant Client, you need the following components:

basic
sqlplus
tools
jdbc
odbc
sdk

Optionally, you need a full Oracle 12c client environment so that you can create the necessary Oracle Wallet. If this is not possible, the code included with this blog does include a pre-created wallet that can be used for this purpose.
Start with a simple file copy in a traditional database
This section is here for completeness only and demonstrates a simple UTL_FILE routine running in a traditional database. It is this routine that we plan to replicate in RDS for Oracle.
Feel free to carry out these commands yourself. It's not necessary to complete the solution exactly as detailed in this blog post.
In all of these examples I use the database user mike, and for simplicity's sake I have granted DBA to this user.
The first step is to create a directory to use.
Then run some simple code to populate a file in that directory.
This is a simple version of the process that many customers use. This process is difficult to replicate in RDS for Oracle because of the security in RDS environments. This security prevents access to the underlying infrastructure.
This is the example code we are going to use to perform a file transfer in RDS.
Create an APEX option group
Before creating a database, you need to create the option group that we are going to use. I have found that it helps to include the VPC, option, and database version in your naming convention.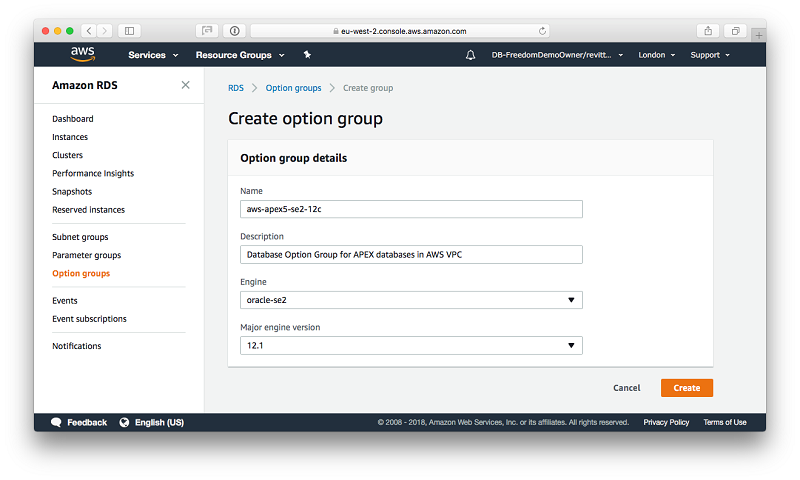 Add APEX options
The only option that is required is the APEX option; you don't need APEX-DEV. However, I recommend that you select the most recent version, currently 5.1.4 v1.
Create an RDS for Oracle instance
For the purposes of this blog post, I am creating an Oracle Standard Edition Two instance, which is available through the RDS Free Usage Tier.
You must create an Oracle 12.1 database, because the solution in this blog post requires SHA2 encryption.
Give your database a name. I used the name file-test for this blog post.
Note: The master username is akin to the SYS password in a traditional database. My recommendation is to set a standard for this and stick to it.
Set your database options. I accepted the defaults for this, except for the option group, where you need to select the group you created earlier that contains the APEX options.
After your database has created, record the endpoint and use it to connect to your database from a bastion host. Alternatively, you can create your database with public access, but I don't recommend this.
Edit your tnsnames.ora file to add a suitable entry for the database you have just created. My database is called file-test, as is the tnsnames entry.
Test your UTL_FILE code with your RDS for Oracle database
The first step is to create a directory to use. In all tests, I am using the admin user that was specified when the database was created.
Note: Be aware of the change in syntax for RDS for Oracle.
Then run some simple code to populate a file in that directory. This is the same code that we used previously in the traditional database.
The problem now is that while the PL/SQL code has run perfectly, how do I see the contents for the file I have just created?
Write the files to an S3 bucket
The solution to this conundrum is to copy the files that have been created by using the UTL_FILE routines to an S3 bucket, which can then be accessed from any external system.
Create an Oracle directory
First create an Oracle directory to store the Oracle Wallet that is required for S3 access. Then extract the directory name that has been created for later use.
Download and update the Amazon S3 package
Then you need to download the necessary AWS_RDS_TO_S3_PKG code, located in this AWS GitHub repository.
After it's downloaded, you need to modify the environment-specific variables in the Amazon S3 package to work against your environment.
In an editor of your choice, edit the package body script AWS_RDS_TO_S3_PKG.pkb and search for the following strings.
Note: You can set all of these values at runtime by using the AWS_RDS_TO_S3_PKG if necessary, with the exception of the wallet path.
The access key and secret key are the security credentials for an AWS Identity and Access Management (IAM) user. This IAM user has programmatic access for the S3 bucket into which we are going to write the files.
The AWS Region is where the S3 bucket is located.
The time zone shouldn't need to be changed, but you can adjust it to your AWS Region if required.
The wallet password is the password for the wallet in GitHub. If you plan to use your own wallet, then this password also needs to be changed.
The wallet path is created when you create the Oracle directory. Use the output of the command that was used to create the directory previously.
Create database access control lists (ACLs)
Before your database can successfully communicate with an S3 bucket, you have to open up the database firewall to allow access. You can do this by using the database ACL administration command.
Note: Access is granted to the owner of the APEX package rather than the owner of the database package that we are creating here.
Note: You also have to create the necessary corresponding AWS network security groups and network ACLs in your VPC environment.