Presentations from the AWS NYC Media & Entertainment Symposium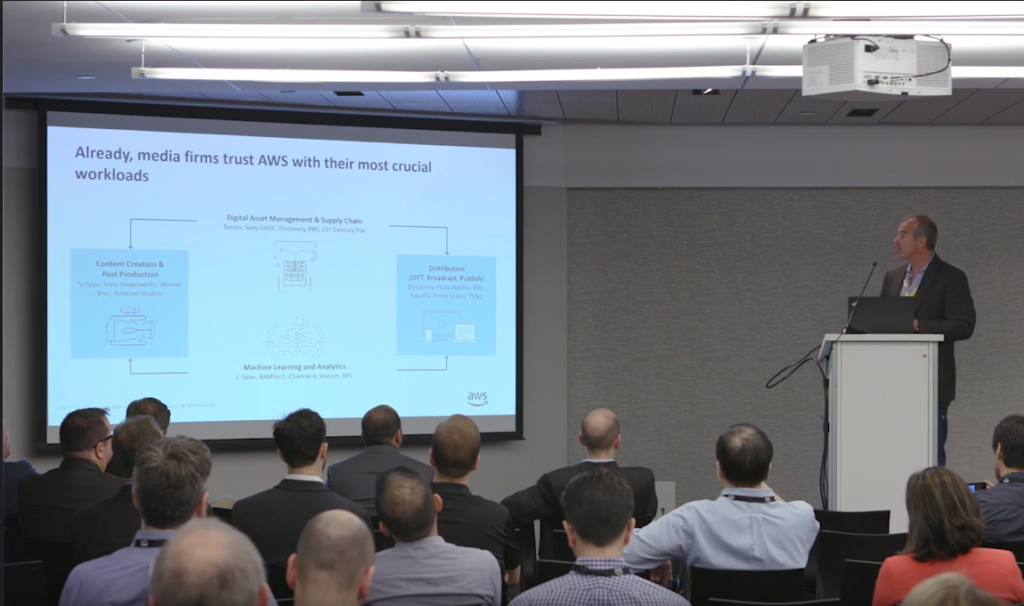 If you were unable to join our M&E Symposium on May 15, 2018 in NYC, fear not! Recordings from the presentations and slide decks are now available for viewing:
Welcome: State of Media Today and What's New From AWS
Ben Masek – AWS M&E Worldwide BD Lead
Usman Shakeel – AWS M&E Worldwide Tech Lead
Click here to view presentation
Keynote: Enhancing the Viewer Experience with Machine Learning: GrayMeta and the Sky News "Royal Wedding: Who's Who" App
With the power of machine learning, the Sky News "Royal Wedding: Who's Who" app – built in collaboration with AWS, GrayMeta, and UI Centric – will allow viewers to watch real-time updates of celebrity wedding guests as they enter St. George Chapel on May 19. This exciting Keynote will cover how GrayMeta is leveraging Amazon Rekognition for real-time identification of guests and tagging with related information. You will also learn how Sky is using AWS Elemental Media Services for live video capture and multiscreen viewing optimization as well as Amazon CloudFront to unify the content for rapid distribution to viewers.
Josh Wiggins – Chief Commercial Officer, GrayMeta
Click here to view presentation
Track 1: Content Personalization and Monetization
How uCast is using AWS Media Services and the Power of the Cloud to Deliver Global Live Events
Live streaming in sports and music continues to increase double digits' year over year. Both industries are challenged with complex rights management, scale at cost, worldwide distribution and monetization business models. In this session, learn how uCast's platform automates what were previously difficult to execute and cost prohibited video operations unsustainable for premium video brands. uCast with AWS services solves these challenges while creating broadcast grade video quality, personalization of content, geo & rights management while streaming thousands of live events each year.
Brian Lisi – CTO, uCast
Click here to view presentation
Going Global: How VICELAND Accelerated Channel Launches Around the World with Amagi and AWS
VICELAND wanted to launch new feeds to multiple zones such as New Zealand, Africa, Belgium, The Netherlands, and Wallonia. The team had set and aggressive timeline to launch the feeds and wanted to centrally control channels from their centralized London hub. Additionally, VICELAND was searching for an automated, OTT-ready solution that could help them with future expansion. In partnership with Amagi, VICELAND deployed edge playout-based solution to move content, and commercials from multiple sources to AWS cloud. Advanced automation of graphics and MAM integration for publishing and compliance allowed VICELAND to run multiple localized feeds centrally, without deploying a large workforce.
Srinivasan KA – Amagi Co-founder
Click here to view presentation
Personalization at Scale with AI
Learn how Accedo clients use Rekognition to drive large-scale personalization of the viewer experience through personalized merchandising.
Mano Kulasingam – Co-Founder & SVP Products, Accedo
Click here to view presentation
Track 2: Distribution – OTT and Digital Publishing
Optimized Media Management in the Cloud: Automating Digital Media Workflows
Digital publishers face a difficult task when looking to provide optimal delivery of visual media to subscribers. Massive media libraries must be optimized for viewing across a variety of different devices, browsers, screen sizes, networks and formats creating a virtual nightmare for developers tasked with managing the workflow of these assets. In this presentation, we will discuss how Complex integrated a scalable, cloud-based, image and video management solution into their existing editorial workflows to deliver optimized, fast loading and responsive content to their end users while reducing their development time to near zero.
Gary Ballabio – Head of Strategic Alliances, Cloudinary
Aleksey Baksheyey – CTO, Complex
Click here to listen to the audio (video not available)
Building the Content Management System of the Future on AWS
Arc Publishing by the Washington Post is a content management system that incorporates the scale, flexibility, monetization tools, and ease of use necessary for digital publishing in a multi-device world. In this session, learn how the Washington Post team leveraged AWS services like Kinesis, Lambda, and ElastiCache to develop a SaaS platform that now reaches 400MM Monthly Unique Visitors.
Clancy Ryan – Vice President of Sales, Arc Publishing
Zach Perry – Head of Platform Engineering, Arc Publishing
Click here to listen to the audio (video not available)
Cloud Automation and Machine learning: A selection of real world case studies on the benefits
Three years ago Support Partners and Dalet modernised a multi-national, fast-turnaround New's infrastructure, moving large parts of it into the AWS cloud. We look back on the project to get an understanding of the key financial and operational benefits that a cloud based automated workflow brought them. We will also look forward, using project examples, to understand what new benefits Machine Learning is bringing to our customers and the media industry as a whole.
Arnaud Elnecave – VP Marketing, Dalet Digital Media Systems
Click here to listen to the audio (video not available)