Migrate so you can modernize faster
Migrating from older on-premises environments to the modern cloud represents a unique opportunity to advance not just the efficiency of application infrastructures, but of the business itself. From liberating IT resources to enabling greater agility, the value of running applications in the cloud is too compelling to ignore.

Modern business starts here
Download "Strategies for Accelerating Migration on AWS" to identify approaches for your organization.
Read eBook
Realizing Business Value with the AWS Cloud Value Framework
Learn 4 ways that AWS helps your business

Get the whitepaper
7 LESSONS TO MAKE YOUR CLOUD ADOPTION PLAN A REALITY
Capture more opportunities on the cloud

Learn more
Migrating your applications is just the beginning
Unleash IT resources
Free-up your IT budgets and staff from the constraints of legacy infrastructure. Save costs and empower your teams to focus on delivering value with the most innovative cloud platform.
Boost availability and security
With AWS you get highest level of reliability and the largest global footprint in the market, and security that meets the requirements of the most risk-sensitive organizations in the world.
Supercharge applications
AWS customers achieve peak application performance and availability through the most advanced global infrastructure and the deepest options for compute, storage, and networking.
Respond rapidly to change
Quickly add new features to stay ahead of changing markets. Migrating to AWS means leveraging the latest technology to innovate, differentiate, and deliver solutions that transform your business.
Rethinking application performance
Get the most out of your enterprise applications
SAP, Oracle, and Windows SQL Server applications are at the core of today's mission-critical enterprise operations. Maintaining the performance and availability of these applications within on-premises infrastructures is time-consuming and expensive, particularly with new software releases and rapid changes in user demand. Check out the Workload Migration Evaluator to learn the advantages of migrating your applications from an on-premises environment to AWS.

---
Windows on AWS
Customers have been running Windows workloads on AWS for over a decade, helping them reduce costs by right-sizing compute and storage, and simplifying license use. We run nearly 2x more Windows Server instances than the next largest cloud provider, according to an IDC report. Our experience running Windows applications has earned our customers' trust and the number of AWS enterprise customers using Amazon EC2 for Windows Server has grown 5x since 2015.

SAP on AWS
By running their SAP application workloads on AWS, thousands of companies are moving more rapidly and operating more securely, all while optimizing the performance and value of their SAP investments. AWS helps improve operational and cost efficiencies, while eliminating the barriers to successfully integrating your SAP workloads with emerging technologies.
Learn More
Oracle on AWS
For Oracle customers, including those running RAC workloads, AWS enables IT and Ops teams to leverage existing skills while protecting technology investments. Quickly, confidently scale capacity (up or down) without change or friction as you enable virtualized, low-latency workloads with access to native AWS services.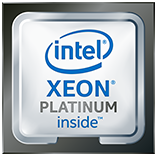 The performance of AWS, powered by Intel
When AWS customers require breakthrough speed and capabilities from their applications, they rely on the industry leading performance of Intel Xeon Scalable processors. The powerful combination of Intel-based hardware and AWS-enabled software provides for significantly improved performance from less power, easier compliance, and a dramatic reduction in total cost of ownership.

Application migration in the real world
Yes, you really can reduce migration complexity
AWS understands the challenges of cloud migration. Our proven processes and tools are built on our decade of application migrations. IDC calls it "a holistic approach…that has evolved over time to include an impressive set of features." From creating your migration business case through migration planning and execution, AWS delivers simplicity and support at every step.

IDC, Cloud Success: Migrate with a Plan to Mature, Doc # US44883619, March 2019

Learn more
No, you don't have to give up your VMware tools and skills
VMware Cloud on AWS is an integrated offering jointly developed by AWS and VMware. It delivers a secure, highly scalable service that allows for seamless migration of VMware vSphere-based on-premises environments to AWS. Use the same tools and management capabilities you are using today, and keep the same VMware provisioning, storage, and lifecycle policies. Our cloud is your cloud.

Learn more
Maybe going deeper and building AWS cloud skills is a priority
Your staff has an existing wealth of knowledge that you need to make your cloud journey successful. But, they may not have all the skills they need to make the most of the cloud. AWS Training and Certification can help your employees leverage the fundamental IT skills they already have to deepen their cloud expertise. Our hundreds of free digital courses can help your team build new cloud skills and learn about the latest services, when and where it's convenient

Learn more