Laurel Pauling never imagined that her journey at Amazon Web Services (AWS) would take her from intern to manager in just five years. She credits her success to the endless career growth possibilities she found here thanks to trainings and certifications, mentors across all levels and backgrounds, and AWS's fundamental belief in employees to build amazing things.
At AWS, Pauling felt empowered to reimagine her career potential.
"As an intern, I had no idea what my career was going to shape up to be, but I knew that AWS was the right place to figure that out," said Pauling, manager of lead development in the Americas for AWS World Wide Public Sector. "Now it's more than six years later and it's clear my intuition was right."
Pauling was one of nearly 100 AWS employees—known as "builders" across the company whether in tech or non-tech roles—who volunteered to be part of an AWS Employer Brand campaign video filmed in Seattle. Leading up to filming day, the AWS Employer Brand team interviewed dozens of builders from all backgrounds, from entry-level roles to executives, to learn first-hand about their career experiences at AWS so they could develop an authentic script for the video and other campaign content.
The universal theme that came out of every conversation was this idea that at AWS, there's potential to do things you never thought possible—that not even the sky is the limit. (Case in point: just ask the builders involved in the Mars 2020 Perseverance Rover mission backed by the AWS cloud.)
Through these dozens of conversations with builders—about what they work on, how they work, and the fulfillment they get out of their jobs—the team kept hearing stories about reinvention. Builders described how they help customers build and innovate every day, but the backstory is what lays that foundation: AWS builders are simultaneously reinventing what's possible within their careers as they help customers do the same for their businesses.
"We heard all of this goodness from employees who've had these rich experiences here and now see themselves on entirely new career trajectories," said Britt Barran-Stanley, global creative director for AWS Employer Brand. "As we thought about how to package all of these stories about fulfilling professional journeys into a 30-second video spot, this theme of reinventing everything from your morning commute to your entire career emerged."
---
Realizing new potential
From those early in their careers to those with decades of experience, many builders find that AWS's Day One culture leads to continuous learning and development. Day One refers to the operating model and culture established by Jeff Bezos first referenced in his 1997 letter to shareholders, which inspires Amazon employees to remain customer-obsessed and never settle for the previous day's accomplishments.
In turn, the same Day One mentality that drives innovation and long-term success for AWS customers does the same for its builders.
"We are always reimagining and inventing at AWS," said Sonia Hingorany, senior manager of Infrastructure Global Expansion at AWS. "The people, the conversations, and the ideas we come up with here continually make me strive for something bigger in my career."
Hingorany describes the impacts she's able to make with her team as limitless. If the team—or any individual contributor on it—comes up with a proposed technology solution that will address a meaningful problem, they get the autonomy to work on it. It's this ability to shine in a work environment that feels more like a cooperative of many little start-ups that also positions builders for recognition and upward career movement.
"My career path has changed for the better since I got here. AWS is good about realizing its employees' full potential. Leaders see where individuals excel and carve out the right opportunities for them."

Sonia Hingorany
senior manager of Infrastructure Global Expansion at AWS

---
Reimagining entrepreneurship
Asa Kalavade joined AWS in 2016 and has launched six new services, with two more launching by the end of 2022. As an entrepreneur who founded and ran two startups before coming to AWS, she said she was apprehensive about joining such a large company because she was used to dealing with full ownership and fast decision-making.

"In a startup, it takes you two to three years to get to a point where you have product market fit and early customers, and then you can scale out. Here, you get all of that compressed within a year, while innovating at the same time," she said. "What I love about AWS is the combination of entrepreneurship and scale that you don't get anywhere else."

Kalavade, currently general manager for a portfolio of sales and marketing automation and revenue intelligence products, previously ran hybrid cloud storage and data transfer at AWS where she grew her team and the business by more than 10 times over four years. She launched two new services one year at re:Invent, AWS's premier annual cloud learning event, which she likened to launching two startup companies at the same time.

"That's the type of innovation you can do here. You get that full ownership—engineering, product, design, go-to-market, customer success—you launch very quickly, and then with access to a large customer base you scale rapidly," she said. "My teams at AWS have been very entrepreneurial—people who have either done entrepreneurial gigs in big companies or startups, or combinations of the two. My team is currently building products that have the potential to impact large parts of the AWS business."
---
Fulfilling work
Siddalingesha "Sid" Devarmani Shivakumar works on end-to-end implementation and experimentation of reinforcement learning (RL) algorithms for AWS DeepRacer, an autonomous cloud-based 3D racing simulator car driven by machine learning (ML). Siddalingesha said he gets first-hand experience with learning, running experiments, making mistakes, and coming up with theories and results while teaching ML to customers in a fun way.

"It's amazing to see when our customers who had almost zero knowledge of machine learning and reinforcement learning begin their journey to learn about these technologies and use that to advance their careers. It is exciting to see that our work is helping students and professionals all around the world, irrespective of their location, background, or knowledge to begin their journey with machine learning."

Siddalingesha "Sid" Devarmani Shivakumar
software development engineer for AI Devices, AWS DeepRacer

---
As an AWS analytics strategist, Tanya Coutray works with companies to drive measurable outcomes with data. She crosses all industries, but through her work on sustainability data analytics she does things like optimize transportation and logistics to reduce carbon emissions into the atmosphere, use less water and energy, and produce less waste. She recently worked with an agricultural company to maximize crop yield for profitability and ensure there weren't negative environmental effects like fertilizer runoff into waterways.
"AWS provides customers visibility into the environmental impact of their workloads with our new customer carbon footprint tool," she said. "And with the data solutions we offer, we can help take them further on their sustainability and ESG (Environment, Social and Governance) journeys."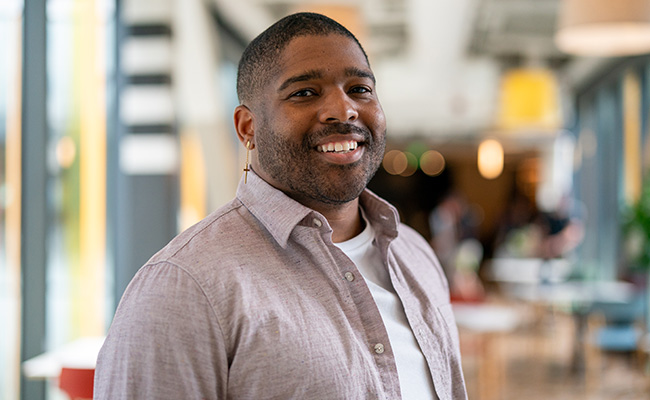 "We care about delivering results, but we also understand you can't give your best if you are not at your best."

Jerrell Tate
technical trainer for AWS Skills Centers

---
There's a collective feeling of giving back among AWS builders—to anything from impacting global sustainability progress to helping grow the career potential for people from traditionally underserved backgrounds. The latter is what gives Jerrell Tate a job fulfillment he never envisioned for his career. As a technical trainer for AWS Skills Centers who had no previous technical experience, he finds immense satisfaction in helping others realize their full potential.
"We teach new learners who are starting their cloud journeys and help them prepare for Cloud Practitioner Certification," Tate said. "Coming from a community where this wasn't something we had access to, it's important to me to give back and help others discover something new."
Work-life balance is also a priority on Tate's team, where paid time off and mental health days are encouraged and add to his overall professional fulfillment.
---
Discovering new opportunities
Continuous education, which encompasses personal and professional learning journeys around upskilling, certifications, leadership, and career development, is another part of AWS work culture that's ingrained in the day-to-day. This thirst for knowledge is also an Amazon Leadership Principle—Learn and Be Curious—which leads to a culture of builders creating teachings and tools at the grassroots level, too.
Tate feels this culture of learning and development has already enabled him to see himself leading his own team here in the future. It's helped him see technology in a whole new way as he helps others discover career opportunities, as well.
"Leading a team that allows me to continue to teach people from around the world how it is possible to join the tech industry is now a dream of mine," Tate said. "It's how I see myself leaving my mark on the world."
"I see the opportunity to continue to grow my career towards a leadership role with more scope, something I wasn't really thinking I could handle before I came to AWS. However, with the support of the leaders around me, I can definitely keep going and push for the next level and see myself at AWS many more years."

John Rundle


software development manager for AWS Support
Another cultural norm that fosters this belief in one's professional opportunities is leadership. Regardless of a person's level, role, or tenure, every builder is a leader. Amazon's Leadership Principles are a focus from the very first conversation a candidate has with a recruiter or hiring manager, and mentorship is strongly encouraged company-wide.

These practices are baked into the culture and allow builders to pursue opportunities they otherwise may not have considered.
"I see the opportunity to continue to grow my career towards a leadership role with more scope, something I wasn't really thinking I could handle before I came to AWS," said John Rundle, a software development manager for AWS Support. "However, with the support of the leaders around me, I can definitely keep going and push for the next level and see myself at AWS many more years."

---
Unconventional freedom and flexibility
From remote work and hybrid home-office roles to mental health days and flexible work schedules, AWS allows its teams to operate in ways that work best for them, including where and when they feel most productive.
For Kortney Grattic, an executive recruiting coordinator, this freedom has led to the most flexible work culture she's ever experienced in her professional career.

"My managers have full trust in allowing our team to work where they are most productive, whether that's in the office or at home. This allows me to accomplish my workload in an environment that best fits my needs. I try to block out at least an hour a day for a workout, daily walk, or just some me time."

Kortney Grattic
executive recruiting coordinator

Rebecca Yang, leader of strategic initiatives for AWS World Wide Public Sector, blocks an hour of time each day to reflect on what she wants to accomplish—personally and professionally. This adaptability allows builders to customize their work-life balance needs, whether that's parenting, personal down time, exercise, cooking nutritious meals, or other priorities.
In a work culture where all builders are owners, this ability to create work flexibility empowers builders across all working styles. The result is an environment where what might be considered unconventional in the rest of the corporate world is the only way to deliver results at scale for AWS's unique customers.

AWS is making it easier for builders to reinvent what's possible, starting with their careers. Search open roles and learn about why AWS is the best place to build, learn, and grow your career.
---
Stories we think you'll like
Curabitur congue et est vel scelerisque. Mauris efficitur non metus id maximus. Donec aliquet, libero ac semper imperdiet, tortor eros facilisis velit, sit amet egestas tellus orci non libero.

Read more »
Curabitur congue et est vel scelerisque. Mauris efficitur non metus id maximus. Donec aliquet, libero ac semper imperdiet, tortor eros facilisis velit, sit amet egestas tellus orci non libero.

Read more »
Curabitur congue et est vel scelerisque. Mauris efficitur non metus id maximus. Donec aliquet, libero ac semper imperdiet, tortor eros facilisis velit, sit amet egestas tellus orci non libero.

Read more »