Optimize your meeting experience with devices for Amazon Chime. Whether you are working alone at home, in the office, or as a group, there is an Amazon Chime device for you.

Amazon Devices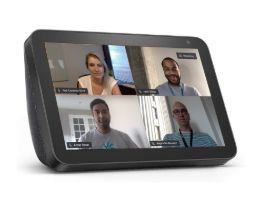 Amazon Echo Show 8
Has high-resolution video and high-quality audio capabilities
Functions as a dedicated meeting device, freeing up the laptop for work
Provides touchless join meeting experience
3rd party devices with Amazon Chime in-room experience
Rooms with Dolby Voice
High-quality meeting experience for small to medium size conference rooms
With Alexa for Business enabled, users can start meetings by simply saying "Alexa, start the meeting"
Features such as dynamic leveling of soft voices, echo or background noise elimination, and video or whiteboard framing
Employee self-service setup
Are you an employee that wants to use your personal Alexa devices without IT involvement? Start here for instructions for integrating your business calendar and email.

Learn more about Amazon Chime pricing
Amazon Chime offers pay-per-use pricing so you never pay for features you don't use.

Learn more

Explore qualified devices
For other devices qualified with Amazon Chime, please visit our devices page

Explore
Start a free trial
Try Amazon Chime Pro features free for 30 days!

Try it for free