STATION Berlin | February 26–27, 2019
Registration is closed now.
Bringing technologists in Germany together to connect, collaborate, and learn about AWS
Join the AWS Summit in Berlin, meet our local team and learn how the cloud is accelerating innovation in businesses of all sizes. During this free, two-day event, you will learn about the AWS platform through breakout sessions that cover a wide range of topics from new services and architecture to performance and operations. You will also have the opportunity to hear from German customers about their journey to the cloud.
So, whether you are just getting started on the cloud or a proficient user, come and learn something new at the AWS Summit Berlin.

Feature topics
Explore our rich two-day agenda and dive deep into your core topic or join a starter session to learn something new.
Content on February 26 is focused on providing an overview of AWS services and features as well as best practices, details of service features and demos with the assumption that attendees are new or have introductory knowledge of the topics [Level 100-200].
Content on February 27 dives deeper into the selected topics. Sessions are for attendees who may have implemented a solution on their own already, and are comfortable with how the technology works across multiple services, architectures, and implementations [Level 300-400].
This year's Startup Central offers a series of technical talks, hands-on use cases presented by startups and mentorship opportunities. Come by and get inspired to start something new and disrupting! Learn more »

Machine Learning

Internet of Things
Database Migration

Security
Keynote Speaker
DR. WERNER VOGELS, CTO, Amazon.com
Dr. Werner Vogels is Chief Technology Officer at Amazon.com where he is responsible for driving the company's customer-centric technology vision.
As one of the forces behind Amazon's approach to cloud computing, he is passionate about helping young businesses reach global scale, and transforming enterprises into fast-moving digital organizations.
Vogels joined Amazon in 2004 from Cornell University where he was a distributed systems researcher. He has held technology leadership positions in companies that handle the transition of academic technology into industry. Vogels holds a PhD from the Vrije Universiteit in Amsterdam and has authored many articles on distributed systems technologies for enterprise computing.
KLAUS BÜRG, General Manager, AWS DACH

Klaus Bürg has significant and proven expertise in managing international enterprise type companies, developing go-to-market strategies and also has a strong affinity to cutting edge technologies.
Klaus has more than 20 years of experience in the IT industry, including more than 15 years in selling and implementing business applications. Before joining AWS, Klaus was working 2 years at audius AG as Executive Vice President. Before that he worked 11 years at Microsoft in various management functions.
Klaus graduated with a Bachelor of Science degree in computer science from the University of Esslingen. He also holds a master of science in computer science from the same university.

Customer Keynote Speaker
ELKE REICHART, Chief Digital Officer, TUI Group
As Chief Digital Officer, Elke Reichart is responsible for all TUI Group IT platforms and also the Chief Executive Officer of TUI's IT branch InfoTec. She joined TUI in February 2018 after having spent 26 years with HP before. In 2012, Elke moved with her family to Palo Alto as the Vice President in charge of HP's global transformation program.
Back in Germany, she was appointed to the supervisory board of Bechtle AG, Germany's largest IT reseller, in Dec 2017.
Elke Reichart holds a master in Roman Languages, Economics and Applied Information Science.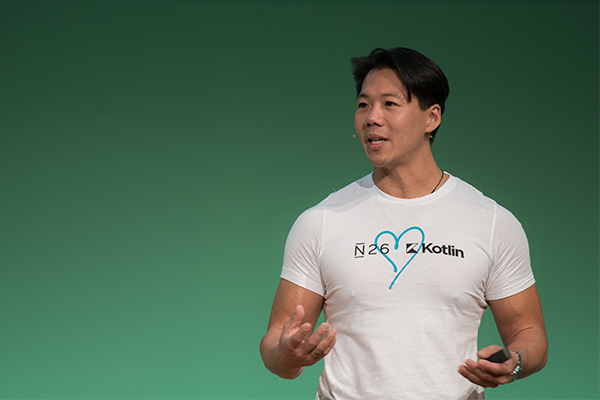 PATRICK KUA, CTO, N26

Patrick Kua is the CTO of the mobile bank N26 (Berlin, Germany), where he is building the engineering group that will change modern retail banking for people like you and me. Formerly a Principal Technical Consultant at ThoughtWorks, he is the author of three books, The Retrospective Handbook, Talking with Tech Leads and most recently, Building Evolutionary Architectures.
Patrick is a frequent conference speaker, blogger and is passionate about bringing a balanced focus between people, organisations and technology.

MARKUS RAUTERT, VP Platform Engineering & Architecture, adidas Global IT

Markus Rautert, Vice President, adidas Global IT, leads the Platform Engineering & Architecture practice, which is dedicated to the design, creation, and operation of the next-generation architecture, technology services, and best practices that can be used by different product and project teams to create solutions faster and with higher quality.
As a technology enthusiast, Markus believes in the capability to co-create differentiating business solutions together with industry and software partners, combining cloud native and open source technologies with commercial platform offerings.
Markus has held several positions within adidas since 2006 in the European market organization, Sales, Marketing, and Enterprise Architecture. Previously, he worked for more than 7 years for Siemens AG in software development, architecture, and management consulting.

PROF. DR. DR. TORSTEN HAFERLACH, CEO, MLL Munich Leukemia Laboratory

Prof. Dr. Dr. Torsten Haferlach is CEO at MLL Munich Leukeumia Laboratory and Head of the Cytomorphology Department.
Before cofounding MLL in 2005, Dr. Haferlach was a senior physician at the university clinics in Kiel, Göttingen, Munich-Großhadern, with habilitation in internal medicine and a specialization in hematology and internal oncology.
At the heart of his work is the responsibility for patients suffering from leukemia or lymphoma. His aim is to offer the best leukemia diagnostics at a global level, to make it available to all patients and to help extend their life expectancy with individualized treatment and improved quality of life.

Other AWS events
View all AWS Events
AWS holds events, both online and in-person, bringing the cloud computing community together to connect, collaborate, and learn from AWS experts
On-Demand AWS Tech Talks
AWS Online Tech Talks are a selection of live online presentations that cover a broad range of topics at varying technical levels. These tech talks, led by AWS solutions architects and engineers, feature technical sessions, live demonstrations, customer examples, and Q&A with AWS experts.
Webinar: AWS Online Tech Talks
AWS Online Tech Talks are live, online presentations that cover a broad range of topics at varying technical levels. These tech talks, led by AWS solutions architects and engineers, feature technical deep dives, live demonstrations, customer examples, and Q&A with AWS experts.