Empower students to get into tech
AWS GetIT is a fully funded education program and competition designed to inspire 12-14 year old students, especially girls, to consider a future in STEM (Science, Technology, Engineering, Mathematics). The program helps schools and educators bring tech role models to their classrooms and gives them access to curriculum designed to help students build foundational skills, learn about cloud tech, and design app ideas to solve problems in their communities.

What are the benefits of AWS GetIT?
Inspire students to consider STEM for their future careers
During the program, students meet professionals working in tech, explore different types of tech careers, and learn how to use cloud-based apps to solve real-world problems in their communities.

Fully funded, flexible program curriculum and support
Schools and educators gain access to curriculum and support from AWS GetIT at no cost. In-person and virtually, educators decide when and how to deliver the program to students during the academic year.

Empower students to develop new skills
Students build confidence through collaborating, brainstorming, and presenting in teams as they leverage new skills in design thinking and the app design process.

Opportunities for students after the program
Students who finish AWS GetIT can take advantage of opportunities for continued engagement, including mentoring new students and access to exclusive events featuring tech experts and AWS leaders.

As of August 2022, the AWS GetIT program has trained over 19,000 students across 8 countries.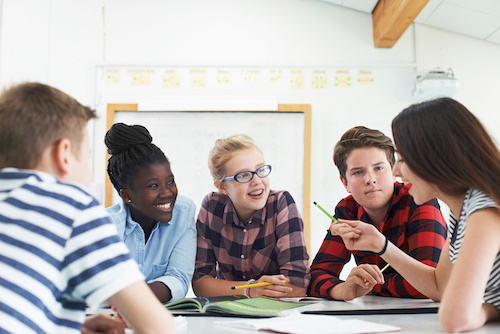 How does AWS GetIT work?
Designed to run throughout the academic year, AWS GetIT includes program curriculum and an optional competition. Schools are paired with a dedicated AWS GetIT Ambassador. Ambassadors are professional women and non-binary individuals working in tech at Amazon or AWS who support the school and educator and act as a role model for students.
Program

AWS GetIT provides schools and educators curriculum via the Canvas learning management system (LMS), designed to be delivered in three to six months during the academic year, either virtually or in-person. With support from their ambassadors, schools will determine when and how students will participate in different parts of the program.


Competition

After completing the program curriculum, schools have the option to submit up to two student app ideas for consideration in a country-wide AWS GetIT competition. Teams in the semi-finals and finals present to a judging panel of experts in the tech industry.

About the curriculum
The AWS GetIT curriculum is divided into three sections:
Engage and Inspire
Students meet their school's ambassador and begin exploring cloud tech's role in everyday life, career opportunities in tech, and how the program will task them to build an app idea to help their school or community.
Learn and Play
Students dive into designing their app idea. They start learning the concepts of design thinking and form teams to to brainstorm how to solve a problem in their school or community with their app.
Design and Present
Teams work to finalize their app ideas to submit for a certificate of completion and participate in the optional country-wide AWS GetIT competition.
Bring AWS GetIT to your school
AWS GetIT collaborates with local organizations around the world to help educators and schools get started. Find your country below to register for the program.
Frequently Asked Questions
Meet our Ambassadors
"Quote from ambassador here"
First Last, Title
"Quote from ambassador here"
First Last, Title
Recent blogs and news articles