The UK has long prided itself on offering companies a fertile business environment to encourage innovation. Between changing customer habits and the widespread disruption of 2020, that innovation must now be focused on finding ways to understand the changing needs of customers and responding faster than ever. Darren Hardman, VP, General Manager, UK and Ireland for AWS, offers his views on why UK CEOs must increase their focus on innovation to weather disruption and ensure future competitive advantage.

---
Traditionally, CEOs were less involved in enterprise innovation, delegating to CIOs and IT directors instead. Today, things are quite different. From my work with companies across the UK, I have seen CEOs take a much more proactive role in innovation strategy, increasingly appreciating the importance of digital transformation as a facilitator of the organisational agility necessary to sustain the competitiveness of the business and its future growth.
Given the rampant disruption we've faced over recent months, and our country's uncertain relationship with European markets, this focus on innovation and digital transformation from the very top of the business takes on an even greater significance.
But in what areas should this innovation now be concentrated? In his ebook titled Cloud for CEOs, my colleague, Adrian Cockcroft, Vice President of Cloud Architecture Strategy at AWS, discusses how digital transformation requires a deep connection with customers, understanding their needs and responding faster than ever with quick and efficient innovation. Adrian identifies three levels of customer-centric innovation that help companies stay competitive: incrementally better services (what he refers to as 'the table stakes'), new gap-filling value creators (addressing pain in the market), and entirely new customer experiences leveraging emerging technologies (unexpected offerings).
To make progress across these three areas, every CEO must have a good handle on the technologies that will enable transformation of their business model to become more agile and customer-centric. In my experience, being this tech-savvy can be more of a leap for the leaders of incumbent businesses, compared to the CEOs of disruptive, digital-native businesses who tend to be natural technologists.
In addition, despite the vast majority of business leaders agreeing that their businesses must digitally transform to survive, the reality is that, to be successful, business and IT must strike a balance in what Adrian describes as "four blockers to innovation: culture, skill, organization, and risk". Whilst blockers to traditional enterprises, these are often defining traits of some of the most disruptive businesses operating in the UK today.
Indeed, these newer market entrants often build their very businesses as virtual communities–for example, minimising physical overheads and focusing on agile remote working practices–and encourage collaboration across this community. These teams can experiment, fail quickly if they have to, and for every few ideas they try they will find something that is going to make an impact.
From the customers we work with here in the UK, Monzo is a great example of a company with an agile business model developed from being a tech start-up, with an innate culture of innovation. As Monzo continues to attract users, its teams spend more time and resources developing new features. Their core platform is built on AWS–via which Monzo runs more than 1600 core banking microservices–and they have an platform team of only fourteen people to serve four million customers. Achieving a customer focus with this lean and agile team would not be possible without a clear and sustained focus on culture, skill, organisation and risk-mitigation.
Overcoming these four blockers to innovation is particularly pertinent in UK, where research shows only one-third of employees feel empowered to innovate at present. CEOs therefore have the responsibility of creating a cultural acceptability around digital innovation across the entire business and there needs to be a recognition that there will often be duplication of ideas across departments and projects, and that not all innovation will be successful. This isn't a negative. If anything, this increases the opportunity for learning and for more great ideas to take root that will generate tangible business value in the long term.
Proving that established firms can indeed innovate like the disruptors, Lightsource BP is a great example of a traditional enterprise putting customers at the heart of their innovation as they develop new smart energy solutions. As a global leader in the funding, development and management of solar projects and smart energy solutions that aims to ensure that everyone has access to affordable and sustainable energy resources, Lightsource BP shifted its database management to AWS to free up valuable employee time to focus on customer needs. The result was a new smart home energy management app, brought to market twice as fast and at one third of the cost, helping customers to reduce their monthly electricity bills and carbon footprint.
Customer-centricity and the mission "to be Earth's most customer-centric company" really is what drives us here at AWS and our employees constantly think about how to invent for good–what products and services can we build that customers need today and in the future? We always start from the customer and work backwards.
And, here in the UK, my team ensures that we frequently share lessons from Amazon's own continuous innovation journey with our clients of all sizes–a culture focused around working backwards from a consideration of what would delight customers, and one based on enabling agile, 'two pizza' teams to innovate for organisation-wide adoption.
In the end, however, it's up to the CEO to set the right tone for nurturing a culture of customer-centric innovation at their organisation. This will then come to life through technology working hand-in-hand with inspired people. My team here in the UK and Ireland are here to help you every step of the way on that journey.

ebook
Cloud for CEOs
Unlock growth and measure innovation with a single metric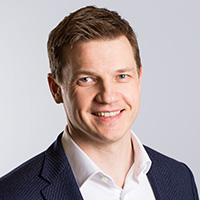 Darren Hardman
VP & General Manager of AWS UK and Ireland

Darren Hardman was appointed as the General Manager of AWS UK and Ireland in April 2020. Since joining, Darren has bought his wealth of business transformation and strategy experience, partnering with organisations of all sizes – from start-ups, through to the UK's largest enterprises – to accelerate their customer-centric digital business transformation and help them realise new forms of customer value, leveraging AWS cloud.
---
Interested in more insights from your peers?

Learn from CxO leaders who have personally led cloud-powered transformation.