Build a Website
for Free on AWS
Free offers and services you need to build, deploy, and manage websites and webapps in the cloud
The AWS Free Tier let's users explore more than 85 products to start building on AWS, including offers that are always free, 12 months free, and shorter-term free trials.

Product Benefits
Amazon Web Services offers cloud web hosting solutions that provide businesses, non-profits, and governmental organizations with low-cost ways to deliver their websites and web applications. Whether you're looking for a marketing, rich-media, or ecommerce website, AWS offers a wide-range of website hosting options, and we'll help you select the one that is right for you.

Broad Platform Support
With AWS, you can use whatever CMS you like, including WordPress, Drupal, Joomla, and more. AWS also supports and provides SDKs for popular platforms like Java, Ruby, PHP, Node.js, and .Net.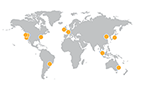 Datacenters Worldwide
Your customers can be anywhere in the world. With AWS you can have a datacenter or CDN hosting your website in any geography you choose with just a few mouse clicks.

Scalable from Day One
Website traffic can fluctuate a lot. From quiet times in the middle of the night, to campaign driven, social media sharing traffic spikes, AWS infrastructure that can grow and shrink to meet your needs.

Flexible Pricing Model
AWS only charges you for the resources you use, with no up-front costs or long-term contracts. AWS has web hosting options that offer pay-as-you-go pricing or fixed monthly pricing.

Free Product Offers
Build reliable and scalable websites and webapps using these Free product offers
Amazon Elastic Compute Cloud (Amazon EC2) is a web service that provides secure, resizable compute capacity in the cloud. It is designed to make web-scale cloud computing easier for developers. Amazon EC2's simple web service interface allows you to obtain and configure capacity with minimal friction.

750 hours per month for free of Linux, RHEL, or SLES t2.micro or t3.micro instance dependent on region
750 hours per month for free of Windows t2.micro or t3.micro instance dependent on region

Virtual Private Servers made easy! Everything you need to jumpstart your project on AWS with compute, storage, and networking.

30-days free (750 hours per month)
Try the $3.50 USD Lightsail plan free for one month when using Linux/Unix
Try the $8 USD plan free for one month when using Lightsail for Microsoft Windows Server

AWS Lambda is a serverless compute service that lets you run code without provisioning or managing servers, creating workload-aware cluster scaling logic, maintaining event integrations, or managing runtimes.

1,000,000 free requests per month
Up to 3.2 million seconds of compute time per month

Elastic Load Balancing automatically distributes incoming application traffic across multiple targets, such as Amazon EC2 instances, containers, IP addresses, Lambda functions, and virtual appliances.

750 Hours per month shared between Classic and Application load balancers
15 GB of data processing for Classic load balancers
15 LCUs for Application load balancers

Amazon Simple Storage Service (Amazon S3) is an object storage service that offers industry-leading scalability, data availability, security, and performance.

5 GB of Standard Storage
20,000 Get Requests
2,000 Put Requests

Build, deploy, and host cloud-powered modern web apps

Hosting - 15 GB served per month & 5 GB stored per month
Build and Deploy - 1,000 build minutes per month

Learn more about creating and hosting a website on AWS
Browse through our collection of videos and tutorials to deepen your knowledge and experience with AWS
Videos

Websites on Amazon Web Services

Deep Dive on Serverless Web Applications

Deploying and Scaling Web Applications

Introduction to Amazon S3

Tutorials

10-Minute Tutorials

Deploy a React App with AWS Amplify Console

Launch a Web Application with AWS Elastic Beanstalk

Launch a Linux Virtual Machine

Launch a WordPress Website
AWS Free Tier
The AWS Free Tier offers users an opportunity to explore products for free, with offers including products that are always free, free for 12 months, and short-term free trials.
Get Started
Creating an AWS account is free and gives you immediate access to the AWS Free Tier.