AWS IoT EduKit
Learn how to build simple IoT applications with reference hardware and step-by-step tutorials

Get hands-on with IoT
AWS IoT EduKit makes it easy for developers—from students to experienced professionals—to receive hands-on experience building end-to-end IoT applications by combining a reference hardware kit with a set of easy to follow educational tutorials and example code.

Simplified hardware selection
AWS IoT EduKit's reference hardware kit (made and sold by our manufacturing partner, M5Stack) is packed with on-board features to enable a multitude of IoT applications out of the box. Developers can broaden their capabilities to cover additional use cases with hundreds of plug-and-play expansion options.
A wide range of software frameworks
AWS IoT EduKit's reference hardware supports a wide range of application frameworks (e.g. FreeRTOS, Arduino, MicroPython), which allows developers to code in the language of their choice and progress in building cloud connected embedded applications on a single hardware platform.

Easy access to sample code
AWS IoT EduKit provides up-to-date content and example code to common IoT solutions. Through AWS IoT EduKit tutorials, developers can access a variety of free content to gain expertise in building and managing IoT applications using AWS services.
How it works
Follow the list of tutorials to learn how to build a basic connected home application and add more capabilities, including machine learning and Alexa Voice Service.

AWS IoT EduKit tutorials
Develop your IoT skills by following the AWS IoT EduKit tutorials below, which cover common IoT use cases. As you advance your IoT skills, build your own custom cloud connected edge applications using the reference hardware's on-board features and plug-and-play expansion options.

Cloud Connected Blinky
Create a cloud connected "blinky" (hello world for microcontrollers) application. The steps and skills learned in this tutorial will provide the foundation to be successful in other tutorials.
Take this tutorial
Smart Thermostat
Build a smart thermostat that controls a fictional HVAC system.
Take this tutorial
Smart Spaces
Create a presence-aware smart space solution using your thermostat data, analytics, and machine learning.
Take this tutorial
Intro to Alexa for IoT
Implement Alexa Voice Service Integration for AWS IoT Core and create a smart light.
Take this tutorial
Community resources
AWS IoT EduKit projects cover a range of use cases—from smart home to industrial environments. Check out what the community is building, get inspired, and start building!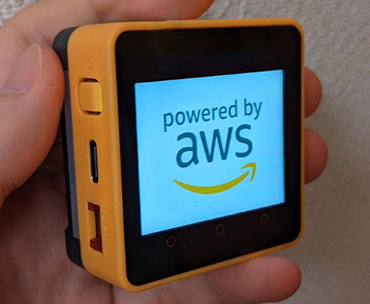 What is AWS IoT EduKit? What can we learn from it?
In this blog post, AWS IoT Hero, Kohei "Max" Matsushita explores AWS IoT EduKit and its key benefits.
Adding Smart Home Controls with Alexa Voice Service
Watch Eric Fahsl, Sr. Solutions Architect for the Alexa Voice Service (AVS), demonstrate how you can add new capabilities to your device or app using Smart Home for AVS.
AWS User Group Japan - IoT Branch
This user group video covers features of the AWS IoT EduKit reference device, M5Stack Core2 for AWS IoT.
Get started with AWS IoT EduKit
Purchase your AWS IoT EduKit hardware kit: