The Things Enterprise Stack Enterprise LoRaWAN Network Server
Securely manage LoRaWAN device fleets and act on sensor data
Background
The biggest challenges for majority of manufacturing enterprises within their plant floor is visibility into operation technology data from machines, programmable logic controllers (PLCs), and supervisory control and data acquisition (SCADA) systems for performing root cause analysis (RCA) when a line or a machine goes down, improving throughput without compromising quality, and understanding micro-stoppages of machinery in real time.
The Things Enterprise Stack
Version: 1.0
Last updated: 7/2020
Author: The Things Industries
Contact The Things Industries to learn more »
Overview
The Things Industries offers software to operate private LoRaWAN networks at scale. Its global customer base comprises over 300 enterprises with 20,000 long range wide area network (LoRaWAN) gateways and over 700,000 devices, enabling use cases from industrial IoT to cold chain monitoring and asset tracking. The Things Enterprise Stack (TTES) is used to manage and monitor large, remote fleets of devices and gateways with an elaborate toolset. Route telemetry data securely to your cloud application, and quickly configure actions in AWS IoT Core. TTES will save developers time and headache through an API-first platform with many pre-integrated services such as AWS Thing Registry Sync.
The Things Enterprise Stack (TTES) acts as the core of your LoRaWAN network. AWS provides the engine of this core, as you may run TTES on AWS infrastructure, leveraging its ECS, AMI, or SaaS deployment options for scalability and reliability. But you may also use AWS IoT Core as a trusted layer on top of TTES to proxy the management of your devices to your known AWS interfaces, to serverlessly process your telemetry data, and to manage your LoRaWAN secret keys with AWS Secret Manager.
Benefits
Save developer resources and increase time-to-market of your LoRaWAN solutions.
Centralized device management - A single, powerful interface to manage 1000's of globally distributed sensors and gateways.
Increased time-to market - Integration templates for device and data management save time and reduce complexity.
Work from your trusted AWS environment - TTES is integrated with AWS IoT Core.
Reduce total cost of ownership - Our affordable product reduces solution complexity, eliminates vendor lock-in, and increases security of devices and data.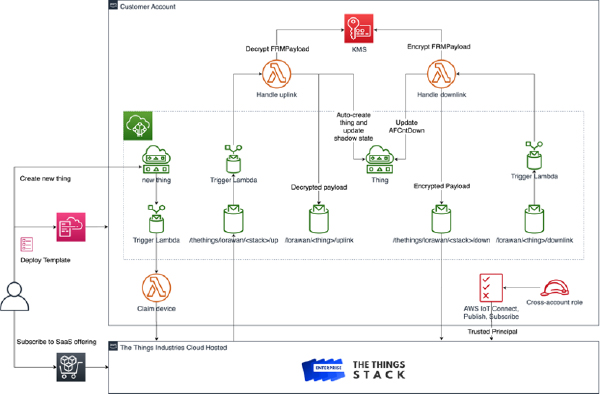 Features
AWS IoT Core template integration for:
Upstream and downstream messaging
LoRaWAN end-to-end encryption from the end device to customer account
Simple CloudFormation deployment for all The Things Industries customers
Automatic thing creation and shadow state updates
Claim things securely on the TTES Global Join Server
Fits with any AWS deployment options:
Shared infrastructure: AWS Marketplace SaaS
Dedicated infrastructure: AWS Marketplace AMI
Dedicated infrastructure: AWS BYOL with Elastic Container Service template
The AWS IoT integration is available through a simple CloudFormation deployment