About this Scratchpad
A simple HTML/Javascript-based application that allows you to explore the Amazon SimpleDB API without writing any code.
Based on the 2009-04-15 API version.
What's New?
2010-02-25: Support for consistent reads, as well as conditional puts & deletes.
2009-05-20: Deprecate Query and QueryWithAttributes. Please migrate to Select API
2009-03-24: Support for new API - BatchPutAttributes
2008-08-28: Support for new API - QueryWithAttributes
2008-04-24: Upgrade hmac-sha1 library to support UTF8. Note, however, UTF8-related functionality in scratchpad is currently limited to GET requests. To invoke request with UTF8 characters, click on "Display Signed URL" and paste url into the browser window.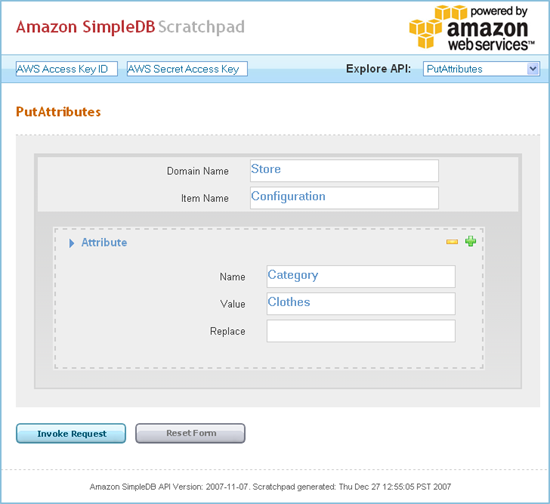 Package Content
| Directory | Overview |
| --- | --- |
| webapp | HTML / Javascript distribution of scratchpad. |
Quick Start
Extract the amazon-simpledb-2009-04-15-javascript-scratchpad.zip file into a working directory.
Browse to amazon-simpledb-2009-04-15-javascript-scratchpad/webapp directory and open index.html file in your browser.
Use "Explore API" dropdown to navigate and try various Amazon SimpleDB API
Happy coding!
Comments, Questions or Feedback
If you have any comments, questions or feedback on the library, please start discussion here.