What is the Bitrix Virtual Appliance used for?
Bitrix Virtual Appliance runs on Amazon EC2 instance and can be used to rapidly install and deploy Bitrix Site Manager (CMS - Content Management System), Bitrix Intranet Portal (ECM - Enterprise Content Manager) or any other applications that use the PHP platform. The Bitrix Virtual Appliance comes with pre-configured settings which allow users to avoid any possible software incompatibilities. The Bitrix Virtual Appliance also provides more efficiency and performance in PHP-based platform products. It is protected by both Amazon EC2 security settings and by an integrated firewall which is set up automatically.
What does Bitrix Virtual Appliance include?
Fedora 8 OS, automatically updated
NGINX + Zend Server CE (Apache2)
HTTPS support
MySQL5 with InnoDB support
IP address via DHCP, or configured by Amazon Elastic IP
Adjustable mail server agent
A UNIX-like Control Menu with common tasks
What Bitrix products are included in Bitrix Virtual Appliance?
Bitrix Intranet Portal
Bitrix Intranet Portal Bitrix Intranet Portal — a high-end Enterprise 2.0 solution designed for effective collaboration, communication, social networking, and workflow and knowledge management. The product allows significant intranet ROI improvement by boosting employee productivity, internal interoperability, stakeholder satisfaction and user involvement. Powered by a unique PRO+PRO™ security framework, it combines extreme performance, rich functionality and unmatched ease-of-use that assures a quality experience for intranet adopters and brings Bitrix to a top market position. Cross-platform support (Windows, Linux, Unix), database compatibility (MySQL, MS SQL, Oracle) and open source availability enables fast integration into existing infrastructure and easy customization to meet specific business needs. Bitrix Virtual Appliance: Amazon EC2 Edition includes both a 30-day trial version of Bitrix Intranet Portal and a commercial version, which will allow you to not only use it for an unlimited time, but also to increase the number of users of your Intranet Portal.
Bitrix Site Manager
Bitrix Site Manager is a powerful, multi-featured content management solution with an advanced PRO+PRO™ security framework for easy and effective development of high-performance websites of various purpose and industry focus. The product, sold with source code, provides a technological foundation for immediate launch of an online presence, and customization to meet specific needs while saving money on extra hardware, software and IT staff. Bitrix Site Manager includes 32 modules that handle content and structure in the most flexible manner. Among them are advertising, mailing lists, SEO optimization, statistics, analytics, performance monitoring, blogs, training, and social networking. Bitrix Virtual Appliance: Amazon EC2 Edition includes both a 30-day trial version of Bitrix Site Manager a commercial one.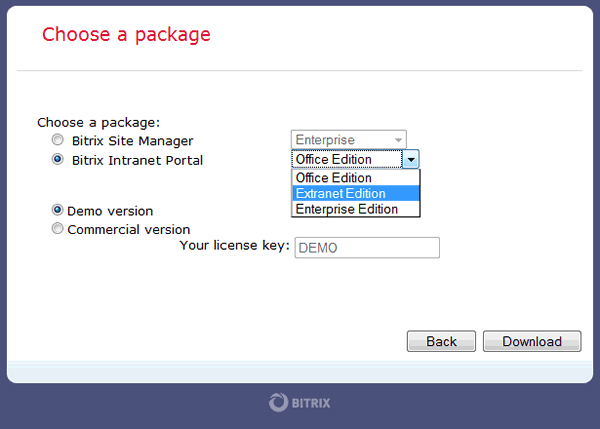 How to run Bitrix Virtual Appliance?
It is assumed that you already have an Amazon Web Services (AWS) account set up before using the Bitrix Virtual Appliance Amazon EC2 Instance. If you do not already have an account, you should set one up or get more information. Choose the following AMI on Amazon EC2: ami-e530dd8c (Region: US-East), ami-dd2a7b98 (Region: US-West-1), or ami-2ff4df5b (Region: EU). Please see the Amazon EC2 documentation for more details on how to run an instance. You may also wish to learn more about Bitrix products installation.
Important:
Bitrix Virtual Appliance: Amazon EC2 Edition is best configured and run when choosing "bitrix" and "default" as the security group option which can be done before the Amazon EC2 instance (AMI) startup. If you choose "default" only as your security group option, the instance might not always remain stable and fully functional.
About Bitrix, Inc.
Bitrix, Inc. is a privately-owned company developing business communications platforms bridging SMBs with their customers (Internet), partners (Extranet) and employees (Intranet). Founded in 1998, headquartered in Alexandria, VA Bitrix incorporates 70+ staff, 30,000+ customers and 4,000+ partners worldwide. The company's products are distinguished for their pioneering technology, security features, performance and ease-of-use.