AWS Media Services learning path
Guest Post by Susan Holmes, Technical Curriculum Developer – AWS Training & Certification
Want to learn how to create professional quality media experiences? Want to help your organization deliver live and on-demand video processing, storage and monetization workflows in the AWS Cloud using AWS Media Services?
AWS Training and Certification offers a Media Services Learning Path, designed for anyone who wants to learn how to create live streaming and video-on-demand media experiences.
Whether you are just starting out, building on existing IT skills, or sharpening your cloud knowledge, AWS Training and Certification can help you be more effective and do more in the cloud.
AWS Media Services training at a glance
The Learning Path provides a structured and comprehensive roadmap of how to grow your expertise with AWS Media Services. You can progress along a curated path, from foundational video concepts to technical deep dives.
Through the Learning Path you can access digital courses, videos, tutorials, and self-paced labs.
The training is organized into four paths designed to provide numerous entry points depending on your skill level and area of need:
If you want hands-on practice using the services in the AWS Management Console in a supported environment, there are self-paced online labs. Each lab has its own AWS training account and walks you through procedures with detailed step-by-step instructions.
Navigating the page
From the Learning Path, you can also view information about each course within a workflow so that you can easily scan the courses available, read a description, determine how long it will take to complete, and then directly access the course content via a simple click of a link.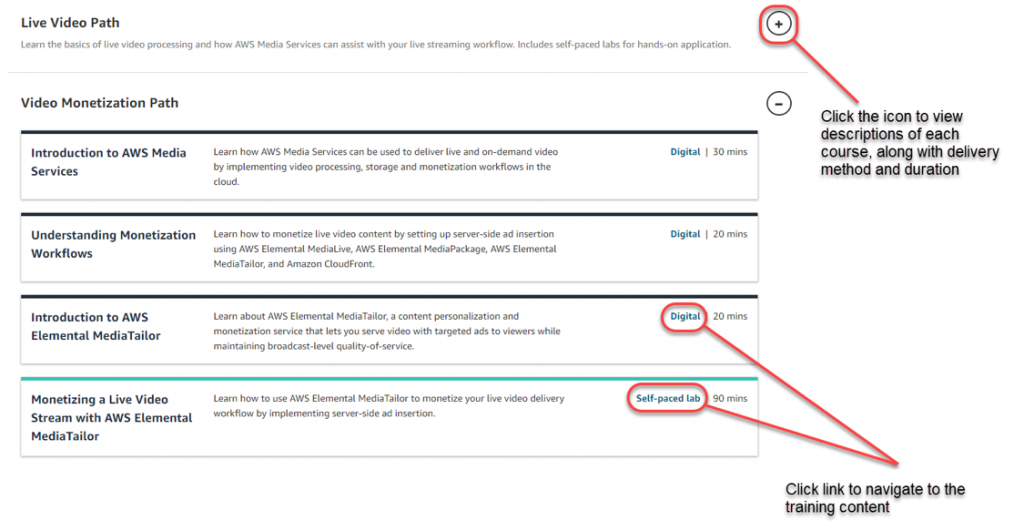 Getting started
There are two ways to access AWS Media Services training:
You can access the Media Services Learning Path here. From the landing page you can explore each of the curated paths and launch digital courses. This will take you to the AWS Digital Training platform. When accessing the AWS platform for the first time, you will need to sign in and create an account.
You can also explore the broader AWS Learning Library. View and search the full catalog of available training across all AWS services. As with the previous method, you will need to sign in and create an account if you haven't already done so.
To view all the available training related to AWS Media Services in the library, simply select the "Media Services" domain in the navigation pane.
AWS Spotlight Labs for Media
In addition to the self-paced digital assets available on the Media Services Learning Path, from time to time we take our hands-on training on the road to industry events. We offer free facilitator-led workshops with self-paced labs that attendees can sign up for.
| | |
| --- | --- |
| | |
| NAB 2019: Las Vegas | M&E Symposium 2019: Los Angeles |
Looking ahead
The Media Services Learning Path will continue to grow and evolve as part of the AWS Training and Certification team's ongoing commitment to developing content that educates our customers to more quickly and easily build media workflows.
Ready to get started? Create an account and begin learning today.