Application monitoring and infrastructure performance
New Relic lets you see the context of every change in your AWS cloud environment for optimal performance at any scale.

Join this webinar to discover how to proactively approach the health and performance monitoring of your Kubernetes environments—at any scale and at any level of complexity.

Why New Relic?
New Relic is a cloud-based platform that monitors web and mobile applications in real-time to give developers, engineers, operations, and management a clear view of what's happening in today's complex software environments. This can lead to reduced downtime, improved engineer productivity, and higher-performing applications that deliver differentiated experiences for customers.
Service reliability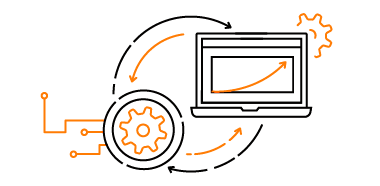 Gain an unparalleled view of your dynamic infrastructure through combined configuration monitoring and real-time health metrics with a dynamic, tag-driven approach to dashboards and alerting.

AWS migration
Easily instrument your application at every step. The agents collect detailed app performance data as your app moves from on-premises to AWS, with no additional configuration required.

Application modernization
Manage containerized environments, measure the impact of back-end infrastructure on digital customer experience, and optimize AWS cloud spend and system performance.

Monitor the performance health of your AWS services with New Relic
New Relic Integrations uses the AWS CloudWatch API to obtain metrics from AWS services (e.g. EC2, ECS, Cloudwatch, & Lambda) you monitor so that application performance is visualized for easy analysis.
Learn more about New Relic Infrastructure and Application Monitoring

Register for our on demand webinar to find out how successful teams manage their application environment through an entity centric view across applications.

Challenges of moving to a modern IT environment
Organizations face challenges when modernizing their applications in the cloud such as completing a "lift and shift" migration, but not realizing the benefits, lacking the ability to experiment more in the cloud without creating instability, and needing to adopt new services but struggling with complexity and improving mean time to resolution.

Modernize and optimize your AWS investment
Moving to AWS is only one component of modernizing your infrastructure, applications, and approach to software development. New Relic's eBook, The Enterprise Guide to Continuous Application Modernization walks you through the benefits and key elements of a continuous modernization strategy—from rehosting and replatforming, to refactoring your applications running on AWS.
Optimize your applications and infrastructure for scale and availability
Gain a consolidated performance view across your stack, so you can understand the value of migration and optimize and justify your infrastructure and cloud usage.
Comprehensive visibility into modern environments: Get visibility to critical AWS Cloud services and connect cloud performance data to broader application and end-user experience data for faster problem identification.
Analytics and intelligence: Iterative, ad-hoc querying capabilities along with applied intelligence help you dive deep into the data to find reliability issues in the most complex environments.
Customer and application centric: With a deep history in APM and instrumentation from infrastructure to end-user experience, New Relic helps engineering teams who comprehensively understand performance to positively impact customers.
New Relic and AWS enable faster load times and a 20% conversion boost
CarRentals.com relies on AWS to deliver its modernized, cloud-based IT infrastructure and on New Relic to achieve the full-stack visibility it needs to support scalable, reliable application delivery on top of that infrastructure.

In the past, I've seen teams spend 25% of their time either maintaining our monitoring solutions or developing new tools to monitor different areas. With New Relic's SaaS approach, we're able to offload all of that burden. —Craig Vandeputte, Director of DevOps, CarRentals.com
New Relic is an APN Advanced Technology Partner that has demonstrated technical proficiency and proven customer success with AWS Competencies in Migration, Mobile, DevOps, Container, and Government specialized solution areas.