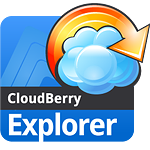 CloudBerry Explorer makes managing files in Amazon S3 storage easy. By providing a user interface to Amazon S3 accounts, files, and buckets, CloudBerry lets you manage your files on cloud just as you would on your own local computer. CloudBerry Explorer PRO offers some advanced features over Freeware version. It makes managing files Amazon S3 in even easier, more secure and cost efficient. By providing a user interface to Amazon S3 accounts, files, and buckets, CloudBerry lets you manage your files on cloud just as you would on your own local computer. See more
---
Cloudberry Explorer Pro does a great job
By

Michael@HPE

on

01/12/2016
We have been using CloudBerry Explorer PRO for OpenStack for several months and now are switching to the S3 version.
The tool is intuitive and easy to use and it provides a wide range of AWS related tasks within the GUI, including managing CloudFront instances.
Their support is also very responsive and helpful.
Keep up the great work, CloudBerry!
So far it's pretty sweet
The only thing I'd update is how it notifies you of the mulit-uploads. Everything else I've tried has been great.
A great product
By

Corpdata@GA

on

12/18/2015
In the short time I've been using the product, I've found it very intuitive, and easy to use. The simple drag and drop interface makes transfers a breeze. Setting up synchronisation cuts out the headaches of trying to decide what needs updating. I look forward to using many more of the features offered by CloudBerry Explorer Pro for Amazon S3
CloudBerry Explorer and Drive Mapping.
By

Mark Soto

on

11/04/2015
Drive mapping is good feature. I really like..
Explorer works fine and does what its designed for.
UI is simple and could use a facelift.

Keep it up cloudberry.
CloudBerry makes using AWS services simple!
By

Administrator ACE

on

09/05/2012
We tried working through the online interfaces and well as browser-based solutions, but none of them provided the ease-of-use as Cloudberry Explorer. We started with the Free version, but upgraded to Pro because of the benefit of using advanced features such as the IAM policy editor.

I highly recommend this product.

Eric Korb
CTO, American College of Education - ace.edu