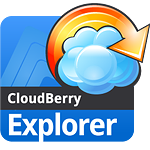 CloudBerry Explorer makes managing files in Amazon S3 storage easy. By providing a user interface to Amazon S3 accounts, files, and buckets, CloudBerry lets you manage your files on cloud just as you would on your own local computer. CloudBerry Explorer PRO offers some advanced features over Freeware version. It makes managing files Amazon S3 in even easier, more secure and cost efficient. By providing a user interface to Amazon S3 accounts, files, and buckets, CloudBerry lets you manage your files on cloud just as you would on your own local computer. See more
---
Works perfectly!
We've been using Cloudberry Explorer for at least 3 years and it has never caused us a problem - even when working with 1.5 million image files. Productivity would be severely reduced without it!
Just works
By

My_life_is_the_cloud

on

09/11/2016
I have used it for quite a while now and will buy a PRO license due to its enhanced features over the non-PRO-version. It is very handy indeed compared to the clumsy interface of Amazon's s3 web file copy. I do find it interesting that Amazon does not seem to have a front developer to fix theirs, but I assume CloudBerry labs are happy having business as a result ;)
Great software!
By

nickgreene.com

on

08/22/2016
CloudBerry Explorer Pro made our file management SO MUCH EASIER, especially permissions and file attributes! Incredible tool. I highly recommend it.
Finally... This plays nice with Amazon Cloud!
By

j sweetman

on

06/27/2016
So far I am very excited about Explorer PRO. It is making the Amazon Prime subscription worth the money! I plan on buying it in the next few days and I'm also looking into your backup product. I've been looking for a product that would make working with Amazon easy and yours does. Thank you.
Cloudberry Explorer Pro - Best s3 Esxplorer I have used
I have been using Cloudberry Explorer Pro now for several years. This product has never let me down and is very easy to use. I manage my own and client s3 buckets using this product and never had to use support regarding any issues. Fantastic product!
Great Product - Great Service
By

Jonathan Blain

on

03/13/2016
I'm no technical expert, but I have found CloudBerry really easy to use. I was recommended it by Rudolf Boogerman, creator of S3Media Stream, which I use to stream video from Amazon to my Joomla Website.

I recently had to contact technical support, when my laptop went back for warranty repair and got factory reset. When I had problems activating the license, they sorted it out for me straight away. I got a personal service and really appreciated that.
Compare and Sync alone makes Cloudberry PRO worth the money
By

Tony Publiski

on

02/10/2016
I've been using Cloudberry for home and work for many years now, but a few months ago I started using a cloud-based VM with a mounted s3fs share to download some data on a new bucket. I had been doing this for years from my home, but wanted to make sure I had redundancy and ability to download files I needed more quickly than my home-based connection would allow. My problem became how best to make sure I had all of my data in both places, for easy access at home, as well as easy access when I'm traveling or working remotely. I knew I could just copy all of my data using Cloudberry, but I really didn't want to have to re-upload gigabytes of data that already existed! I finally broke down and purchased Cloudberry PRO, and it was just amazing. As a regular unix user, I've relied on rsync for years, but it's just not reliable with s3fs. With Cloudberry PRO, I was able to easily setup many folders and sync just those certain folders, or sync the entire bucket. Since I would often saturate my connection syncing everything at once, I actually ended up going both ways, and Cloudberry PRO offered many options to make this work just the way I wanted it to. Start out syncing the folders that I used most often, then get a delta of everything else. There are more options than I've needed to use so far, but things like the ability sync or skip on certain file types I'm certain can come in handy in other situations. As for my bandwidth issue, I ultimtely overcame that with a feature that's not PRO-specific, allowing me to set a max bandwidth usage and a max number of simultaneous uploads. Other useful features that help that are PRO-specific would be allowing for multi-part uploads and multi-threading.

If you have been using Cloudberry's free version, this is absolutely a recommended upgrade if for no other reason than to support the company that offers it. If you just need a great product to make maintaining your s3 buckets a snap, this is the only one you'll ever need. Now if only they'd make a version for Mac, it'd be a huge plus for Mac users as well as Windows. :)
Excellent Tool
By

D. B. Foster "C. Smith"

on

02/02/2016
I have used the free version of this tool for a couple of years now for file management. It is an excellent tool which makes things so easy and I wouldn't be without it now. Recently I bought the pro version as I really did need to try and understand the IAM system. For a small enterprise, the latter did seem like overkill, being a subject in itself but I was determined to comply with AWS's best practice. However, the tool was a great help in understanding IAM and achieving the best setup for us.
Explorer Pro is the Bee's Knees!
By

Amazon Customer

on

12/28/2015
I can browse all my buckets and even get a graphical chart of how much space is being used and where (similar to windirstat only in pie-chart). It works with various encryption schemes, making retrieving a single file from a backup a breeze. Totally worth the $$!
CloudBerry S3 Explorer PRO makes life soooo easy with Amazon S3 and a PC!
Ever struggle with remembering buckets, secret keys, public keys,security settins, and all of the other stuff that Amazon AWS requires you know just to put and get files onto their server?

How about just figuring out the web link and security settings required to share a file with others? Just click the security tab and set it as you wish. e.g. public and read access. Then click the "web link" button to get not only a full path link but also the option of a short link! Send that link to others and now others can see your file! Brilliantly clean and simple!

CloudBerry Explorer PRO turns it into a Windows Explorer looking interface. (okay, maybe an Explorer on steroids interface for S3) Drag and drop files in either direction: Windows to/from S3.

I've used other tools, but they all seem so clunky. CloudBerry has made it so intuitive that I'll actually start using Amazon S3 for more things!

Good stuff!