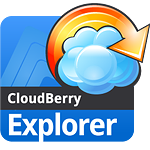 CloudBerry Explorer makes managing files in Amazon S3 storage easy. By providing a user interface to Amazon S3 accounts, files, and buckets, CloudBerry lets you manage your files on cloud just as you would on your own local computer. CloudBerry Explorer PRO offers some advanced features over Freeware version. It makes managing files Amazon S3 in even easier, more secure and cost efficient. By providing a user interface to Amazon S3 accounts, files, and buckets, CloudBerry lets you manage your files on cloud just as you would on your own local computer. See more
---
Indispensable for managing multimedia files in S3 storage
By

RA technologies

on

02/18/2017
We upload and move tons of multi-media files among different storage accounts and the CloudBerry Explorer PRO is by far the best tool to use. Not only does it upload faster - we compared it to UDP uploaders and the truth is, Cloudberry can also max out our upstream bandwith just like the UDP uploader - it makes management of files much easier. The Cloudfront Manager is killer.
Great File Manager for all things S3
By

Ernie Joseph

on

02/03/2017
We were looking for a solution to bridge the gap between local files and multiple S3 regions. With the added capability of AWS-China, Explorer Pro was a no-brainer.
Best of the bridges between Windows Server and AWS S3
By

IT Manager

on

01/19/2017
Fully compatible with IIS, Explorer,corporate application access. Easy setup. Good performance. Easy management of options and access scope. Complete and clear documentation. Straightforward license management. Responsive customer support. Volume purchase options.
Cloudberry Drive and Cloudberry Explorer are well-engineered and well-supported for bridging Windows Server applications to AWS S3 storage.
Fast, Easy to Use
We began using Amazon S3 for backing up archive data, and while the standard Amazon web interface is ok, this Cloudberry Explorer PRO made it much easier and faster. The interface is very intuitive, and allows uploading files or folders by simple drag and drop. Using the standard Amazon interface, we achieved only about 20mbps of upload speed. Once we started with Cloudberry we maxed our bandwidth and were uploading at about 160mbps. Made the process much faster. The interface also gives you much easier access to see just how much storage you are using, and allows you to access all of the options of S3, such as encryption and security, without bouncing around through the website. Small 10KB files all the way up to 100GB files were no problem. If you need to upload large amounts of data or access your data regularly, I would highly recommend purchasing this software.
Cloudberry Explorer Pro for Amazon S3
By

David H.

on

11/03/2016
Cloudberry Explorer Pro is easy to use. I had no problem connecting to Amazon S3 with Cloudberry Explorer Pro. Deleting files and moving files in S3 and Glacier in Cloudberry Explorer Pro is faster and simple. It is much better than using Amazon AWS Console.
The best S3/Glacier management software available!
By

Rob Dyer

on

10/25/2016
I've been using Cloudberry Explorer and Explorer Pro for a few years now and it is the absolute best product I've used when accessing and managing S3. I've used it for uploading files of all types and sizes, CloudFront invalidation, managing permissions on files, and even IAM user and group management. If you want to be able to manage S3/Glacier for one or multiple accounts, this will be the first thing that I recommend.
Excellent product and support
By

Bill Reid

on

10/14/2016
I've used the free version for awhile and now have upgraded to the Pro version. Both work flawlessly and their tech support is very knowledgeable and responsible to questions. I'm looking at their Cloudberry Drive next.
fast
By

John O'Groats

on

10/10/2016
The freeware seemed to open up about 2 threads, but PRO opens 6 or 7 and that makes it faster. Just moved a mature organisation's historic server up onto the cloud with this software and while I have issues, Cloudberry Explorer PRO is not a part of them. It's behaved immaculately.
Intuitive, reliable quality software
Absolutely wonderful front end for AWS-S3 and Glacier Data Storage and long term archiving. Had used the free version of Cloudberry and FastGlacier for couple of months until I was convinced that Cloudberry was a superior option. It is intuitive, to use and configure, simple installation very reliable and effictive. it is not limited to AWS-S3 or Glacier alone it also permits you to use a myriad of online storage services, local to cloud, cloud to cloud... One product for all. The free version is adequate for light users, however, for a few dollars you have considerable faster connection speeds along with no bandwidth or size limitations. Easily worth the money... Customer support is superb, for months they answered my many questions, promptly and courteously. Customer service did not stop after purchase either, Satisfied user. highly recommend, for all experience levels... (sans my grandma perhaps) ;o)
Works perfectly!
We've been using Cloudberry Explorer for at least 3 years and it has never caused us a problem - even when working with 1.5 million image files. Productivity would be severely reduced without it!