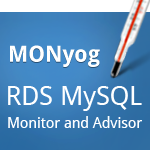 MONyog - RDS MySQL Monitor and Advisor is a 'MySQL DBA in a box' that help you manage MySQL servers. MONyog needs no agents on the servers and hence it is fully cloud ready. Works great with 'Amazon RDS for MySQL' and MySQL servers on 'Amazon EC2'. See more
---
Great
Awesome tool to check database health. It help to verify information about all database behavior and monitor queries and processes. Product is 30 day trial.
A Must Have for MySQL - Particularly RDS
By

Colin Erdman

on

04/10/2013
We've been evaluating Monyog recently with our very IO intensive application. With a small development/dba/data mangement staff of one - this tool has been indispensable in our efforts to tune our MySQL RDS instances and Innodb in particular. We've also used it on EC2 Standalone MySQL instances with MyISAM. The core-reporting, real time query data logging are fantastic. The biggest selling point for me above anything else is the wonderful configuration analysis platform that will analyze the my.cnf/`show variables` settings and allow you to see, in that dashboard format we've all come to love, how settings are affecting your application - and even offers `plain english` recommendations and best practices - they even provide a native API (LUA I believe?) so that you can build your own performance metrics into your dashboard that matter most to your. This has been absolutely INVALUABLE in helping us tune out our app on the RDS platform, particularly since we moved from MyISAM to Innodb.
MONyog- Only RDS Monitoring solution
By

Mahesh Patil

on

06/25/2012
We recently started migrating our data to Amazon RDS and we were looking for a solution to Monitor our live server.
We tried `MONyog - MySQL Monitor and Advisor` and I was able to Monitor almost everything apart from log files as RDS does not give access to file system, then turned `Log_output` to `TABLE` option and can monitor `slow` and `general` log as well.

I recommend this tool if you are running either MySQL RDS instance or normal MySQL installation as well.