Hybrid Cloud Storage
Connect on-premises applications and workloads to AWS Storage
Many customers want to take advantage of the benefits of cloud storage, but have applications running on-premises that require low-latency access to their data, or need rapid data transfer to the cloud. AWS hybrid cloud storage architectures connect your on-premises applications and systems to cloud storage to help you reduce costs, minimize management burden, and innovate with your data. AWS hybrid cloud storage, transfer, and migration services integrate seamlessly with applications using standard protocols, mitigate WAN latencies, and provide a consistent AWS management experience.
Learn more about the benefits, use cases, and details of hybrid cloud storage architectures with AWS below.
Reduce Cost & Operational Burden
Shrink your on-premises storage infrastructure, and free up resources to innovate

Seamless Integration
Use existing on-premises applications with AWS Storage services without software changes
Centralized data & management
Eliminate siloed management of data in AWS with the easy-to-use AWS Console experience

AWS Hybrid Cloud Storage Customers
Break free from the hardware refresh cycle and take advantage of the cloud for your data storage. Tens of thousands of customers around the world have built hybrid storage architectures with AWS.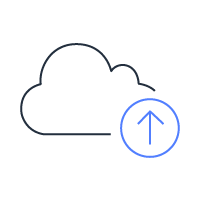 The exponential growth of data has made managing backups more difficult than ever before. Traditional on-premises backup methods such as tape libraries and backup appliances can be challenged to scale as data volumes do, and maintaining secondary standby sites can be prohibitively expensive.
Enterprises often look at using the AWS Cloud for their backup, archive, and home directory data because they can enjoy the advantages of cloud storage with simple changes, for instance switching backup targets to be Amazon S3, or a local cloud gateway appliance.
Whether you want to seamlessly shift your tape backups to a cloud-based VTL, backup databases to a file share interface to Amazon S3, or use your backup applications directly with object storage, AWS can help. Moving backups to AWS can help reduce the significant costs in securing, storing, and managing that data on-premises.
Hybrid File Storage & Home Directories

Unstructured or file data, whether from home directories, media and content archives, or applications, is a big source of data growth. Customers have commonly stored file data on Network Area Storage (NAS) arrays, or even file server VMs, but the cost and operational burden of buying, managing, and replacing storage infrastructure on-premises is a distraction from IT teams' priorities of increasing agility and innovation, strengthening security, and reducing cost.
AWS can help IT teams with hybrid cloud storage architectures that meet common on-premises file needs, from native Windows home directories with Amazon FSx for Windows, migrating file server workloads, team drives and user home drives to Amazon WorkDocs, enabling online content archives and distribution with AWS Storage Gateway, or hybrid processing and machine learning workflows with AWS DataSync.

Data Tiering & Storage Expansion

Adding capacity to on-premises NAS and SAN storage arrays, and provisioning new ones on a regular basis, consumes staff time, budgets, and rack space. Sometimes it's impossible to get new capacity as quickly as applications and business groups need it, because of procurement cycles, hardware scalability, or physical infrastructure and power limits.
Connecting AWS Storage to your on-premises applications and infrastructure gives you a flexible buffer for application file data, block volumes, snapshot or tape backup pools that can grow as needed, extending the life of your investments, reducing future infrastructure purchases, and helping your organization gracefully manage capacity fluctuations.

Hybrid cloud storage service to connect on-premises applications to AWS to store file, volume, and backup data in the cloud.
Petabyte-scale data transport with on-board storage, as well as Amazon EC2 computing capabilities and AWS Lambda functions for edge or disconnected locations.
Data transfer service to automate moving data between on-premises and Amazon S3, Amazon Elastic File System (Amazon EFS), or Amazon FSx for Windows File Server.
Amazon FSx for Windows File Server

Fully managed Windows file system that supports SMB, Windows NTFS, Active Directory, and on-premises access via AWS Direct Connect or AWS VPN.
AWS Transfer Family
Fully-managed service that enables the simple and seamless transfer of files directly into Amazon S3 using SFTP, FTPS, or FTP.
Amazon WorkDocs
Fully managed, secure file storage, content creation, and collaboration service that can be used to migrate user files and departmental file shares.