Amazon QuickSight Q
Ask questions of your data and receive answers with relevant visualizations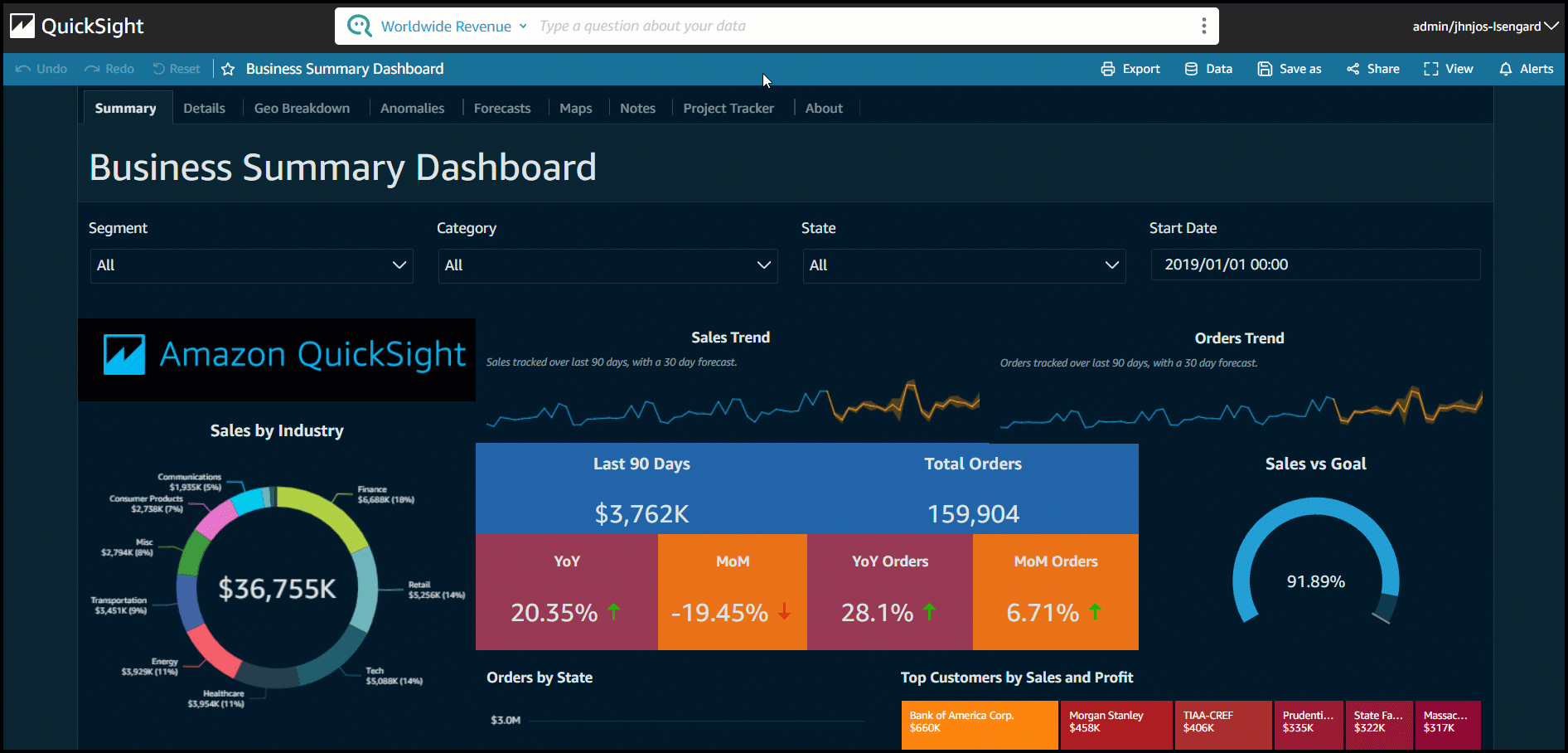 QuickSight Q enables anyone to ask questions in natural language and receive accurate answers with relevant visualizations that help them gain insights from the data.

Easy to use without any BI expertise
Q provides suggestions for phrases and business terms, and performs spell checking so you are freed from worrying about typos or remembering the exact terms in your data.

Understands your intent
Q uses machine learning to automatically understand the meaning and relationships among business data, providing you accurate answers with relevant visualizations.

Designed for your business
Q is pre-trained on data from domains such as sales, marketing, financial services, healthcare, and sports analytics so it understands your business language and terms.

Provides better answers
Q improves over time based on your questions. Authors can see the most popular questions from readers that they can use to make improvements to their dashboards.

Reduces time to insight
Q let's you get insights into your data quickly as you no longer have to wait for BI teams to update the data and dashboards for every new question.

Customer stories
"Amazon QuickSight Q allows both data experts and novices to have a more seamless and intuitive experience within Next Gen Stats. Content creators will now be able to ask questions similarly to how they would ask another person, and receive clear and customizable visual answers in return. QuickSight Q has the ability to significantly expand our research application's userbase by transcending the traditional Business Intelligence user interface; allowing users to think through a question semantically rather than technically. NFL teams will be able to quickly get the answers they need to make decisions prior to a game, while NFL Network and broadcast producers will be able to get live game statistics for discussion points without requiring technical training. We are looking forward to expanding the use of QuickSight Q, and making Next Gen Stats more accessible to everyone."

Michael Chi, Director of NFL Next Gen Stats

"The addition of Amazon QuickSight Q to Affinix Analytics, our award-winning platform that provides clients with insights and operational metrics to drive business decisions throughout the recruitment process, will reduce the manual effort required to analyze data, enhance the ability of clients and delivery teams to make data-driven decisions, and optimize the talent process while providing a best-in-class experience for candidates. As consumers in a technology-enabled world, we expect an on-demand experience for everything we do. With Amazon QuickSight Q, we are thrilled to bring that same experience to business users through on-demand answers and data visualizations in seconds with Affinix Analytics."

Anna Turner, Senior Vice President of Product

"With Amazon QuickSight Q we bring life-saving safety analytics to more people than ever before. Our FAST (Forwood Analytical Self-Service Tool for Reporting) users will now have the opportunity to ask their own questions via the natural language-based interface to query and quickly visualize fatality risks on their sites. This is ground-breaking in the industry, making fatality prevention data readily available to workers at all levels of the organization, not just to those with experience in analytics and data reporting. Amazon QuickSight Q will enable all of our users to identify sites or work areas that have an increasing fatality risk, based on emerging trends in non-conformance to safety standards. Amazon QuickSight Q is a great addition to our innovative suite of tools and ensures Forwood's critical risk management solution 'CRM' has the most advanced data analysis capabilities to provide our customers with unparalleled insights into their safety and risk status."

Faye Crompton, Leader – Analytics and Benchmarking
"With Amazon QuickSight, we have been able to quickly roll out new machine learning-powered BI dashboards at scale and without any server setup or onerous capacity planning. Now, with the launch of Amazon QuickSight Q we look forward to making it easy for our users to quickly get answers to their ad-hoc business questions that aren't even part of the BI dashboards."

Peter Tyson, Senior Data Engineer

"Our cloud-based solution collects large amounts of anonymized data that help us optimize the experience for both our airline partners and their passengers. We started using Amazon QuickSight to report on in-flight Wi-Fi performance, and with its rich APIs, pay-per-session pricing, and ability to scale, we quickly rolled out Amazon QuickSight dashboards to hundreds of users. The constant evolution of the platform has been impressive: machine learning-powered anomaly detection, Amazon SageMaker integration, embedding, theming, and cross-visual filtering, and now with Amazon QuickSight Q our users can consume insights by simply typing their business questions in the search bar and Amazon QuickSight Q interprets the business context, provides synonyms, and shows them an answer with no complex interpretation needed."
Anand Desikan, Head of Platform services

"Amazon QuickSight's pay-per-use pricing and serverless architecture enabled Best Western's lean analytics team to be agile and deliver increased value to the business, faster and at less than half the cost of our previous analytics architecture. With Amazon QuickSight Q, we look forward to enabling our business partners to self-serve their ad-hoc questions while reducing the operational overhead on our team for ad-hoc requests. This will allow our partners to get answers to their critical business questions quickly by simply typing their questions in plain language."
Joseph Landucci, Senior Manager Database and Enterprise Analytics

"In less than two months we were able to pivot our old BI reporting tool into Amazon QuickSight. We gained so much in terms of ease of management, especially while scaling the tool to support the increase in number of BI users. Now with the launch of Amazon QuickSight Q, we are looking forward to make it easier for our executive leadership team, sales users in the field, and supervisors in the manufacturing plant to ask their data questions in plain English when the answers are unavailable in the dashboards, providing faster insights that help in making our sales and manufacturing processes even more efficient."
Gopal Ramamurthi, Sr. Director Analytics & Enterprise Data Management

---