Amazon Redshift
Analyze all of your data with the fastest and most widely used cloud data warehouse
Analyze all data types across your data warehouse, operational database, and data lake. Use standard SQL to run queries and deploy machine learning (ML) models.

Share live data inside and outside your organization to improve collaboration, isolate critical workloads, accelerate development, and enable real-time insights.

Get up to 3x better price performance and run 10x faster operations than other enterprise data warehouses with AQUA (Advanced Query Accelerator).

Launch a data warehouse in minutes using ML-driven workload management, table optimizations, and concurrency scaling to maximize performance and throughput.

How it works
Amazon Redshift uses SQL to analyze structured and semi-structured data across data warehouses, operational databases, and data lakes, using AWS-designed hardware and ML to deliver the best price performance at any scale.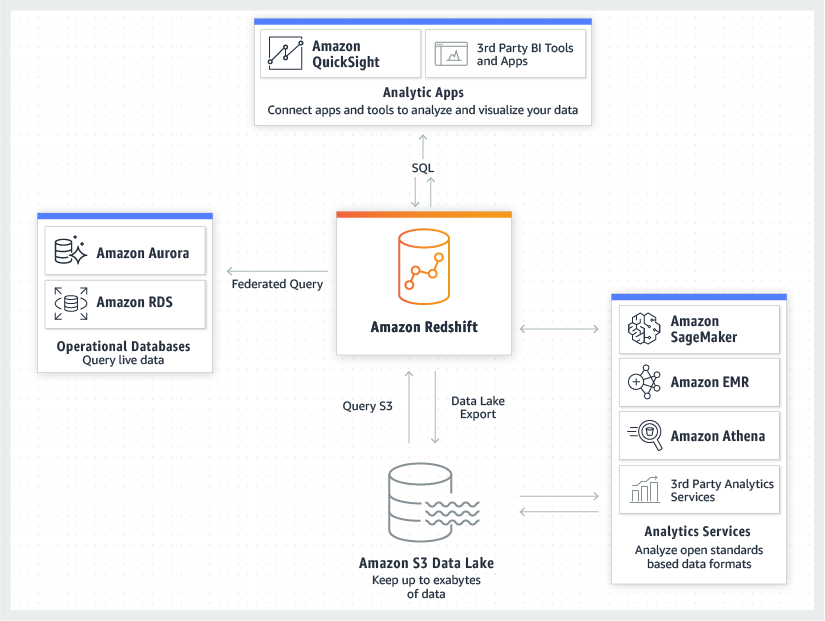 Click to enlarge
Optimize your business intelligence
Build insight-driven reports and dashboards using Amazon QuickSight, Microsoft PowerBI, Tableau, or other business intelligence (BI) tools.

Expand your ML usage

Use Redshift ML to automatically create, train, and deploy Amazon SageMaker ML models on your data with SQL.

Access real-time operational analytics
Combine structured data from your data warehouse and semi-structured data from your data lake to generate application and system insights.

Deliver analytics as a service
Collaborate on live data using data sharing capabilities to secure and govern data and analytics even outside your organization.

Find out how Amazon Redshift works
Learn more about Federated Query, data lake analytics, Redshift ML, supported node and instance types, and more.

Learn more about Redshift features »
Connect with an expert

From development to enterprise-level programs, get the right support at the right time.

Explore support options »