In the news
---
MATCHSTATS POWERED BY AWS
Former England captain Will Carling helps break down each of the new Matchstats powered by AWS in a series of six blogs during the 2020 Guinness Six Nations Rugby Championship.
Matchstats powered by AWS: Big Hits, Big Insights
Former England captain Will Carling helps break down each of the new Matchstats powered by AWS in a series of six blogs during the 2020 Guinness Six Nations Rugby Championship.
The second weekend of matches was certainly one to remember, set against the backdrop of dramatic gale force winds and heavy rain caused by Storm Ciara. Scotland faced the "Auld Enemy" England, France took on Italy, but the pick of the bunch for me was Ireland against Wales. Two of the world's superpowers head-to-head in a true clash of the titans encounter.
The two squads were coming into the game with promising wins already under their belts. With new coaches at the helm on both sides, Ireland scored a tense victory at home against Scotland last week, while Wales were looking strong following an electric five-try to nil win against Italy.
While each team had one victory apiece, it remained to be seen if the men in red could extend their winning streak with a ninth consecutive Guinness Six Nations victory.
The Welsh team looked as big and resilient as ever, led once again by long-standing servant and Welsh warrior Alun Wynn-Jones. Jonny Sexton's men in green are a force themselves, of course, with prop Tadhg Furlong, back-rower CJ Stander and winger Jacob Stockdale showcasing some of the Irish firepower on display.
With two powerful teams on the pitch, tackles were always going to be significant. But in the end, the game proved that it's not just how many tackles are made, but the quality of those tackles that makes all the difference.

How the Tackling Game Has Changed
Rugby is a big game for big men making big hits. The truth is, however, that tackling has been evolving for a while now, and this makes the tackle more interesting than ever with players having to be far more careful and precise when trying to make a dominant tackle.
And this clash of the titans didn't disappoint in delivering this. Both teams were ferocious in defence, visibly embracing the challenge of repelling the opposition.

Dominant Tackles
By looking at the new Matchstats powered by AWS, it's now possible to determine the defensive strength and structure of the team and map out locations and percentages of dominant tackles to analyse teams' momentum in the gainline area.
Dominant tackles put pressure on the attacking team as they lose field position and forward momentum, allowing the defending team opportunities to win the ball. They can also demoralise the opposition if they see their attacking line constantly being pushed backwards, which helps teams understand when they are winning the mental game as well as the physical game.
We can pinpoint the areas of strength and weakness in defence, the missed opportunities for the team on the attack and the true colossal impact of the big hitters.
Five or so years ago we might have learned that someone made 25 tackles in a game and we'd probably have said, "That's brilliant." But is it? It might have been. But how many of those tackles made a real impact on the game?
That's where these new stats can really make a difference. We can learn not only the number of tackles made but also gain insight into the dominant tackles, which are the ones that actually make a difference to a game because they stop momentum. The depth of information we can glean from these stats is not something that fans have had access to before. It will enable new fans to understand the crucial parts of the game more easily, and provide the avid fans with an even deeper understanding into the game.

Domination in Dublin
Overall, Wales certainly had their hands full in defence – attempting 196 tackles to Ireland's 176. And of those tackles, 94% were successful, outstripping Ireland's 88%. But it's not just about making tackles, it's about making them count.
The signs were there during the first half. Wales' defence worked hard, with the team leading by 5-7 at the 29-minute mark. But nevertheless, Ireland enjoyed 66% of the territory and translated that into points, going in at the break leading 12-7.
Wales worked hard to respond in the second half. Although the team were more clinical with the ball when they had it, they spent too much time on the back foot – largely due to Ireland's strength in making dominant tackles.
At 72 minutes, Ireland had made 18 dominant tackles compared to Wales' 13. That was despite Wales making more tackles, and Ireland missing 20 tackles to Wales' 13. Ireland were able to break up Wales' forward momentum at key points, edging the mental battle against their opposition. As a result, Ireland went into the final ten minutes leading by 19-7 – and subsequently scored a final try to secure their victory.
It's notable that Wales then completed four dominant tackles of their own. Justin Tipuric even scored a final try. But unfortunately, it was too late in the day. Much like last week, a large part of Ireland's win was thanks to an ordered and explosive defence.

Making Commentators' and Pundits' Lives Easier
TV broadcast commentators and pundits now have a wonderful tool with which to discuss and explain the game of rugby to fans. The stats can help them to communicate the story of each match in accessible detail during half time and post-game analysis, making for even more compelling viewing.
The insights are great storytelling starters that also give greater credibility to pundits' comments. It's fantastic to see how technology is helping to evolve our game for fans and to shed new light on our sport, driving greater engagement for the sport itself and of course, for broadcasters.
It's almost the midway point for the Championship and we have already been treated to some fabulous games of rugby from the countries involved, but also fresh analysis and insight from AWS. Roll on Round 3.

---
About Amazon Web Services
For 13 years, Amazon Web Services has been the world's most comprehensive and broadly adopted cloud platform. AWS offers over 165 fully featured services for compute, storage, databases, networking, analytics, robotics, machine learning and artificial intelligence (AI), Internet of Things (IoT), mobile, security, hybrid, virtual and augmented reality (VR and AR), media, and application development, deployment, and management from 69 Availability Zones (AZs) within 22 geographic regions, with announced plans for 13 more Availability Zones and four more AWS Regions in Indonesia, Italy, South Africa, and Spain. Millions of customers—including the fastest-growing startups, largest enterprises, and leading government agencies—trust AWS to power their infrastructure, become more agile, and lower costs. To learn more about AWS, visit aws.amazon.com.

About Amazon
Amazon is guided by four principles: customer obsession rather than competitor focus, passion for invention, commitment to operational excellence, and long-term thinking. Customer reviews, 1-Click shopping, personalized recommendations, Prime, Fulfillment by Amazon, AWS, Kindle Direct Publishing, Kindle, Fire tablets, Fire TV, Amazon Echo, and Alexa are some of the products and services pioneered by Amazon. For more information, visit amazon.com/about and follow @AmazonNews.

About Guinness Six Nations Rugby Championship
The Six Nations Championship is an annual rugby union competition, held in February and March, between the teams of England, Ireland, Scotland, Wales, France and Italy. This year the Championship celebrates its 20th Anniversary, after Italy joined what was then the Five Nations in 2000. Wales are the current Guinness Six Nations Champions, who won the 2019 Championship with a Grand Slam.
The Guinness Six Nations Championship is broadcast live on the BBC and ITV in the UK, on Virgin Media in Ireland, France 2 in France and DMAX in Italy while NBC in the USA will once again broadcast the Championship on their platforms. The Championship is also broadcast in 172 territories over six continents.
Over 1 million people attend the 15 games of the Championship annually, making it one of the best attended sport events in the world.

---

Sports organizations all over the world are changing the game with technology on AWS

See all sports >
---

Sports organizations all over the world are changing the game with technology on AWS

See all sports >
How Technology is Changing
Our Experience of Rugby

Will Carling discusses how technology provides fans and players with greater understanding into a range of key in-game events and positively evolves the game.

Read more >
Six Nations Graphics
(Visits To 22) Explained

Will Carling dives into the new stat that highlights the number of occasions a team has entered the opposition's 22 metre area and how many points they have scored with the entries.

Read more >
Drawing the Battle Lines
with Ruck Insights

Will Carling goes deeper into how understanding rucks and turnovers is vital and can reveal where the battle lines of a game are really drawn.

Read more >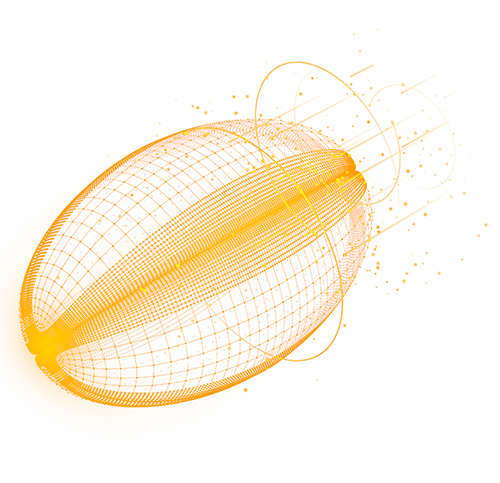 Guinness Six Nations and AWS

First played in 1883 as the Home Nations Championship among England, Ireland, Scotland, and Wales, with the inclusion of France in 1910 and Italy in 2000, the Six Nations Championship is among the oldest surviving rugby traditions and is one of the best attended sporting events in the world. Working with AWS and its partner Stats Perform, Six Nations is adopting new technologies that will help fans better understand the complexities and nuances of decisions made on and off the pitch.