In the news
---
MATCHSTATS POWERED BY AWS:

Drawing the Battle Lines with Ruck Insights

Former England captain Will Carling helps break down each of the new Matchstats powered by AWS in a series of six blogs during the 2020 Guinness Six Nations Rugby Championship.
Matchstats powered by AWS: Drawing the Battle Lines with Ruck Insights
Former England captain Will Carling helps break down each of the new Matchstats powered by AWS in a series of six blogs during the 2020 Guinness Six Nations Rugby Championship.
We're now over the half way mark in the 2020 Guinness Six Nations Championship, and the action is really starting to heat up. While Italy took on Scotland, and Wales battled France, for me, the highlight of this weekend's games was England's impressive performance against Ireland at home at a blustery Twickenham stadium.
It was always going to be a thrilling game with Farrell going head to head against Farrell. Andy Farrell's unbeaten Irish side had their sights on silverware and securing the Triple Crown – by beating England, who are captained by his son Owen.
England, meanwhile, were still hopeful of winning the Championship, despite their opening day loss against France. A solid performance against Scotland has fostered renewed self-belief for Eddie Jones' men.
In this match up, the flow of the game was always going to be interesting. We saw dominance, strength, and power, but understanding where and how this was exerted is key.
Indeed, these two powerhouses are renowned for their physicality and execution at the breakdown, with goliath players drilled within an inch of their lives. Ireland have won 98.2% of their own rucks – a higher percentage than any other team in the 2020 Guinness Six Nations – so the ruck and turnovers were always, therefore, going to be at the heart of this enthralling meeting.
Understanding rucks and turnovers is vital and can reveal where the battle lines of a game are really drawn.

Ruck and Turnover Locations
New Matchstats powered by AWS look to examine just this and provide fans with invaluable insight into each team's attacking strategy, unearthing key parts of the field they perceive to be a weakness to the opposition. Using data on ruck location and efficiency, a heat map of the pitch highlights the action areas of each team. This also visually establishes where a team is securing the ball or where a team is more or less effective on the field.
Whereas previous stats only looked at the number and duration of rucks, this stat brings deeper insight to the ruck and how it is used as a strategic tool for teams.


England Disrupt the Irish Flow
With powerful and explosive players like centre Bundee Aki, number eight CJ Stander, and winger Jacob Stockdale, Ireland may have thought they would be able to deal with England's destroyers at the breakdown. But it wasn't to be.
Always a bruising encounter with these two powerhouses, England won 67 rucks compared with Ireland's 110, but this stat alone doesn't tell the whole story.
Although Ireland won a lot of rucks, they also lost possession again and again – conceding 15 turnovers in the 80 minutes in fact. Wrecking balls like Sam Underhill and Joe Marler gave England 32 dominant tackles compared with Ireland's eight, contributing six and three of these respectively. These resulted in three turnover tackles for the English, whereas Ireland managed none. The impact? Ireland could never really build momentum and flow in their attack.
Even when Ireland had pulled a try back in the 50th minute to make the score 17-5, England's ferocity and consistency in and around the breakdown meant Ireland couldn't use the points as a springboard for more.
The ruck and turnover locations showed us that England were clearly targeting the tackle and breakdown as a key battleground. Let's give England credit. They knew that to get the upper hand, disruption was key – and they delivered on it.
Where to Next?
I've thoroughly enjoyed analysing these games, taking advantage of the new insights I've gleaned from AWS's powerful rugby match stats.
It's such a joy to have this insight, which has come on hugely in recent years. When I first started out in rugby, it was, to be honest, pretty basic. It was purely visual – watching and analysing games and looking at how the teams performed from game video footage and replays. Today, with access to lots of data and the ability to crunch the numbers, we now have real-time and in-depth insight, which I think, adds a new dimension for fans.
As we enter the business end of the competition, I'm intrigued to see whether France can stand up to the pressure and if Italy can chalk up a win.
Roll on round four!

---
About Amazon Web Services
For 13 years, Amazon Web Services has been the world's most comprehensive and broadly adopted cloud platform. AWS offers over 165 fully featured services for compute, storage, databases, networking, analytics, robotics, machine learning and artificial intelligence (AI), Internet of Things (IoT), mobile, security, hybrid, virtual and augmented reality (VR and AR), media, and application development, deployment, and management from 69 Availability Zones (AZs) within 22 geographic regions, with announced plans for 13 more Availability Zones and four more AWS Regions in Indonesia, Italy, South Africa, and Spain. Millions of customers—including the fastest-growing startups, largest enterprises, and leading government agencies—trust AWS to power their infrastructure, become more agile, and lower costs. To learn more about AWS, visit aws.amazon.com.

About Amazon
Amazon is guided by four principles: customer obsession rather than competitor focus, passion for invention, commitment to operational excellence, and long-term thinking. Customer reviews, 1-Click shopping, personalized recommendations, Prime, Fulfillment by Amazon, AWS, Kindle Direct Publishing, Kindle, Fire tablets, Fire TV, Amazon Echo, and Alexa are some of the products and services pioneered by Amazon. For more information, visit amazon.com/about and follow @AmazonNews.

About Guinness Six Nations Rugby Championship
The Six Nations Championship is an annual rugby union competition, held in February and March, between the teams of England, Ireland, Scotland, Wales, France and Italy. This year the Championship celebrates its 20th Anniversary, after Italy joined what was then the Five Nations in 2000. Wales are the current Guinness Six Nations Champions, who won the 2019 Championship with a Grand Slam.
The Guinness Six Nations Championship is broadcast live on the BBC and ITV in the UK, on Virgin Media in Ireland, France 2 in France and DMAX in Italy while NBC in the USA will once again broadcast the Championship on their platforms. The Championship is also broadcast in 172 territories over six continents.
Over 1 million people attend the 15 games of the Championship annually, making it one of the best attended sport events in the world.

---

Sports organizations all over the world are changing the game with technology on AWS

See all sports >
---

Sports organizations all over the world are changing the game with technology on AWS

See all sports >
How Technology is Changing
Our Experience of Rugby

Will Carling discusses how technology provides fans and players with greater understanding into a range of key in-game events and positively evolves the game.

Read more >
Six Nations Graphics
(Visits To 22) Explained

Will Carling dives into the new stat that highlights the number of occasions a team has entered the opposition's 22 metre area and how many points they have scored with the entries.

Read more >
Will Carling looks into the new stats to determine the defensive strength and structure of teams and map out locations and percentages of dominant tackles to analyse momentum in the gainline area.

Read more >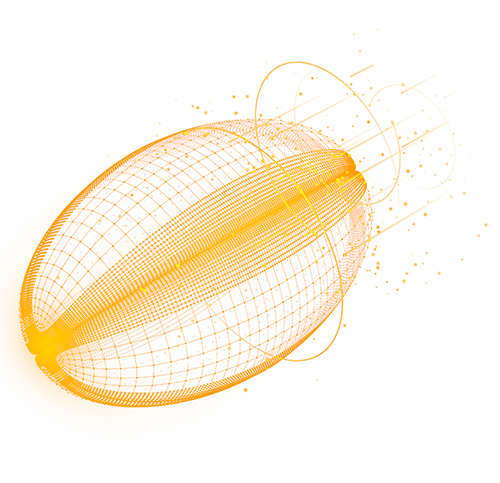 Guinness Six Nations and AWS

First played in 1883 as the Home Nations Championship among England, Ireland, Scotland, and Wales, with the inclusion of France in 1910 and Italy in 2000, the Six Nations Championship is among the oldest surviving rugby traditions and is one of the best attended sporting events in the world. Working with AWS and its partner Stats Perform, Six Nations is adopting new technologies that will help fans better understand the complexities and nuances of decisions made on and off the pitch.