In the news
---
MATCHSTATS POWERED BY AWS:
Six Nations Graphics (Visits To 22) Explained
Former England captain Will Carling helps break down each of the new Matchstats powered by AWS in a series of six blogs during the 2020 Guinness Six Nations Rugby Championship.
Matchstats powered by AWS: Six Nations Graphics (Visits To 22) Explained
Former England captain Will Carling helps break down each of the new Matchstats powered by AWS in a series of six blogs during the 2020 Guinness Six Nations Rugby Championship.
The 2020 Guinness Six Nations has arrived. The opening weekend offered up three huge clashes among the finest teams that Northern Hemisphere rugby has to offer. The pick of the fixtures for me was the Sunday clash between my beloved England and France.
It was always going to be a ferocious battle of youth versus experience. France and England are two teams steeped in Six Nations glory, with one relatively inexperienced team on the road to hosting the Rugby World Cup in 2023 and the other, Rugby World Cup 2019 finalists, and the only team in this year's Championship with the same coach and captain as 12 months ago.
What unites these great sides? Their desire to attack and bring the fight to the opposition. How these teams used their time in the opposition 22 metre area was always going to deliver interesting insight into how the match was won.
This part of the field is, of course, often where the real magic happens in rugby – where progress and points are on offer. This is also where many fans get really excited. It is where the action, the pressure, and the scoring of points materialises.

Visits to 22
For those who are a little less familiar with rugby, the main aim of any team is to cross the try line and get the maximum amount of points out of an attacking opportunity.
For some however, just keeping the scoreboard ticking over and accumulating points with penalties and drop goals is an equally valuable strategy. Whatever the team's plan of attack, visiting the 22-metre area in the opposition's half is only worth it if you walk away with points.
One of the new Guinness Six Nations 'Matchstats powered by AWS' examines just this: Visits to 22. The stat highlights the number of occasions a team has entered the opposition's 22 metre area and how many points they have scored with the entries. The 22 entry is also calculated for every phase of play, and not simply for crossing the 22 metre line on multiple occasions in a phase.
The idea behind this stat is to gain deeper insight into how many opportunities a team creates, how long they stay in the attacking area, how many opportunities they convert, as well as how many opportunities are stopped by the defending team.
This helps us viewers to gain a better understanding of how one team's defensive strategy is superior to the opposition, or equally, highlights another team's attacking strategy and their differing game plan in this crucial area of the field.

The Rose Lacking Its Thorn
Overall, England enjoyed 57 percent of the possession in this game and 65 percent territory. But possession and territory don't score points and don't win you games; potency does.
England demonstrated perfectly why understanding the play in the 22 metre area is so interesting. They came and came again for France, but they could not leave with valuable points. 46 minutes into the game and the Visits to 22 stat revealed seven visits to the French 22 metre area and no points scored.
The superbly drilled French defence rose to the occasion under the watchful eye of new defence coach, Shaun Edwards, formerly of Wales. His defence style, which is all about speed, pressure, and maintaining discipline, was evident here and it was obvious that he was well prepared for the clash with the Red Rose which saw England struggle to break through the blue defensive line.
From looking at the on-screen stat, it was clear that England thought one of France's weakness was on the wings, with all entries into the 22 happening on the far right and left of the field. With Rattez in as a late replacement for France on the wing, you can understand why England might have thought this strategy would work. But the resilient French played an immense game on defence which shut down England's advances when they got into the 22, despite prolonged periods of attack (England spent over eight minutes in the French 22) and extended phases of play.
On the other side, it was the ability of Les Bleus to convert their opportunities into points that saw them go in 17-0 at half time and ultimately win 24-17. At the end of the game, England spent eight minutes and 35 seconds in the opposition 22 compared with France's one minute and 25 seconds.
An expectant England crowd in Paris will have left not just disappointed in the result, but in the manner of the result. We have been accustomed to seeing England be ruthless in the opposition 22, but today, France denied them time and time again. It was a deserved win for France and a painful lesson for England.

Never Better for Fans
The insights that can be gathered from sports by using the latest cloud technologies is astonishing. AWS is giving all fans a far greater understanding of the game we love. It doesn't just allow us to understand the decisions and quality of performance, but the pressure and nuances that see teams ultimately come out on top. It's certainly more insightful than it was back in my day when analysis was based purely on watching clips and replays!
There truly has never been a better time to be a rugby fan.

---
About Amazon Web Services
For 13 years, Amazon Web Services has been the world's most comprehensive and broadly adopted cloud platform. AWS offers over 165 fully featured services for compute, storage, databases, networking, analytics, robotics, machine learning and artificial intelligence (AI), Internet of Things (IoT), mobile, security, hybrid, virtual and augmented reality (VR and AR), media, and application development, deployment, and management from 69 Availability Zones (AZs) within 22 geographic regions, with announced plans for 13 more Availability Zones and four more AWS Regions in Indonesia, Italy, South Africa, and Spain. Millions of customers—including the fastest-growing startups, largest enterprises, and leading government agencies—trust AWS to power their infrastructure, become more agile, and lower costs. To learn more about AWS, visit aws.amazon.com.

About Amazon
Amazon is guided by four principles: customer obsession rather than competitor focus, passion for invention, commitment to operational excellence, and long-term thinking. Customer reviews, 1-Click shopping, personalized recommendations, Prime, Fulfillment by Amazon, AWS, Kindle Direct Publishing, Kindle, Fire tablets, Fire TV, Amazon Echo, and Alexa are some of the products and services pioneered by Amazon. For more information, visit amazon.com/about and follow @AmazonNews.

About Guinness Six Nations Rugby Championship
The Six Nations Championship is an annual rugby union competition, held in February and March, between the teams of England, Ireland, Scotland, Wales, France and Italy. This year the Championship celebrates its 20th Anniversary, after Italy joined what was then the Five Nations in 2000. Wales are the current Guinness Six Nations Champions, who won the 2019 Championship with a Grand Slam.
The Guinness Six Nations Championship is broadcast live on the BBC and ITV in the UK, on Virgin Media in Ireland, France 2 in France and DMAX in Italy while NBC in the USA will once again broadcast the Championship on their platforms. The Championship is also broadcast in 172 territories over six continents.
Over 1 million people attend the 15 games of the Championship annually, making it one of the best attended sport events in the world.

---

Sports organizations all over the world are changing the game with technology on AWS

See all sports >
---

Sports organizations all over the world are changing the game with technology on AWS

See all sports >
How Technology is Changing
Our Experience of Rugby

Will Carling discusses how technology provides fans and players with greater understanding into a range of key in-game events and positively evolves the game.

Read more >
Will Carling looks into the new stats to determine the defensive strength and structure of teams and map out locations and percentages of dominant tackles to analyse momentum in the gainline area.

Read more >
Drawing the Battle Lines
with Ruck Insights

Will Carling goes deeper into how understanding rucks and turnovers is vital and can reveal where the battle lines of a game are really drawn.

Read more >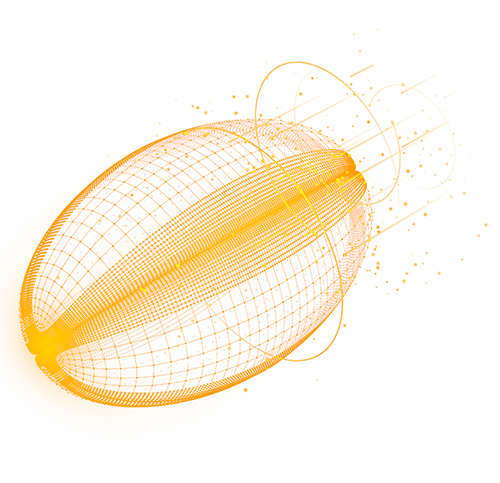 Guinness Six Nations and AWS

First played in 1883 as the Home Nations Championship among England, Ireland, Scotland, and Wales, with the inclusion of France in 1910 and Italy in 2000, the Six Nations Championship is among the oldest surviving rugby traditions and is one of the best attended sporting events in the world. Working with AWS and its partner Stats Perform, Six Nations is adopting new technologies that will help fans better understand the complexities and nuances of decisions made on and off the pitch.