In the news
---
MATCHSTATS POWERED BY AWS:
Former England captain Will Carling helps break down each of the new Matchstats powered by AWS in a series of six blogs during the 2020 Guinness Six Nations Rugby Championship.
Matchstats powered by AWS: The Odds of Placekicking
Former England captain Will Carling helps break down each of the new Matchstats powered by AWS in a series of six blogs during the 2020 Guinness Six Nations Rugby Championship.
To say the Guinness Six Nations Championship has been a little unusual this year is an understatement. While the last few weeks have brought victory and glory, and defeat and regret in equal measure – not to mention some truly outstanding games of rugby – fans and teams alike have also had to contend with a powerful pair of windstorms and the extraordinary and unprecedented advent of the coronavirus, COVID-19. I don't think anyone could have predicted what has happened!
The final round of the Championship was due to take place this weekend just gone, but unfortunately all three games were postponed due to ongoing concern around COVID-19. I have no doubt they would have been hugely exciting.
While I originally expected the Wales and Scotland game at the Principality stadium to be the standout fixture, I was most excited to see if England could pull off a great comeback and win the Championship in their match against Italy (provided Ireland could have done a job on France, of course!).

A Game of Two Boots
Throughout the Championship, as ever, placekicking has been a huge factor in whether games have been won and lost. We saw the normally metronomic boot of Ireland captain Johnny Sexton lose its rhythm against England, when he shanked a couple of easy kicks and saw Ireland's challenge fade away.
And somehow, during a stormy night in Paris, one of the coolest men in rugby right now, Romain Ntamack of France, and England's leading star, Owen Farrell, made 100% of their kicks – four and three respectively. These pros make it look easy, but of course there are a number of factors that could impact on a player's ability to send the ball squarely between the posts.
The truth is that placekicking may look easy, but I can assure you it isn't. The eyes of a stadium – let alone those of everyone watching on TV – bear down on a placekicker as the atmosphere seizes up and the silence becomes deafening.
They run through their rituals – whether it's the Biggar dance or the Farrell eye-tracing – to settle their nerves and shut out the world around them. Just them, the ball and the posts (and possibly some weather).

Kick Predictor
One of the new Matchstats powered by AWS – the kick predictor – was used throughout the Championship to bring to life the probability of a kicker successfully slotting a penalty kick or conversion.
Advanced machine learning technology draws on real-time, in-game factors like the score and where the kick is being taken from, the period of the game in which the kick is being taken, if the kicking team is playing home or away, as well as historical factors like how successful the kicker has been from that position during the Championship and during the player's entire career.
This stat provides much more insight than simply showing a general kick success rate. It helps fans to determine a player's kicking ability, while factoring in the difficulty of the kick, as differences are small between players for the easiest kicks, but can be large for more difficult kicks (for example, from the touchlines).
Understanding the probability of whether these kicks go over or not is a fascinating prospect. We can really get to grips with the risk versus reward for each kicking decision. We can see just how much better the very best kickers are too, as the likelihood of them making a kick is higher than the average.
For fans like my younger kids, who are data obsessed, this kind of insight is not just interesting, it's essential. They want to know who the best player is, who ran the most yards, and that sort of thing. This is the kind of information that fans now want to know, and they want to talk about it with their mates. Data makes heroes these days, because it makes it clearer to fans who is playing really well.

Who Will Win the 2020 Championship?
So far, the 2020 Guinness Six Nations Championship has delivered some real moments of quality rugby that will live long in the memory – and there's still more to come!
For me, a few of the standout highlights so far include watching the mercurial Stuart Hogg deliver a moment of sheer brilliance to score a wonderful try against Italy, running half the length of the pitch and stepping away from defensive players with ease.
Then, Romain Ntamack almost single-handedly dismantling a powerful Welsh side with inventive kicking and icy cool decision-making. And England managing to finish (and win) their game against Wales with just 13 men on the pitch.
Let's hope the remaining matches deliver even more magic when they're played later in the year!
It's funny to think that data and access to data was really limited back in my day. At that time, the only data you collected was the number of points, who was winning and who was losing. Things advanced a little and we got to see information like the number of tackles and metres made, and the weights of players. Now it's so much more, and we are really only just scratching the surface of what is possible.
I am really excited to see how the Six Nations will continue to adopt technology to enhance the fan experience in rugby even further. By using cloud services like machine learning, artificial intelligence and advanced analytics, it really is possible to make rugby – and all sports – more accessible, understandable and engaging for us all. Fans just haven't had this level of insight before and I think that's rather wonderful.
For now, we'll have to wait and see who the eventual winners are of the 2020 Championship. Which nation will be next to etch its name into sporting history by joining the Roll of Honour? With England and France tied at the top of the table with 13 points apiece, the title is very much still up for grabs.

---
About Amazon Web Services
For 13 years, Amazon Web Services has been the world's most comprehensive and broadly adopted cloud platform. AWS offers over 165 fully featured services for compute, storage, databases, networking, analytics, robotics, machine learning and artificial intelligence (AI), Internet of Things (IoT), mobile, security, hybrid, virtual and augmented reality (VR and AR), media, and application development, deployment, and management from 69 Availability Zones (AZs) within 22 geographic regions, with announced plans for 13 more Availability Zones and four more AWS Regions in Indonesia, Italy, South Africa, and Spain. Millions of customers—including the fastest-growing startups, largest enterprises, and leading government agencies—trust AWS to power their infrastructure, become more agile, and lower costs. To learn more about AWS, visit aws.amazon.com.

About Amazon
Amazon is guided by four principles: customer obsession rather than competitor focus, passion for invention, commitment to operational excellence, and long-term thinking. Customer reviews, 1-Click shopping, personalized recommendations, Prime, Fulfillment by Amazon, AWS, Kindle Direct Publishing, Kindle, Fire tablets, Fire TV, Amazon Echo, and Alexa are some of the products and services pioneered by Amazon. For more information, visit amazon.com/about and follow @AmazonNews.

About Guinness Six Nations Rugby Championship
The Six Nations Championship is an annual rugby union competition, held in February and March, between the teams of England, Ireland, Scotland, Wales, France and Italy. This year the Championship celebrates its 20th Anniversary, after Italy joined what was then the Five Nations in 2000. Wales are the current Guinness Six Nations Champions, who won the 2019 Championship with a Grand Slam.
The Guinness Six Nations Championship is broadcast live on the BBC and ITV in the UK, on Virgin Media in Ireland, France 2 in France and DMAX in Italy while NBC in the USA will once again broadcast the Championship on their platforms. The Championship is also broadcast in 172 territories over six continents.
Over 1 million people attend the 15 games of the Championship annually, making it one of the best attended sport events in the world.

---

Sports organizations all over the world are changing the game with technology on AWS

See all sports >
---

Sports organizations all over the world are changing the game with technology on AWS

See all sports >
How Technology is Changing
Our Experience of Rugby

Will Carling discusses how technology provides fans and players with greater understanding into a range of key in-game events and positively evolves the game.

Read more >
Six Nations Graphics
(Visits To 22) Explained

Will Carling dives into the new stat that highlights the number of occasions a team has entered the opposition's 22 metre area and how many points they have scored with the entries.

Read more >
Will Carling looks into the new stats to determine the defensive strength and structure of teams and map out locations and percentages of dominant tackles to analyse momentum in the gainline area.

Read more >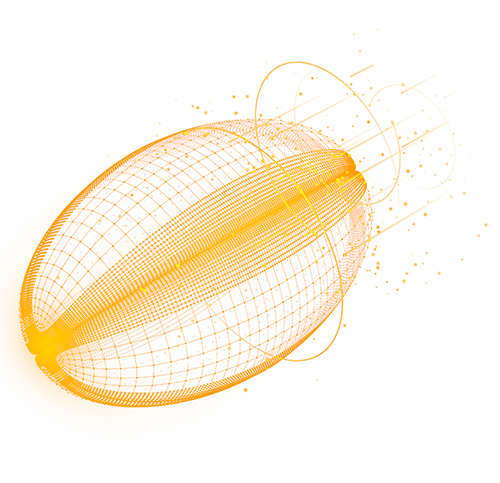 Guinness Six Nations and AWS

First played in 1883 as the Home Nations Championship among England, Ireland, Scotland, and Wales, with the inclusion of France in 1910 and Italy in 2000, the Six Nations Championship is among the oldest surviving rugby traditions and is one of the best attended sporting events in the world. Working with AWS and its partner Stats Perform, Six Nations is adopting new technologies that will help fans better understand the complexities and nuances of decisions made on and off the pitch.