In the news
---
MATCHSTATS POWERED BY AWS
Power Game - Understanding How and Where Games Are Won and Lost

Former England captain Will Carling helps break down each of the new Matchstats powered by AWS in a series of six blogs during the 2020 Guinness Six Nations Rugby Championship.
Matchstats powered by AWS: Power Game - Understanding How and Where Games Are Won and Lost
Former England captain Will Carling helps break down each of the new Matchstats powered by AWS in a series of six blogs during the 2020 Guinness Six Nations Rugby Championship.
The Guinness Six Nations Championship always delivers an exciting set of fixtures. We saw Scotland host France at home at Murrayfield, and we'll have to wait, of course, to see when the Ireland vs Italy game is rescheduled. But the big one for me this weekend was England vs Wales at Twickenham. Despite only one team being in contention for the Championship title, the age-old rivalry meant that it was always going to be a game that delivered high drama.
I'm slightly biased, of course, but I think England have some really special players who can do great things; superstars like captain Owen Farrell, and lock Maro Itoje. The Championship started slowly for England with a loss against France, but since then, the team has quietly been building some strong momentum ahead of the penultimate round of fixtures.
Wales face a different challenge. It's been a tough competition for new head coach, Wayne Pivac, seeing his team pick up just one win and two losses so far.
In this match up, the flow of the game was always going to be interesting. We saw dominance, strength, and power from both teams, but understanding where and how this was exerted is key.

Power Game
One of the new Matchstats powered by AWS that is now available to fans throughout this Championship examines just this. The Power Game determines the direct impact of a team dominating particular action areas, assessing its effectiveness at reaching and getting over the gainline, producing dominant tackles, and creating line breaks. The purpose of this stat is to show where a team is dominant, where a team is lacking, and potentially where the match is being won or lost.
This depth of insights is not something fans have had before. It will enable new fans to understand the crucial parts of the game more easily, and provide the avid fans with a little bit more insight into what's happening on the field. Understanding, for example, when someone has carried the ball 40m in a match and what impact this has made is very interesting; did they break the gain line at all? If not, is that really impressive and does it have any bearing on the ultimate outcome of the game?

England Overpower Wales
In this huge clash, we saw England really control most of the game against Wales.
They did this through an incredible power game in defence. England made 227 tackles with a 92% success rate, but what really set them apart was dominant tackles.
Against Wales, England made 33 dominant tackles compared with Wales' eight – a massive difference and this was crucial as Wales actually spent more time in the opposition 22 metre area than England did in the Welsh 22. This essentially put up a brick wall against the Welsh attack, which includes real power and flair in the likes of wingers George North and Liam Williams, and crash ball carrier Hadleigh Parkes.
Clearly this is an area that Eddie Jones is working on, as we saw a similarly strong defence by the Red Rose against Ireland in round three.
England repeatedly forced Wales into kicking long and for territory, as their attacking play just couldn't punch a hole through or disrupt England's defence.
England also led Wales on line breaks, with six against Wales' five. Anthony Watson, the real standout attacking player with his electric pace and impossibly snappy step, deservedly bagged himself a try off a clever move straight from the training ground.
I believe the stats would almost certainly have landed even more heavily in England's favour were it not for some ill-discipline in the final ten minutes, which left England down to 13 men and saw Wales claw back to 33-30. Notwithstanding, England managed to see off Wales to secure the Triple Crown.
Based on the power on display today, I think England has a real shot at the Championship title.

Powerful Players and Powerful Technology
Technology is powerful because it gives fans data-driven insights into the successful ways to operate and play. Of course, data isn't everything; sport is also about individual brilliance and doing and achieving the unpredictable.
Having said that, being able to understand the ins and outs of the defensive game and the huge hits on display makes me wish that I had access to deep insights like this back when I was still playing. Things were very different back then and yet we're only just starting to scratch the surface of what more advanced technologies like data analytics and machine learning can do for our beloved sport – especially for rugby fans.
There is obvious and understandable disruption to the final games of this Championship, but when the games are played, I hope everyone is as excited as I am for a fitting finale. Yours truly will once again be providing match analysis based on the new Matchstats powered by AWS.

---
About Amazon Web Services
For 13 years, Amazon Web Services has been the world's most comprehensive and broadly adopted cloud platform. AWS offers over 165 fully featured services for compute, storage, databases, networking, analytics, robotics, machine learning and artificial intelligence (AI), Internet of Things (IoT), mobile, security, hybrid, virtual and augmented reality (VR and AR), media, and application development, deployment, and management from 69 Availability Zones (AZs) within 22 geographic regions, with announced plans for 13 more Availability Zones and four more AWS Regions in Indonesia, Italy, South Africa, and Spain. Millions of customers—including the fastest-growing startups, largest enterprises, and leading government agencies—trust AWS to power their infrastructure, become more agile, and lower costs. To learn more about AWS, visit aws.amazon.com.

About Amazon
Amazon is guided by four principles: customer obsession rather than competitor focus, passion for invention, commitment to operational excellence, and long-term thinking. Customer reviews, 1-Click shopping, personalized recommendations, Prime, Fulfillment by Amazon, AWS, Kindle Direct Publishing, Kindle, Fire tablets, Fire TV, Amazon Echo, and Alexa are some of the products and services pioneered by Amazon. For more information, visit amazon.com/about and follow @AmazonNews.

About Guinness Six Nations Rugby Championship
The Six Nations Championship is an annual rugby union competition, held in February and March, between the teams of England, Ireland, Scotland, Wales, France and Italy. This year the Championship celebrates its 20th Anniversary, after Italy joined what was then the Five Nations in 2000. Wales are the current Guinness Six Nations Champions, who won the 2019 Championship with a Grand Slam.
The Guinness Six Nations Championship is broadcast live on the BBC and ITV in the UK, on Virgin Media in Ireland, France 2 in France and DMAX in Italy while NBC in the USA will once again broadcast the Championship on their platforms. The Championship is also broadcast in 172 territories over six continents.
Over 1 million people attend the 15 games of the Championship annually, making it one of the best attended sport events in the world.

---

Sports organizations all over the world are changing the game with technology on AWS

See all sports >
---

Sports organizations all over the world are changing the game with technology on AWS

See all sports >
How Technology is Changing
Our Experience of Rugby

Will Carling discusses how technology provides fans and players with greater understanding into a range of key in-game events and positively evolves the game.

Read more >
Six Nations Graphics
(Visits To 22) Explained

Will Carling dives into the new stat that highlights the number of occasions a team has entered the opposition's 22 metre area and how many points they have scored with the entries.

Read more >
Will Carling looks into the new stats to determine the defensive strength and structure of teams and map out locations and percentages of dominant tackles to analyse momentum in the gainline area.

Read more >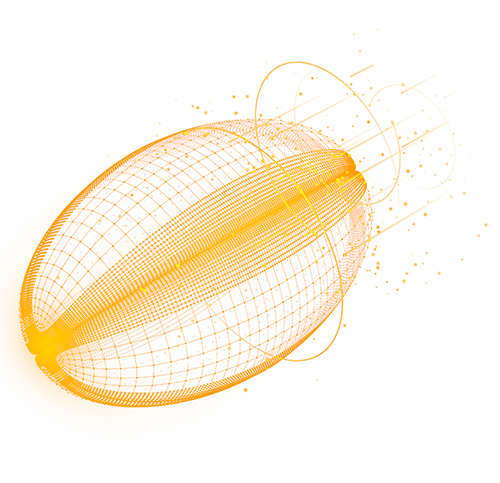 Guinness Six Nations and AWS

First played in 1883 as the Home Nations Championship among England, Ireland, Scotland, and Wales, with the inclusion of France in 1910 and Italy in 2000, the Six Nations Championship is among the oldest surviving rugby traditions and is one of the best attended sporting events in the world. Working with AWS and its partner Stats Perform, Six Nations is adopting new technologies that will help fans better understand the complexities and nuances of decisions made on and off the pitch.