---
Developing innovative educational software is what we do best, and we can spend more time doing that by partnering with AWS and leveraging their broad set of infrastructure services. Our EdTech platform, which is hosted in AWS, provides our clients the best possible experience, which means educators and learners everywhere can be more successful. AWS has enabled us to reach these goals and gives us the ability to grow and evolve our EdTech platform to provide more connected experiences and data driven insights as market needs evolve.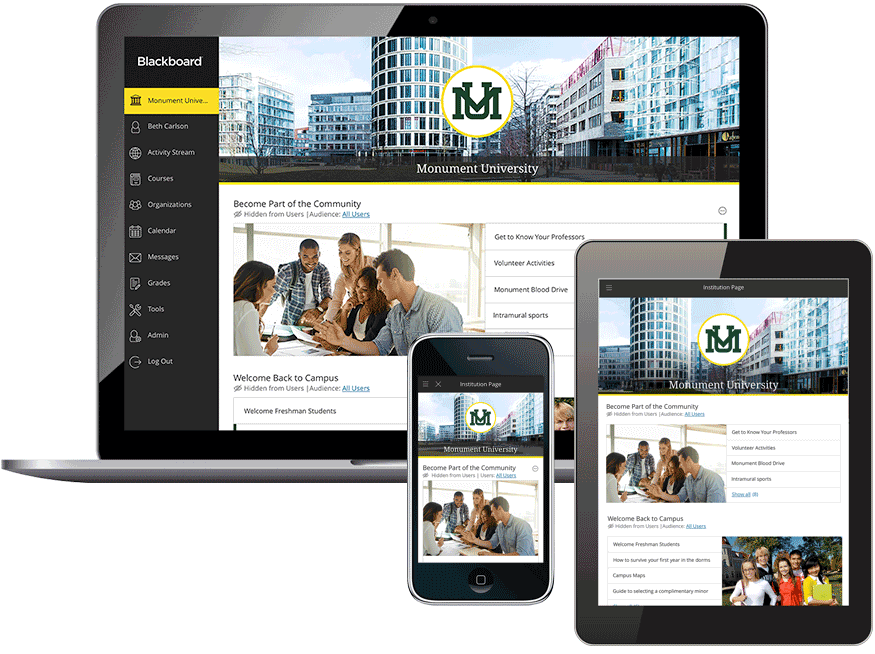 Every day, in thousands of classrooms in every corner of the world—from Shanghai to South Africa—teachers and students depend on Blackboard's EdTech platform to advance education. Whether students are using Blackboard tools to create their own blogs and collaborate on group projects or teachers are using them to lead interactive discussions and guide students through online courses, Blackboard's platform has become an increasingly important part of the instructional landscape.
But as Blackboard's growth skyrocketed—its applications are now used by more than 100 million users across the globe—the company found it more and more difficult to scale its business. That's because the company's most popular applications, including the Blackboard Learn learning-management system, were hosted in more than 30 data centers throughout the world.
"While we were able to provide a great customer experience through the solutions hosted in our own data centers, increases in growth and scale were not easy to manage. We constantly had to purchase and provision new hardware and, in some cases, open new data centers, which all meant long lead times in scaling out solutions." says Reinhold Staudinger, chief architect at Blackboard. "We spent too many resources on hardware maintenance and management, rather than creating value for our clients. We want to continuously improve the quality of service we deliver, steadily reduce costs, and develop and deploy new products faster. Meeting all these goals was only possible by making the leap to the cloud."
As the company tried to determine the best path forward, it also needed to ensure it had the most reliable technology in place. "Teaching and learning on our global EdTech platform happens at any time, and our client community relies on us to provide solutions that are available 24/7," says Staudinger.
To solve these challenges, Blackboard made a bold choice in 2015: to start migrating its enterprise applications to the cloud. "Migrating to the cloud made the most sense," says Staudinger. "We want to focus on delivering excellent educational applications to our customers, not maintaining data centers." The company quickly decided on Amazon Web Services (AWS) as its cloud provider. "We recognized AWS as the leader in cloud technology and that it offered the broadest selection of services," he says. "And AWS and its partners continue to innovate and develop faster than the competition."
Blackboard began its cloud journey by migrating many of its Blackboard Learn clients to AWS, taking advantage of several key services, including Amazon Elastic Compute Cloud (Amazon EC2), Amazon Relational Database Service (Amazon RDS), Amazon Elasticsearch, Amazon Elasticache, and Amazon Lambda. The company subsequently migrated other parts of its EdTech platform using a similar technology footprint. As a result, Blackboard was able to shut down over 20 data centers, reducing to just 9 core global data centers. The migration involved moving thousands of virtual machines and multiple petabytes of data to AWS. "We know AWS will help us grow our business, both from a scale perspective as well by providing new technologies we can adopt over time," says Staudinger.
By running its EdTech platform in the AWS Cloud, Blackboard has the agility to develop new capabilities and features more quickly than it could in its data centers. "Now that we can focus our resources on providing value to our clients and let AWS provide scalable, easy to manage infrastructure, we can develop and launch new capabilities more quickly and easily."
Blackboard is also in a better position to quickly and cost-effectively bring its applications to new markets, thanks to the global reach of AWS. "By relying on the global footprint of AWS and leveraging the expertise and technology of the AWS Cloud, we can move into emerging markets much faster than we ever could before," says Staudinger. "Opening up new data centers in some of the global markets where we're looking to expand is typically a very expensive undertaking. Because AWS is already in many different regions, our cost of entry is much lower. And, by leveraging AWS Availability Zones, we can deliver a high level of reliability and redundancy as we enter each new market."
Because it can lean on AWS to manage its technology infrastructure, Blackboard will not have to worry about building, provisioning, and maintaining data centers on its own and can take advantage of innovations in technology. "In addition to providing a robust infrastructure to power our existing solutions, AWS constantly drives innovation that we can in turn use to further improve our platform," says Staudinger. We are constantly taking advantage of AWS innovations to provide new and improved educational tools to teachers and learners."
Taking advantage of these benefits has allowed Blackboard to focus more tightly on its core mission: to be the education community's partner in a rapidly growing and evolving technology landscape and to help improve the learning experience for people worldwide. "We want to have the most comprehensive, flexible and robust EdTech platform for our clients, so they can accomplish their goals of providing the best teaching and learning experiences possible," says Staudinger. "Utilizing the AWS infrastructure allows us to do that more efficiently and gives us the ability to innovate. Our new analytics offering, Blackboard Data, is a good example where we are leveraging AWS technologies to build a platform that provides data-driven insight across all our solutions and help our clients solve technology problems that would be difficult to solve on their own."