Welcome to the AWS webinar series dedicated to Hong Kong. Get started building your solutions with up-to-date information on Amazon Cloud products and solutions from these webinars.
Our subject matter experts cover wide range of business and technical topics, including artificial intelligence (AI), maching Learning (ML), migration, data anlytics and industry specific solutions. You can also gain insights from our customers and AWS Partner Network (APN) partners from their journey with AWS.
Live Webinars
Join the live Webinar and interact with speakers at Q&A session

Friday, 5 March 2021 | 2:00 - 4:15 pm
Language: English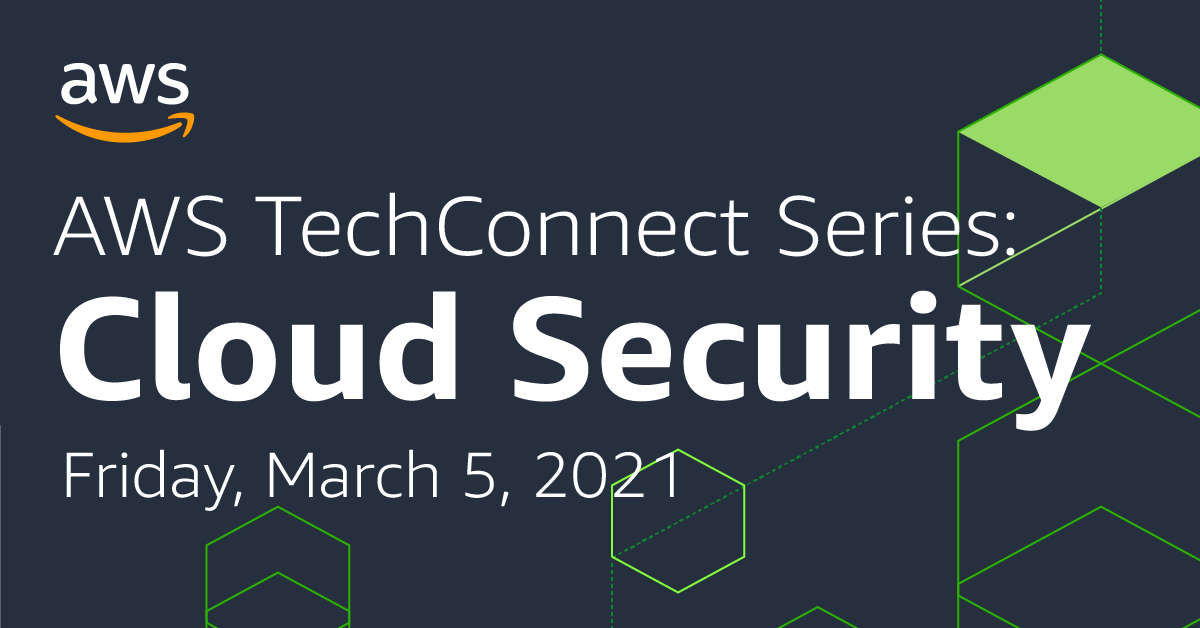 AWS TechConnect Series - Cloud Security
At AWS, security is more than a top priority and a key differentiator. It's baked into the DNA of our services. So you can innovate faster, reduce costs and enjoy other benefits safely and without constant security concerns.
In the next episode of TechConnect, we will explore the basics of cloud security, tackle recurring cloud myths, and learn techniques to better protect data and improve your security posture. With the insight of our partner, Deloitte, the session will also showcase security best practices, demo and share successful AWS customer case studies from engagements across the region and around the world.

Who should join?

CISO, Security Architects, Solutions Architects, Cloud Engineers, Security Engineers

Thursday, 11 March, 2021 | 2:30 - 4:45 pm
Language: Cantonese and English
AWS Retail & eCommerce Web Day
店舖的運作已經適應了「新常態」?開了網店就等於成功數碼轉型?其實現今經營環境瞬息萬變,顧客喜好愈來愈難捉摸,零售商除了要時刻掌握市場需求趨勢,還得緊貼最新科技應用潮流,方能持續改善營運效益,把握先機。即將舉行的 AWS Retail & eCommerce Web Day 網上活動便是你了解2021年零售業趨勢和相關科技應用的最佳機會,你又怎能錯過?
屆時,Amazon Web Services 將聯同合作夥伴與你詳談今年零售業趨勢,剖析 B2B2C 潮流。亦會為你展示如何打造安全高效的智能商店,擁抱新經濟。會上更有專家與你分享推出網上會員計劃的實戰經驗,並助你了解大數據及 AI 等科技如何能追蹤顧客行為喜好,深化線上線下融合(OMO)策略,使你成功吸引顧客及增加忠誠度,提升業績。
Friday, 12 March, 2021 | 2:30 - 3:30 pm
Language: Cantonese
AWS Machine Learning Online Workshop - Amazon Lookout for Metrics
Amazon Lookout for Metrics, a new service that uses machine learning (ML) to detect anomalies in your metrics, helping you proactively monitor the health of your business, diagnose issues, and find opportunities quickly – with no ML experience required.
It can be used across a wide variety of metrics such as revenue, web page views, daily active users, churn rate, transaction volume, mobile app installations, and more.
In this workshop, our Solutions Architect will share various use cases and demonstrate how it works!
Speaker:
Clifford Duke, Solutions Architect, Amazon Web Services
On-demand Webinars
Watch recorded sessions and learn from Q&As at your own pace

Asia Pacific (Hong Kong) Region
Getting Started on AWS

---

---

---

---

Asia Pacific (Hong Kong) Region

---

---

---

---

AWS Hands-on Workshop

AWS Hands-on Workshop

---

AWS 實戰工作坊- 運用機器學習 Amazon Forecast 為企業提供準確預測

Level 200 | Cantonese

Amazon Forecast 是一項利用機器學習 (Machine Learning) 來為企業提供準確預測的服務。這技術可以將企業以往的數據 (例如價格、促銷效果、網上商店訪問量等) 結合起來,並找出它們之間的複雜關係,為企業決策者提供準確預測。此工作坊將深入淺出地講解如何開始設定你的 Amazon Forecast。


---

AWS 實戰工作坊 - Amazon Elasticsearch 簡介

Level 100 | Cantonese

Centralized Logging 是一種 Web服務,幫助企業收集、分析並顯示於AWS賬戶上的紀錄 (logs)。這套解決方案使用了Amazon Elasticsearch Service (Amazon ES),令用家可於簡易的界面上,輕鬆獲取和配置容量。結合 AWS其他服務,此解決方案可為你提供可自定義的多賬戶環境,以開始記錄和分析你的AWS運用狀況。此工作坊將教你如何開始設定Centralized Logging。


---

AWS 實戰工作坊 - 學懂 Amazon RDS 輕鬆掌握受管關聯式資料庫服務

Level 200 | Cantonese

Amazon RDS 是一種受管關聯式資料庫服務,提供六種熟悉的資料庫引擎供您選擇,包括 Amazon Aurora、MySQL、MariaDB、Oracle、Microsoft SQL Server 以及 PostgreSQL。這表示您目前使用的現有資料庫程式碼、應用程式和工具,也可以使用於 Amazon RDS。Amazon RDS 可以處理例行的資料庫任務,例如佈建、修補、備份、恢復、故障偵測和修復。


Featured Webinars

Industry Webinar Series

---

---

---

---

---

---

Migration Journey

Technical Deep Dive

---

---

---

---

---
Sponsor

Level 100
Introductory
Sessions will cover an overview of services, features and benefits with no prerequisites presumed.

Level 200
Intermediate
Sessions will focus on best practices, details of service features and demos or code samples. Assumes introductory knowledge of topic.

Level 300
Advanced
Sessions will dive deeper into service features, lessons learned, deployment and architecture examples. Assumes in-depth understanding of service use cases and AWS platform.

Level 400
Ninja
Sessions will focus on more complex topics such as advanced coding, architecture, infrastructure design and solutions. Deep understanding of subject matter is presumed.

Frequently Asked Questions
Q: How do I join the Webinars?
After you register to the Webinar, you will receive a confirmation email that includes specific join information. You can click on the access link in the email to join the webinar.

Q: Will I get charged?
The Webinar Series is free-of-charge.
Q: Will the Webinars be in Cantonese or English?
Majority of the Webinars are delivered in Cantonese, with presentation slides in English. Details please refer to the description of each Webinar.
Q: Do I have to install any software prior to joining this event?
Yes. When you first join a webinar, GoToWebinar will automatically detect your computer setup and direct you to the best join method. If you are on a compatible Windows or Mac computer, then the software will begin to install as soon as you join. In order to install the GoToWebinar desktop app, you'll need to click through a few windows allowing GoToWebinar permission to access your computer. For mobile access, you will have to install the GoToWebinar application. Unfortunately, dial-in or web browser based experience is not available for Hong Kong.
Q: Is there anything to prepare before the live webinar?
Q: How can I get in touch with the organizer?
Should you have any inquires about the Webinar series, or if you'd like to get in touch for any project discussions, please email us at
aws-hk@amazon.com
.
Start using the AWS Asia Pacific (Hong Kong) Region
Live Chat with AWS Team
We are just one click away to help you with your burning questions.

Contact us
Leave your inquiry and we will get back to you soon!