Developers, start your engines
AWS DeepRacer is the fastest way to get rolling with machine learning, literally. Get hands-on with a fully autonomous 1/18th scale race car driven by reinforcement learning, 3D racing simulator, and global racing league.
AWS DeepRacer League
It's time to race for prizes, glory, and a chance to advance to the AWS DeepRacer Championship Cup at re:Invent 2019 to win the coveted AWS DeepRacer Cup. The 2019 League is under way - get on the track and compete online in the monthly Virtual Circuit races or in-person at Summit Circuit race events worldwide. Check out DeepRacer TV for a look inside the league action so far! Learn more about AWS DeepRacer League »


In pole position to learn reinforcement learning
AWS DeepRacer is a 1/18th scale race car which gives you an interesting and fun way to get started with reinforcement learning (RL). RL is an advanced machine learning (ML) technique which takes a very different approach to training models than other machine learning methods. Its super power is that it learns very complex behaviors without requiring any labeled training data, and can make short term decisions while optimizing for a longer term goal.
With AWS DeepRacer, you now have a way to get hands-on with RL, experiment, and learn through autonomous driving. You can get started with the virtual car and tracks in the cloud-based 3D racing simulator, and for a real-world experience, you can deploy your trained models onto AWS DeepRacer and race your friends, or take part in the global AWS DeepRacer League. Developers, the race is on.

Car
Experience the thrill of the race in the real-world when you deploy your reinforcement learning model onto AWS DeepRacer.
Learn more »

Simulator
Build models in Amazon SageMaker and train, test, and iterate quickly and easily on the track in the AWS DeepRacer 3D racing simulator.
Learn more »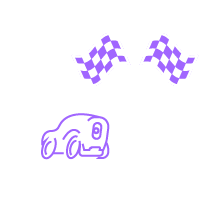 League
Compete in the world's first global, autonomous racing league, to race for prizes and glory and a chance to advance to the Championship Cup.
Learn more »

Get on the track to start learning right away
A new, fun way to learn reinforcement learning
AWS DeepRacer allows developers of all skill levels to get started with reinforcement learning by providing hands-on tutorials to quickly start training RL models and test them in a fun, autonomous car racing experience.

Get started quickly, anywhere
With the AWS DeepRacer console and 3D racing simulator you can start training your model on the virtual track in minutes, wherever you are.

Community and competition
The AWS DeepRacer League provides an opportunity for you to meet fellow machine learning enthusiasts, online and in-person, to share ideas and insights, and to compete in time trials showcasing your skills to win prizes and glory.

Experiment and grow
The AWS DeepRacer 3D racing simulator and car provides an ideal environment where you can test the latest reinforcement learning algorithms and simulation-to-real domain transfer methods.

Built to help you take the lead with RL

Built for reinforcement learning
AWS DeepRacer was designed with reinforcement learning in mind. It gives you an out-of-the-box RL solution including a simple, yet powerful, interface to train and fine-tune models, integrated 3D racing simulation environment, and simple simulation-to-real-world domain transfer capabilities.

Build custom models with Amazon SageMaker
Dive deeper into RL and experiment with Amazon SageMaker to create custom RL models for use with AWS DeepRacer.

Getting started with AWS DeepRacer
Evaluate your model on a simulated race track, tune your reward function and hyperparameters, and train again to improve lap times.

Deploy your model to the AWS DeepRacer to pit your skills against others in real-world racing events.

Real-world racing at 1/18th scale
This is where the rubber meets the road, literally. AWS DeepRacer is an autonomous 1/18th scale race car designed to test RL models by racing on a physical track. Using a camera to view the track and a reinforcement model to control throttle and steering, the car shows how a model trained in a simulated environment can be transferred to the real-world. The combination of console, simulator, and car provides a complete solution to experiment with RL algorithms and generalization methods.
Look under the hood of AWS DeepRacer »
Tracks
Train, test, and iterate quickly and easily
With AWS DeepRacer you do not need to manually set up a software environment, simulator or configure a training environment. AWS DeepRacer offers an integrated simulation environment and reinforcement learning platform hosted on the AWS Cloud for experimentation and optimization of your autonomous racing models.
Under the hood
| | |
| --- | --- |
| CAR | 18th scale 4WD with monster truck chassis |
| CPU | Intel Atom™ Processor |
| MEMORY | 4GB RAM |
| STORAGE | 32GB (expandable) |
| WI-FI | 802.11ac |
| CAMERA | 4 MP camera with MJPEG |
| SOFTWARE | Ubuntu OS 16.04.3 LTS, Intel® OpenVINO™ toolkit, ROS Kinetic |
| DRIVE BATTERY | 7.4V/1100mAh lithium polymer |
| COMPUTE BATTERY | 13600mAh USB-C PD |
| PORTS | 4x USB-A, 1x USB-C, 1x Micro-USB, 1x HDMI |
| SENSORS | Integrated accelerometer and gyroscope |