Reserved Instance Reporting
Manage and monitor your instance reservations
Explore specific AWS services, pricing, tagging, and other information as it applies to your Reserved Instances (RIs).
Assess the reservation Amazon Resource Name (ARN), and the number of reservations and units per reservation.
Quantify your savings by calculating the difference between the public on-demand rates and your charges.
Trace which AWS instances benefit from specific reservations, and learn how to customize your RI discount-sharing preferences.
How it works
Use RI Reporting to set custom RI usage and coverage targets, visualize how well you are tracking toward your goals, and access information associated with your savings compared to on-demand prices.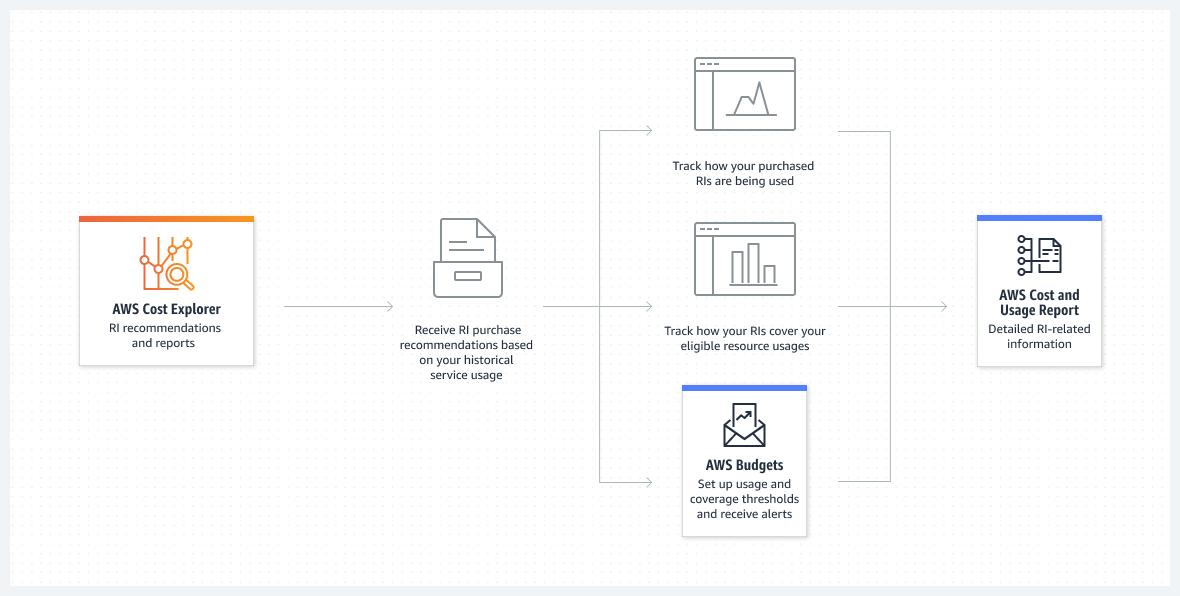 Use cases
Access RI purchase recommendations
Use AWS Cost Explorer to access context-aware recommendations based on your past use and find
potential savings opportunities.
Understand your RIs
Customize AWS Cost and Usage Reports to collect detailed data at the daily and monthly levels.
Receive RI usage and coverage alerts
Specify custom RI usage or coverage targets, and receive alerts when you drop below your defined
threshold.
Get RI purchase recommendations
Monitor your RIs with RI-specific cost management solutions.
Customize your spending plans
Learn how to implement an effective cost allocation strategy.
Explore how to fine-tune costs
Learn how to drive efficient cloud spending and business growth.