AWS Elemental Link is an encoding device that connects a live video source, like a camera or video production equipment, to
AWS Elemental MediaLive
. Link devices offer a configuration-free, cost-efficient way to securely and reliably transfer video to MediaLive for delivery to viewers. To use a device, you simply connect it to power, Ethernet, and a video source. Then you control and monitor your AWS Elemental Link device from anywhere you have access to the AWS Management Console. AWS Elemental Link improves the quality and reliability of your live video streams while reducing the cost and complexity of equipment that you need to operate on-premises.
Benefits
Fast and easy setup
AWS Elemental Link devices are shipped fully configured for your AWS Account. Simply connect the device to power, an IP network, and a 3G-SDI or HDMI video source. Once connected, your Link device starts sending thumbnail images and is available as a source for MediaLive in the AWS Management Console, ready for live streaming.

Manage and monitor devices remotely
With AWS Elemental Link, you control the entire live event workflow using the AWS Management Console. Because you can manage and monitor multiple devices anywhere in the world from a central point of control, you don't need to send technical operators to event sites in order to set up and configure your live streams.

Cost efficient
At a price of $995 USD per device (excluding customs clearance, duty, tax, and shipping), Link provides a broadcast-grade way to connect your on-premises live video source to MediaLive at a fraction of the cost of traditional approaches. With easy set-up and remote management, Link is efficient to own and operate.

Small and portable
Link devices are small and portable, with minimal power and cooling requirements. Silent, fanless operation and nominal heat generation make the devices practical to use in low-noise environments like studios or conference rooms. Link travels wherever you need to connect live video to the cloud.

High video quality
Link devices are designed to maximize the quality of video sent to the cloud and account for the unpredictable nature of network conditions. Devices use an advanced video compression system that continuously adjusts to available bandwidth in order to deliver the best possible video under all network conditions.

How it works
Features
High-quality video
Link devices encode video with high quality per bit using the HEVC (High Efficiency Video Coding) codec, which is up to 50% more efficient than the AVC (Advanced Video Coding) codec.

Reliable video transport
Link devices transport video with high resiliency using the delivery protocol Zixi, which combines content-aware and network-adaptive forward error correction with error recovery, while minimizing latency.

Built-in security
Video encoded with Link devices is encrypted using AES-128 and rotating keys from AWS Key Management Service (AWS KMS). AWS IoT Core handles device authentication and end-to-end security for connecting to AWS Elemental MediaLive.

Adapt automatically to network issues
Link devices use a network-aware adaptive bitrate algorithm, adjusting in real time to changes in network conditions by varying the bitrate of the encoded video. This closed-loop feedback system minimizes packet loss to keep video smooth when network issues occur.

Details
Output: Single video up to 1080p at 60 fps to AWS Elemental MediaLive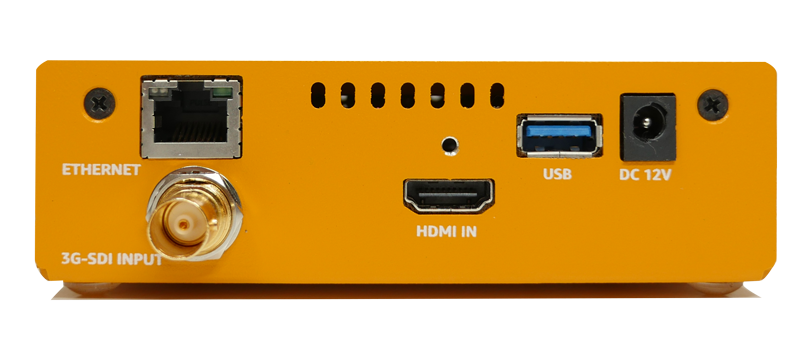 Input: Power source, IP network, and either a single 3G-SDI or HDMI video source
Dimensions (W x H x D): 10.80 cm x 3.81 cm x 12.70 cm (4.25 in x 1.50 in x 5.00 in)

Resources
Videos
Blog posts
Developer Resources
Get started quickly with live streaming and delivering content using a solution that now supports Link.
Get detailed specifications on Link hardware including dimensions, power, and functionality.

---
FAQs
How do I set up AWS Elemental Link on-premises?
Link devices takes a single video input as a source and send a single video output to AWS Elemental MediaLive. Set up requires three connections to begin streaming video to MediaLive: a power source, an IP network, and an SDI or HDMI video source. Link also supports Power over Ethernet (PoE) so you can use as few as two cables. On most networks (ones that use DHCP), no further configuration is needed. Link devices come preconfigured for your AWS Account; once connected, the device begins transferring video thumbnails, can be stopped and started, and is available to use in a MediaLive. Link can go from out-of-the-box to live streaming in less than one minute.

What is AWS Elemental MediaLive?
AWS Elemental MediaLive is a cloud-based live video encoding service that offers fast, reliable, and easy-to-use delivery of high-quality live video streams. MediaLive streamlines live video operations by automating the configuration and management of ingest and encoding components for highly reliable delivery. The service provides broadcast-quality features, configurable capability, and supports industry standard formats and technologies. With the broadcast-grade encoding capabilities of MediaLive, the scale and elasticity of AWS, and the easy setup and management of AWS Elemental Link, you can efficiently deliver live streams to your audiences.

What are some example use cases for Link?
Link devices are great for live event venues, because they reduces the upfront cost of equipment that might only be used periodically. For instance, a house of worship can use Link to live stream services on its website, or an arena can use it to broadcast concerts or sporting events. Link is also ideal for organizations that need to centrally manage a large fleet of devices; for example, by installing Link devices in auditoriums, a university or enterprise can centrally manage broadcast-grade streaming of events across an entire campus. Finally, Link's portability and low cost gives news reporters an easy way to go "on the air" from just about anywhere they need to. All Link devices support high-quality video outputs through an advanced video compression system that continuously adjusts to available bandwidth in order to deliver the best possible video under all network conditions.

Does Link support remote monitoring for my live streams?
Yes, you can monitor live video from Link devices in real time within the MediaLive console. Link generates video thumbnails every few seconds and supports state alert changes through the AWS Management Console and API. This helps you move quickly to identify, troubleshoot, and resolve technical issues.

Can I install Link in a rack-mount configuration?
Link fits into facilities of practically any size and can be installed in any standard equipment rack. The device fits three across on a standard 19 in. rack shelf. Link devices are easy to transport and takes up just a fraction of the space and power of a standard 1U server, making then ideal for flypacks and other types of remote production installations.

Pricing
AWS Elemental Link costs $995 USD per device (excluding customs clearance, duty, tax, and shipping). In addition, MediaLive input pricing applies to your live video.
While the ordering console for Link is only available in the US East (N. Virginia) and US West (Oregon) regions, devices can be associated with any of the
regions where AWS Elemental MediaLive is supported
in order to ingest video. During the order process, you select the region you want a device to be associated with and enter a shipping address.
---