Acuity Facilitates Remote Work Using Amazon WorkSpaces, Increases Operational IT Teams' Productivity 30%
Acuity Knowledge Partners (Acuity), a leading provider of high-value research, analytics, and business intelligence to the financial services sector needs to conduct its operations under a specific set of security protocols to protect its clients' financial data and meet compliance standards. When lockdown orders were issued at the beginning of the COVID-19 pandemic in 2020, Acuity needed to quickly move from an on-premises infrastructure to a cloud solution that could help it meet its compliance and security standards to facilitate remote work. Seeking uninterrupted operations, the company decided to fast-track its desktop virtualization plan that was in development using Amazon Web Services (AWS).

Acuity was able to quickly deploy Amazon WorkSpaces—a fully managed, persistent desktop virtualization service—to meet its security standards and get 1,100 newly remote IT employees back to work within 3 weeks. Since then, the company has facilitated remote work for more of its employees, all while increasing its operational IT teams' efficiency and productivity.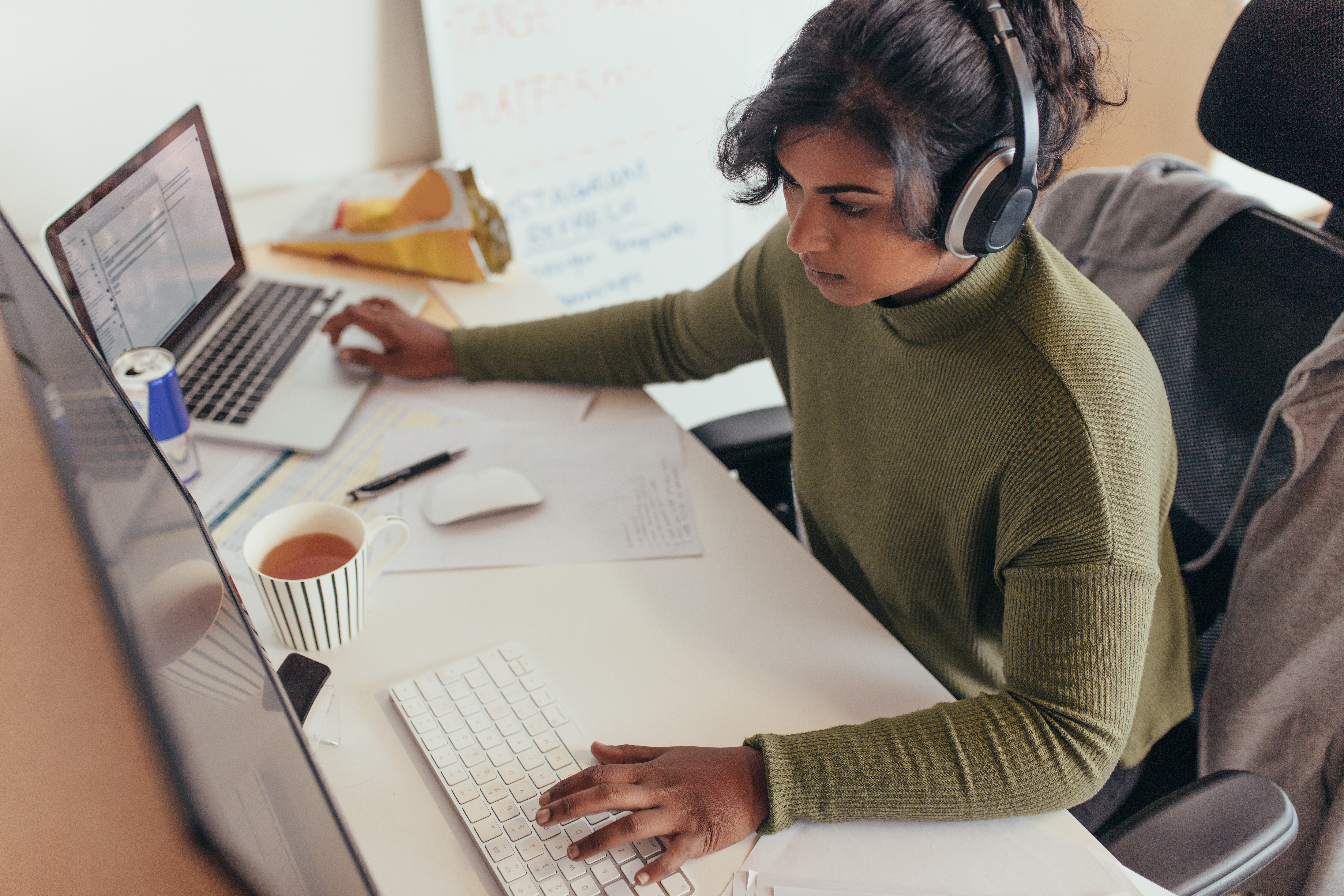 Using Amazon WorkSpaces sped up the process of getting client approval for remote work because AWS was already familiar with the financial industry."

Sridhar Damala
Chief Technology Officer, Acuity Knowledge Partners
Overcoming Hardware-Dependent Barriers to Remote Work
Acuity provides high-value research analytics to banks, hedge funds, Wall Street firms, and other organizations in the financial services sector. Before the COVID-19 pandemic, the company operated using secure hardware that had to be reprovisioned based on the demands of each client project. This dependency on on-premises hardware posed some hindrances to Acuity's growth. The company incurred significant delays associated with provisioning hardware, compounded by the need to maintain infrastructure with security patches and updates.
In November 2019, Acuity started working on virtual desktop infrastructure for a desktop-as-a-service solution using Amazon WorkSpaces and built a proof of concept for its digital transformation. The company had a history of using AWS cloud infrastructure to develop and beta test new Acuity products. The desktop virtualization was originally planned to be implemented over 2–3 years. The COVID-19 pandemic, however, forced Acuity to implement Amazon WorkSpaces much faster than expected—not as part of a larger IT strategy but as its primary mode of operation. The company's transition to remote work was not simple. Because of the extent of the security controls, Acuity's analysts historically were not permitted to work outside the office. "The COVID-19 pandemic changed everything about how we were operating. To seek permission to work remotely, we had to go to each client with a specific set of data security controls in place for how we would protect their information," says Sridhar Damala, chief technology officer of Acuity. "We found that Amazon WorkSpaces had the answers."
Working Remotely and Improving Operational Efficiency Using Amazon WorkSpaces
Amazon WorkSpaces is deployed within an Amazon Virtual Private Cloud (Amazon VPC)—which gives customers complete control over their virtual networking environments—so no user data is stored on local devices. Amazon WorkSpaces also supports two-factor authentication for access to Amazon VPC. By consulting with the AWS Enterprise Support team, Acuity was able to choose solutions for each of its security compliance needs and learn how the infrastructure is managed and secured; as a result, the company could more readily obtain consent from its clients to work remotely. "Using Amazon WorkSpaces sped up the process of getting client approval for remote work because AWS was already familiar with the financial industry," says Damala. "If we hadn't used Amazon WorkSpaces, many of our clients would not have permitted remote working."
Despite the extent and specificity of its software requirements, Acuity was able to start remote operations for 1,100 employees within 3 weeks. "Different business units working with different clients all needed different types of software and access to different internal client-provided applications," says Damala. "But we still were able to spin up hundreds and hundreds of virtual desktops on Amazon WorkSpaces in no time." The applications that Acuity is able to run on virtual desktops through Amazon WorkSpaces range from basic processing tools to Acuity's own suite of digital service solutions and sophisticated modeling software.
By using Amazon WorkSpaces, Acuity has also reduced the IT issues it was experiencing while operating from hardware. "Using Amazon WorkSpaces, we see very, very few IT issues," says Damala. "So IT staff can now concentrate on supporting company growth and enhancing user experience instead of worrying about hardware crashes and physical connectivity problems."
Since the COVID-19 pandemic began, the number of remote IT employees at Acuity has grown from 1,100 to 1,400. These 1,400 employees are now responsible for 40 percent of the company's revenue. Additionally, operational IT teams have increased their efficiency and productivity by 30 percent using Amazon WorkSpaces. Now Acuity is also able to scale its operations with ease. "We used to need 8–12 weeks for onboarding new clients owing to hardware dependencies," says Damala. "Now when clients ask if we can start delivering services the next day, I can answer with a positive yes."
"Amazon WorkSpaces is probably the most important piece of technology we've deployed in the last 18 months. Using it made it possible for us to continue generating revenue and providing services to our customers," says David Fellows, chief digital officer of Acuity. "I would say this is definitely the most important thing we've done to weather the COVID-19 pandemic."

Expanding Digital Transformation on AWS
Acuity is now pushing to expand its business, which has become much simpler to operate since the adoption of Amazon WorkSpaces. "We have over 4,000 employees in the organization, and we want to grow from the 1,400 currently operating on Amazon WorkSpaces to as many as we can," says Fellows. "Amazon WorkSpaces is crucial to our scaling strategy."
Acuity is also looking to extend its desktop-as-a-service solutions to further automate provisioning and deprovisioning and the bundling of services based on the needs of its clients. "We can now—without any lingering doubt—push ahead with implementing the digital transformation strategy on AWS that we had planned before the COVID-19 pandemic," says Damala. "Looking back, we definitely see Amazon WorkSpaces as a great addition."

---
About Acuity Knowledge Partners
Acuity Knowledge Partners provides high-value research, analytics, and business intelligence to the financial sector through a specialist workforce of thousands of analysts and delivery experts across a global delivery network.

Benefits
Facilitated remote work for 1,100 employees in 3 weeks
Expedited company growth
Reduced IT issues
Increased flexibility and scalability
Reduced time to onboard new clients from 8–12 weeks to around 1 day
Grew number of remote IT employees to 1,400 employees responsible for 40% of revenue
Increased efficiency and productivity for operational IT teams by 30%

---
AWS Services Used
Amazon WorkSpaces
Amazon WorkSpaces is a managed, secure Desktop-as-a-Service (DaaS) solution. You can use Amazon WorkSpaces to provision either Windows or Linux desktops in just a few minutes and quickly scale to provide thousands of desktops to workers across the globe.

AWS Virtual Private Cloud
Amazon Virtual Private Cloud (Amazon VPC) is a service that lets you launch AWS resources in a logically isolated virtual network that you define.

---
Get Started
Organizations of all sizes across all industries are transforming their businesses and delivering on their missions every day using AWS. Contact our experts and start your own AWS journey today.