Founded in 2010, Vend is a cloud-based point-of-sale and retail-management software, first launched in New Zealand. Vend's software includes inventory management, e-commerce, customer loyalty, and reporting analytics, and integrates with other business tools including Xero, Deputy, Square, and PayPal. Vend is used by retailers in more than 140 countries and more than 18,000 stores worldwide, with a business focus on Australia, the United Kingdom, and North America.


When we moved to AWS, we could make whatever changes we wanted with minimal cost and no lock-in. This has enabled us to halve our spending on our database infrastructure."

Michael Koziarski
Vice President, Architecture, Vend

The Challenge
Retailers use Vend to streamline all retail-related tasks in one system—from accepting payment cards and gift cards at checkout, to delivering customer-friendly features such as loyalty programs, layaway, returns, and email receipts. Vend also helps businesses manage iniventory across multiple stores, track staff and product performance, and set up and operate online stores.
Vend wanted to employ a state-of-the-art infrastructure to deliver these features to retailers worldwide without investing too much capital. However, the company's experiences with smaller hosting providers fell short of these requirements. "We experienced a number of challenges, one of which is if we had a new project that required us to configure new hardware, we would have to negotiate carefully with our service provider and establish a new inflexible contract for at least a year," says Michael Koziarski, vice president of architecture at Vend. "The process of commencing a new project would take weeks or even months." In addition, the business had to access enough resources to support robust planned growth and expansion into new markets, while maintaining performance and availability at levels required by retail businesses.

Why Amazon Web Services
Vend chose Amazon Web Services (AWS) for two primary reasons. First, AWS's market presence meant that Vend could easily recruit people skilled in using AWS, and the company's existing team was familiar with AWS technologies. Second, Vend researched the range of services provided by AWS and found that AWS services exceeded those of competing cloud-service providers. "We ran some small development workloads on AWS, and this convinced us that migrating to AWS presented the lowest risk and greatest opportunity for our business," says Koziarski.
In August 2015, Vend started migrating to AWS and completed the project in four months. "We had to meet our deadline of completing the migration by Black Friday (the day following Thanksgiving in the United States), which is a peak shopping time. Otherwise we would have had to pause the process and revisit it the following January," says Koziarski. "AWS tools enabled us to migrate our retailers in real time without disruption, and we completed the project well in advance of the deadline."
Koziarski attributed part of this success to automated virtual private networking tools that enabled Vend engineers to connect retailers from the data center of its original hosting provider to the AWS data centers.
Vend also received support from AWS solutions architects, who put the team directly in touch with AWS engineers and programmers. Vend now runs its point-of-sale software in an AWS environment distributed across the US West (N. California) and the US East (N. Virginia) Regions. The environment comprises Amazon Elastic Compute Cloud (Amazon EC2) instances that either run applications directly or as part of a managed cluster through Amazon EC2 Container Service (Amazon ECS). Amazon Simple Storage Service (Amazon S3) provides fast, inexpensive storage for user uploads, backups, and logs. MySQL databases and core storage run in Amazon Relational Database Service (Amazon RDS). Amazon Route 53 provides Domain Name Services, while Amazon Kinesis captures data streams for analysis in an Amazon Redshift data warehouse. Amazon CloudWatch provides monitoring and alerts if Vend's AWS resources or applications experience any problems.
The figure below illustrates Vend's environment in AWS:

The Benefits
Moving to AWS has enabled Vend to obtain flexibility that was not available with its previous hosting provider. The business can now upgrade and downgrade its infrastructure and configuration whenever necessary, whereas previously the process was extremely drawn out. "When we moved to AWS, we could make whatever changes we wanted with minimal cost and no lock-in. This has enabled us to halve our spending on our database infrastructure," says Koziarski.
Koziarski estimates that AWS has enabled Vend to reduce overall infrastructure costs by 40 percent, freeing up funds for business activities such as application development, research, hiring new salespeople and support team members, and adjusting pricing. The business now runs 30 services on AWS.
AWS has also enabled Vend to roughly double the number of sales its retailers process, since the migration was completed without service disruption or degradation of performance. "At no point have we ever had to consider whether AWS would be able to handle our additional volumes," says Koziarski. With AWS, the business has also seen a 40 percent reduction in average latency for customers compared to its previous hosting provider, while availability levels are in line with business requirements at more than 99.9 percent.
The next phase of Vend's AWS project will involve adjusting its capacity to drive expenses down while supporting demand peaks from clients in Australia, North America, and Europe.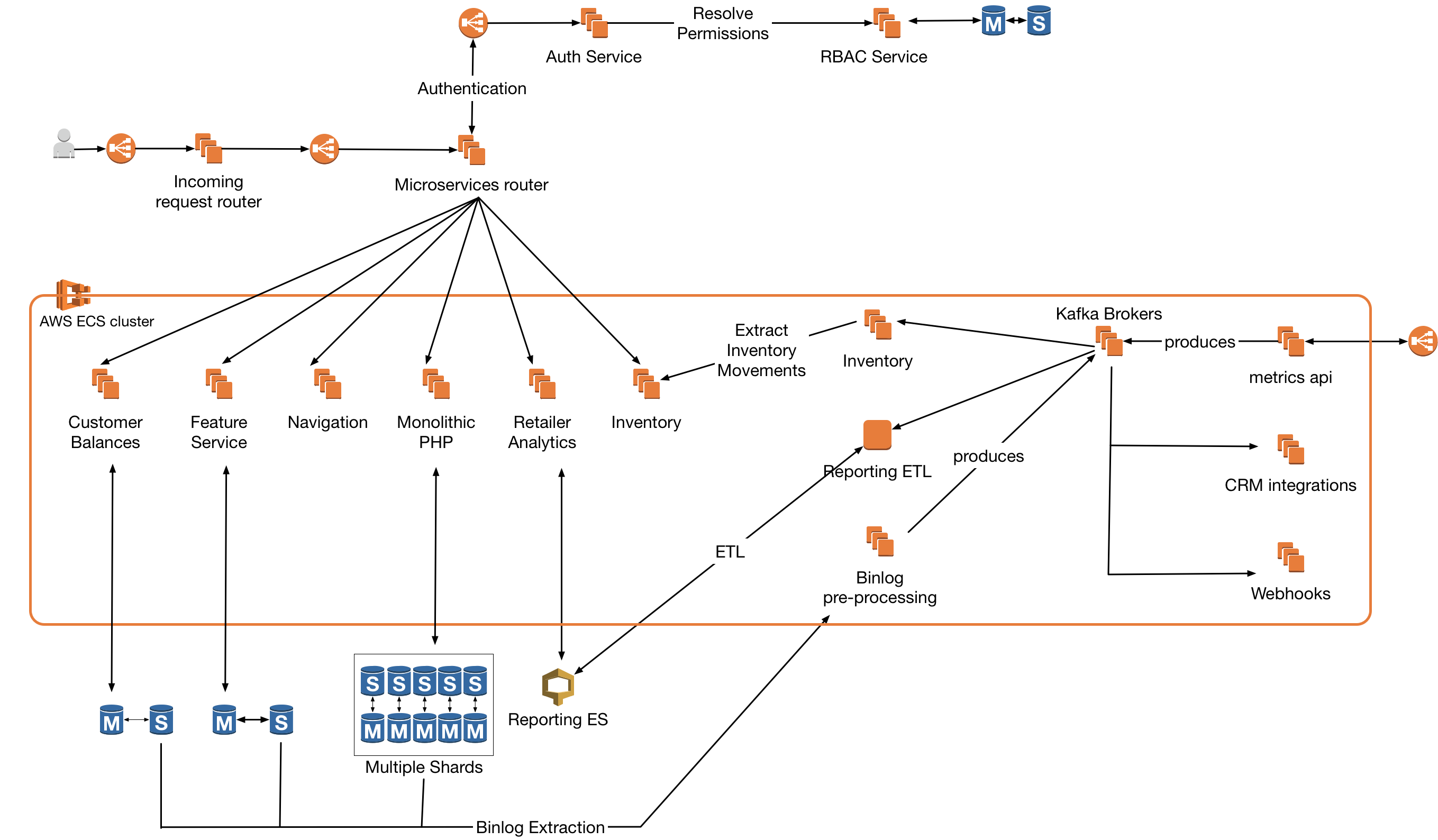 ---
About Vend
Founded in 2010, Vend is a cloud-based point-of-sale and retail-management software, first launched in New Zealand.

---
AWS Services Used
---
Get Started
Companies of all sizes across all industries are transforming their businesses every day using AWS. Contact our experts and start your own AWS Cloud journey today.