AWS and Community Outreach
Making a positive impact around the world with AWS InCommunities
Amazon Web Services (AWS) is committed to making a positive difference around the world. Whether it's using technology to solve the world's most pressing issues, or through our employees donating their time to support causes they care about, AWS is dedicated to building a world where every person has the opportunity to live a life of dignity on a healthy planet.
To make a positive impact, specifically in the regions where we build and operate our global infrastructure, we established a program called AWS InCommunities. AWS InCommunities launches long-term, innovative programs that will have a lasting impact in our regions around the world where we work, live, and raise our families. AWS InCommunities is obsessed with being good neighbors, and we start with the community and work backwards to represent infrastructure communities inside AWS.

How AWS InCommunities is committed to making a difference
There are four pillars that anchor the work of AWS InCommunities. All programs align to these four pillars: STEAM Education, Access, and Equity; Local Tech Upskilling, Environmental Stewardship; Employee Engagement.
To make a long-term impact in the communities where AWS builds infrastructure, the four pillars direct how we make a difference.
Global Signature Programs
AWS is dedicated to inspiring future builders, especially those from underrepresented and underserved communities who reside in areas where we have a physical presence. Through our Signature Programs, we help increase thousands of students' access to STEAM education opportunities in fun and imaginative ways. We are intentional about adding the "A" to "STEM" because we know that the arts help build future-ready students who develop into well-rounded and creative problem solvers.
AWS Tech Week
Tech Week is a global initiative that inspires employees to participate in and lead tech-related community events. Options range from mapathons to identify locations for disaster relief efforts, to sessions on STEAM and cloud careers in schools, and other service activities.
Girls' Tech Day
Our Girls' Tech Days emphasize STEAM for school-age girls and young women. Designed to inspire future builders, these workshops showcase tech careers and women in the technology workforce, and introduce girls to STEAM.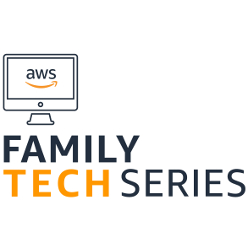 Family Tech Day
AWS Family Tech Series is a program that seeks to inspire future builders and engage with their families in a fun and educational way throughout the year. Families and communities around the world are invited to discover and play with the latest tech concepts, learn from technology subject matter experts, and learn more about cloud computing, and career paths in technology.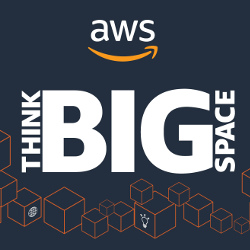 Think Big Space
AWS Think Big Spaces provide a place beyond the standard classroom for students to explore and cultivate an interest in STEAM and STEAM related careers. These labs encourage a hands-on approach where students think big to solve real-world problems.
Recent events
Below are some examples of how we are making a positive impact around the world.

---
Virtual Volunteering Around the World
Volunteers are contributing their time and knowledge to helping those in need through our Virtual Volunteering initiative.

Activities include keeping people with visual challenges engaged, learning sign language to become more inclusive, creating recordings of storybooks for educational purposes, and creating artwork to inspire older adults.
---
Earth Day - Ohio
In honor of Earth Day, AWS InCommunities sponsored Seeds of Caring's Earth Day Celebration event at the Ohio History Center. Ohio volunteers welcomed over 500 families to teach the youth how to be kind to the physical world we all share. Together, we created hundreds of reusable snake bags, bird seed feeders, sleep mats for the unhoused, seed balls, and litter kits. The youth participated in scavenger hunts, reflection crafts, worm composting, and seed planting. Watch the video here to catch all the fun.

---
AWS Think Big Space Launch - Dublin
The AWS Think Big Space is an educational lab located beside the Tallaght Luas stop, which aims to inspire an interest in Science, Technology, Engineering, Arts, and Math. It provides a dedicated space for students, educators, and communities to explore innovative and imaginative ideas through interactive hands-on technical education. AWS has opened AWS Think Big Spaces across the world, however, this is the first to launch in Europe.
South Dublin Libraries and AWS will host an innovative program of events in the AWS Think Big Space, starting this month. Events will take place every month and feature Creative Hut Lego Robotics workshops and Virtual Reality (VR) workshops.
The VR workshops will introduce students to the technology behind VR and also provide a chance to see VR in action. In the Creative Hut Robotics workshops, students will have the opportunity to collaborate and create amazing robots, take on challenges, and get an introduction to robotics technology. Students and teachers will be encouraged to "Think Big" by using their creativity and imagination as they explore the technologies on offer. The program will support interactive hands-on learning and will be available for classes 4 to 6 primary school groups, and years 1 to 4 secondary school groups.
---
Necessities Drive – Indonesia
AWS volunteers collaborated with Human Initiative to organize groceries and food for communities in the vicinity of our data center locations. Over the course of two weeks, we distributed hundreds of grocery packages and thousands of meal boxes in 30 locations. The majority of the packages were given to poor and needy families who are still facing the negative impacts of the pandemic and are struggling to fulfill their daily needs. Volunteers and the Indonesia operations team collaboratively organized the charity event in a local orphanage, Yayasan Sabilul Hidayah.

---
Ambassador Spotlight - Oregon
Tyler is on the decommissioning team in Oregon. Outside of work, he likes playing disc golf, snowboarding, fishing, camping, riding dirt bikes, and spending time with friends and family, as well as his dogs. Since starting with AWS, Tyler has volunteered in many events, successfully coordinating one that provided hygiene products to underprivileged children. Most of his volunteer work has been done for the Boardman Food Pantry, where Tyler and the team stock boxes full of food and distribute them to those in need within the community.
Seeing the AWS InCommunities program and the impact it's made inspired him to join and volunteer as many hours as he can each month. When asked how he makes time to give back, Tyler responds thus: "I'm incredibly fortunate to work for a company that allows and encourages me to volunteer and spend this much time with my community. I have a fantastic relationship with my team, leads, and manager that makes for great communication when planning on participating in volunteering events."

More ways AWS is giving back
Learn more about AWS InCommunities programs around the world