Additional EC2 Support for Windows – Second Zone in the US and Two Zones in Europe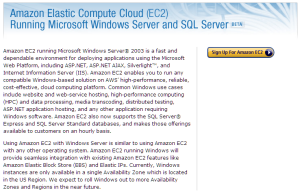 We've been working to make it possible for you to run Windows or SQL Server in additional locations and to build highly available applications.
You now have the ability to launch EC2 running Windows or SQL Server in the EU-West region, in two separate Availability Zones. You can also launch EC2 running Windows or SQL Server in a second Availability Zone in the US-East region. With the additional of the new European region and the additional US zone you now have the tools needed to build Windows-based applications that are resilient against failure of an availability zone.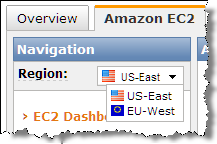 The AWS Management Console has been updated with full support for the EU-West region. After selecting the new region from the handy dropdown (shown at right), you can launch EC2 instances, create, attach and destroy EBS volumes, manage Elastic IP addresses, and more.
We've created new Windows AMIs with the French, German, Italian, and Spanish language packages installed. The Console even provides a new Language menu in the quick start list. Once launched, you simply set the locale in the Windows Control Panel. You can find step by step directions for launching AMIs in various languages here.

The popular ElasticFox tool now lets you tag running instances, EBS volumes, and EBS snapshots. The Image and Instance views have been assigned to distinct tabs and you can now specify a binary (non-text) file as instance data at launch time.

While I'm talking about all things European, I should mention two other items that may be of interest to you. First, Amazon CTO Werner Vogels will deliver a keynote at the Cebit conference in Germany later this week. Second, we have an opening in Luxembourg for an AWS Sales Representative.

— Jeff;
Modified 12/28/2021 – In an effort to ensure a great experience, expired links in this post have been updated or removed from the original post.