Amazon Second Life Job Fair – July 14, 2009
The very first Amazon Job Fair in Second Life will take place on Tuesday July 14th and will run from 6 AM to Midnight, PST.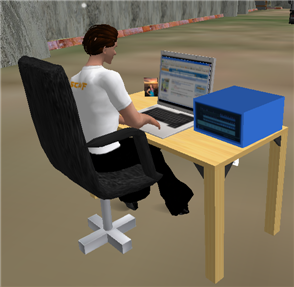 This free event is a unique opportunity for candidates to have direct access to hiring managers and recruiters from around the world. Amazon is looking for all levels of technical and non-technical candidates from hands-on engineers to program managers and game-changing principal architects. Visit our career site to see the open positions and then make plans to join us in-world.
We'll be doing first-round virtual interviews (the equivalent of a phone screen) for real-world jobs.
The Job Fair will take place on the Amazon Developers 2 island. You will need to create an avatar and then download the client in order to attend. You may also want to spend some time with the Second Life Quickstart Guide a day or so before the fair.
We'll be giving away some cool virtual goods including Amazon.com T-Shirts, Door Desks, and a high-performance aircraft. The island is open now so feel free to stop by and take a look around. We have a dog-friendly environment so don't be surprised if you see a pixelated puppy or two wandering around.
As you may have noted above, the Second Life client and the Quickstart guide are both served up from Amazon S3. The Snowglobe version of the Second Life client downloads its map tiles from S3 and the Second Life Map uses a combination of Amazon CloudFront and S3.
Decisions at Amazon are always driven by data, so I built a metrics and statistics package in anticipation of the event. A number of sensors use code written in LSL to relay events (via HTTP) to an Amazon EC2 server. There, some PHP code picks up the raw data and stores it in a set of Amazon SimpleDB domains for analysis. I plan to write an article about this in the near future, so stay tuned.
I hope to see you there. My avatar's name is Jeffronius Batra.
— Jeff;
PS – Yes, that is an Altair 8800 on my door desk! I actually bought, assembled, and programmed one of these in 1976 (yes, I am that old).