AWS Import/Export Now Supports Amazon EBS
I am very excited to announce support for importing data into Amazon Elastic Block Store (EBS) using AWS Import/Export. Until now, AWS Import/Export allowed you to move large amounts of data into and out of Amazon S3 using portable storage devices by using Amazons high-speed internal network and bypassing the Internet. All you have to do is load up the data on an eSATA or USB drive and ship it to us.
Now, AWS Import/Export supports importing data directly into Amazon EBS snapshots. Once loaded into an Amazon EBS snapshot, you can create a volume based on that snapshot and attach it to an Amazon EC2 instance, or you can share that snapshot with others. The process is very simple: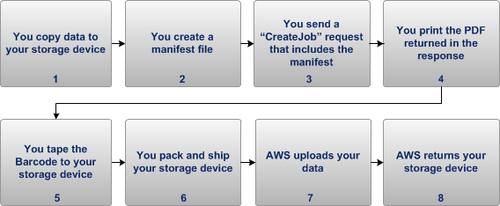 If you have large amounts of data to load and an Internet connection with limited bandwidth, the time required to prepare and ship a portable storage device to AWS can be a small percentage of the time it would take to transfer your data over the internet. If loading your data over the Internet would take more than a few days, you should consider using AWS Import/Export.
– Jinesh