AWS Multi-Factor Authentication In Action!
I love to speak to user groups because there's little time pressure and plenty of time to engage with the audience.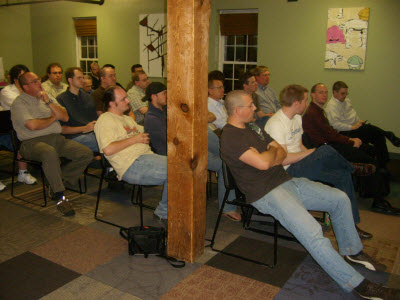 As part of last week's very pleasant trip to Iowa, I spoke to the CIALUG (Central Iowa Linux User's Group).We met in a very cool coworking space called the Impromptu Studio. The audience wasn't shy about asking me questions and as a result we carried on for nearly 3 hours.
About halfway through I wanted to show the group how easy it was to launch an EC2 instance, create an EBS volume from a Public Data Set, attach it to the instance, and then access the data. I instantiated a copy of the 2000 US Census and showed the group some data that had been collected in Iowa.
As I was logging in to the AWS Management Console, my fingers were moving faster than my brain and I managed to type part of my password in to the email address field. The audience was concerned that I had given out a secret, but I wasn't concerned!
I told them that this wasn't a big deal, and then explained our new Multi-Factor Authentication feature to them. I fixed my password, entered the code shown on the authentication device, and logged in without further incident!
The authentication devices are inexpensive, compact, and easy to use. You should consider using one to add another layer of protection to your AWS account.
— Jeff;
Modified 10/28/2020 – In an effort to ensure a great experience, expired links in this post have been updated or removed from the original post.