AWS Start-Up Challenge Goes Global for 2010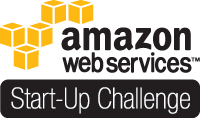 We're ready to start accepting entries for the AWS Start-Up Challenge 2010!
Each year we run the challenge to help young, promising start-ups get noticed and to compete for $100,000 (USD) in cash and credits (full prize list).
We've made some important changes this year:
We can now accept applications from 22 countries across the Americas, Europe, and Asia.
We'll now recognize five regional semi-finalists from each of the three regions, at least six finalists, and one global grand prize winner.
Start-ups must be currently using or in the process of using one or more of the Amazon Web Services. We will now accept entries from start-ups that have yet to launch.
We will be looking for applications which can grow into significant, meaningful businesses over time. We will look for implementation and integration of AWS services, originality and creativity, likelihood of long-term success and scalability, and overall effectiveness in addressing a need in the marketplace. Full information on the contest can be found here.
Previous winners include Good Data (2009), Yieldex (2008), and Ooyala (2007).
— Jeff;
PS: Several of you have asked why the Start-Up Challenge isnt available world-wide. It turns out that the rules and regulations governing competitions vary widely from country to country so this isnt as simple as it sounds. The list of eligible countries has grown from one (2007) to four (2009) and now to 22. Well do our best to expand the list in the future.