EC2 and Wowza Media Support Belgium's Largest Live Streaming Event
Imagine if you need to prepare the internet infrastructure needed to support a live event that:
Will host a streaming video,
Will start at a time that you can't control,
Will be of an unknown duration,
May attract a worldwide audience, and
Happens once in a blue moon.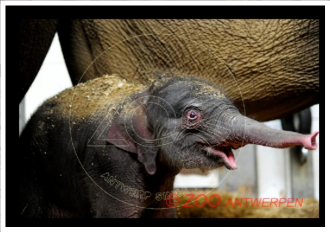 You can't buy the infrastructure, since you'll need it just once. Even then you wouldn't know how much to get. Traditional hosting would require you to make a long term commitment and you still wouldn't know how much to reserve. Cloud computing, once again, turns out to solve these problems and to enable hundreds of thousands of people to witness a relatively rare event — the birth of an elephant in captivity!
On May 16th and 17th, over 350,000 unique visitors were able to watch the birth of Kai-Mook, the first elephant ever born at the Antwerp Zoo in Belgium. This amazing event was streamed live from a number of Amazon EC2 servers running the Wowza Media Server Pro product.
The statistics for this event were themselves elephantine! In advance of the event, about 50,000 people registered to receive an SMS alert when the birth was immminent. When the alert went out, the system scaled up quickly and was soon streaming live video to over 30,000 concurrent users, helped by some good media coverage including a BBC article. The users watched for an average of 1 hour and 35 minutes and the live event lasted for a total of 42 hours. Behind the scenes, 170 EC2 Large instances handled the streaming.
Note: The original version of the preceding paragraph claimed that the event pumped out 34 Gbps (gigabits per second) of data. It turns out that this was an optimistic and somewhat fuzzy estimate.
Videos, photos, and more are available at the Baby-Oliphant site, developed by interactive agency Boondoggle. CDN provider Rambla used a combination of AWS and their own infrastructure for this project. The original video is here. There's also a Flickr Photostream. Naturally enough, there's also a Kai-Mook blog and a complete genealogy. Weighing in at 80 kilograms, Kai-Mook has 12 siblings on his father's side and 3 more on his mother's.
As you can see, EC2 and Wowza Media Server Pro were able to support this event in fine style. Billing for the Wowza product is handled through Amazon DevPay so they didn't have to pay an arm and a leg (or a trunk?) for an excessive number of software licenses to support this unique event.
— Jeff;
Modified 1/27/2021 – In an effort to ensure a great experience, expired links in this post have been updated or removed from the original post.