Live Oracle Webcast and Virtual Lab – Powered by AWS
On Wednesday, May 27th at 8:00 AM PST, the Oracle Technology Network will conduct a Virtual Developer Day. Developers will learn how Cloud Development Environments can help enterprise Java developers create Java and Rich Enterprise Applications without having to download, install, or configure a development environment on their machine.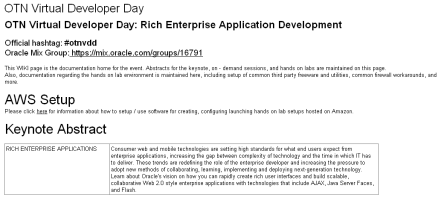 Attendees will receive technical training on Eclipse, Java caching, Java application servers, JPA, Java Server Faces, Portal technology, and more.
After the live video keynote from Oracle Senior Vice Presidents Steve Harris and Ted Farrell, attendees will have access to their own pre-configured lab environment running on Amazon EC2 in four hands-on labs. Attendees will also have access to a large library of prerecorded content.
If you'd like to attend you have to register ahead of time, and you also need to create an AWS developer account. Both are free.
During the event you will have access to a variety of social networking tools so that you can connect with the other attendees. Afterward, you will have the opportunity to pay for continued access to the EC2 environment.
— Jeff;
Modified 2/9/2021 – In an effort to ensure a great experience, expired links in this post have been updated or removed from the original post.