More Choices – All backed by Amazon S3
It is always great to have more choices: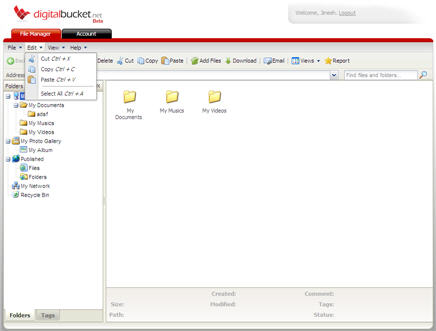 DigitalBucket – Your Windows Explorer On the Web
DigitalBucket is now Live – really cool windows-explorer-style online file management, sharing and publishing backed by Amazon S3. Users can sign up for an account with 1GB storage and 3GB bandwidth for free.
Greg Hacobian, one of the developers, in his own words:
AWS gave us the opportunity to start a business on top of S3 without worrying about buying Terabytes of storage. Running this kind of business in the past was impossible without raising funds from venture capitals. Now, digitalbucket.net is privately funded and has 2 employees. It was like dream come true when we were first introduced to S3. The opportunities are endless with AWS.
What I liked about digitalbucket was its intuitive UI and its Windows-Explorer-Look-and-Feel that has zero-learning curve for any windows users. Its packed with AJAX, optimized by JSON, built on ASP.NET with MS SQL Server to store user metadata and relationships and uses Amazon S3 as primary storage for files. It has all the features that you can imagine – rename, move, copy, share, publish, view videos, slideshows, subscribe to RSS feeds, edit office documents online (aha!), zipping and more. It also has a "Sub Accounts" feature – great for startups and small business firms where employees can share documents in one master "company account".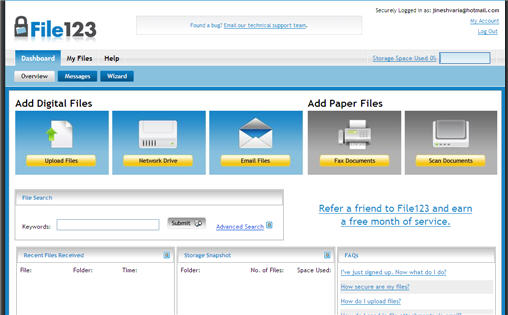 File123 – Fax-in, Email-in, Scan-in your files to appear online automatically
Users can simply choose to email their files as attachments to specified email address or choose to fax their documents to 888 number or install a small utility and choose to scan and upload files with one click. All the files then appear automatically in their own online secure storage vault. Of course they can also upload digital files manually, manage and share documents using the online file manager too. It automatically gets indexed for searching. All documents are stored on Amazon S3.
Matt Dusig, one of the co-founders, File123 says:
You can store tax returns, wills, business leases, insurance claims, auto registrations, contracts, pay stubs, bills, receipts and other documents you deem important. You can also backup all your digital photos or video files. File123 makes organizing and backing up your life easy.
Users can also sign up for an File123 account with different plans (inlcuding free 1GB storage plan).
— Jinesh