Multi-Tiered Storage: Drobo + SSD + The AWS Storage Gateway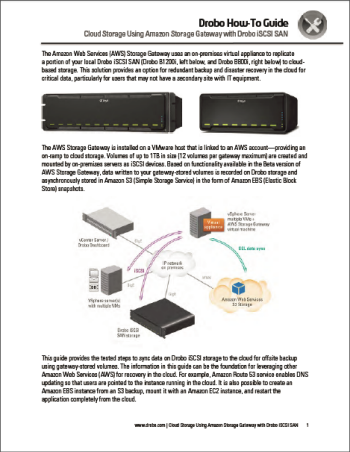 My friends over at Drobo recently let me know about a pair of additions to their product lineup. Taken together, they give you a lot of additional data storage, backup, and retrieval flexibility.
If you don't know, a Drobo is a local storage box designed for small and medium businesses that often don't have a lot of local IT support. You can add additional storage capacity to a Drobo by simply inserting a new hard drive or replacing the smallest existing one. The Drobo device automatically mirrors, stripes, and re-replicates data in response to changing conditions.
They recently added support for Solid State Drives (SSD) to speed up access to transactional data, with automatic, data-aware tiering to manage data locations for optimal performance.
They have also published a very nice step-by-step guide to allow you to back up critical data to Amazon S3 by way of the AWS Storage Gateway. Since the typical Drobo stores many terabytes of data, you can choose the volumes that you would like to send to the cloud.
Learn more about how to use Drobo and the AWS Storage Gateway together, or watch this video to learn more:
Once the data is stored in S3, you can create Elastic Block Store (EBS) volumes, attach them to EC2 instances, and do cloud-based data processing and disaster recovery (see our disaster recover page for more information on how our customers are doing).
— Jeff;