Up, Up, and Away – Cloud Computing Reaches for the Sky
Early this morning we launched a brand new cloud computing service. This revolutionary new technology will change the way you think about the cloud.
For a while the cloud was simply a metaphor meaning "a bunch of computers somewhere else." Until now, somewhere else meant good old terra firma, the Earth itself. After extensive customer research we found that this rigid, antiquated way of thinking just won't cut it in today's post-capitalist world. They need locational flexibility, the ability to literally instantiate a cloud where they need it, when they need it.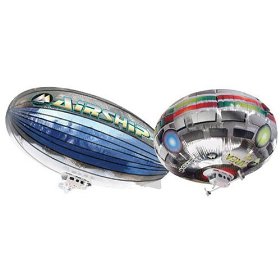 To solve this problem, we have designed and are now introducing the Floating Amazon Cloud Environment, or FACE for short. Using the latest in airship technology, we've created a cloud that can come to you.
The FACE uses durable, unmanned helium-filled blimps with a capacity of 65,536 small EC2 instances, or a proportionate number of larger instances. The top of each blimp is coated in polycrystalline solar cells which supply approximately 40% of the power needed by the servers and the on-board navigation, communication, and defense systems. The remainder of the power is produced by clean, efficient solid oxide fuel cells. There's enough fuel onboard to last about a month under normal operating conditions. Waste heat from the fuel cells and from the servers is used to generate additional lift.
There are two options for ground communication, WiMAX and laser. The WiMAX option provides low latency and respectable bandwidth. If you have the ground facility and the line of sight access needed to support it, lasers are the way to go. The on-board laser doubles as a defense facility, keeping each FACE safe from harm. Using automated target detectors with human confirmation via the Mechanical Turk, competitors won't have a chance.
Update: Based on popular demand, we will also implement RFC 1149.
FACE can operated in shared or dedicated mode. In dedicated mode, the FACE does its best to remain at a fixed position. In shared mode, each FACE constantly optimizes its position to provide the best possible service to everyone. As always, this amazing functionality is available via the EC2 API (You'll need the new 2009-04-01 WSDL), the command line tools, and the AWS Console.
Derivative funds and large government-subsidized entities will be especially interested in FACEs transmodal operation. They can allocate a dedicated FACE, load it up with data, and then send it out to sea to perform advanced processing in safety. The government will have absolutely no chance of acting against them, because they will be too busy trying to decide which Federal Air Regulation (FAR) was violated, not to mention scheduling news conferences.
We believe that the FACE will be the perfect solution for LAN parties, tech conferences, and large-scale sporting events.
Availability is limited and this may be a one-time, perhaps even a one-day offer. Get your FACE now.
— Jeff;