New – EC2 Spot Instance Termination Notices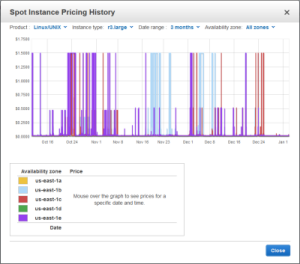 When potential users of AWS ask me about ways that it differs from their existing on-premises systems, I like to tell them about EC2 Spot Instances and the EC2 Spot Market. When they learn that they can submit bids for spare EC2 instances at the price of their choice, their eyes widen and they start to think about the ways that they can put this unique, powerful, and economical feature to use in their own applications.
Before we dive in, let's review the life cycle of a Spot Instance:
You (or an application running on your behalf) submits a bid to run a desired number of EC2 instances of a particular type. The bid includes the price that you are willing to pay to use the instance for an hour.
When your bid price exceeds the current Spot price (which varies based on supply and demand), your instances are run.
When the current Spot price rises above your bid price, the Spot instance is reclaimed by AWS so that it can be given to another customer.
New Spot Instance Termination Notice
Today we are improving the reclamation process with the addition of a two-minute warning, formally known as a Spot Instance Termination Notice. Your application can use this time to save its state, upload final log files, or remove itself from an Elastic Load Balancer. This change will allow more types of applications to benefit from the scale and low price of Spot Instances.
The Termination Notice is accessible to code running on the instance via the instance's metadata at http://169.254.169.254/latest/meta-data/spot/termination-time. This field will become available when the instance has been marked for termination (step 3, above), and will contain the time when a shutdown signal will be sent to the instance's operating system. At that time, the Spot Instance Request's bid status will be set to marked-for-termination. The bid status is accessible via the DescribeSpotInstanceRequests API for use by programs that manage Spot bids and instances.
We recommend that interested applications poll for the termination notice at five-second intervals. This will give the application almost two full minutes to complete any desired processing before it is reclaimed. Here's a timeline to help you to understand the termination process (the "+" indicates a time relative to the start of the timeline):
+00:00 – Your Spot instance is marked for termination because the current Spot price has risen above the bid price. The bid status of your Spot Instance Request is set to marked-for-termination and the /spot/termination-time metadata is set to a time precisely two minutes in the future.
Between +00:00 and +00:05 – Your instance (assuming that it is polling at five-second intervals) learns that it is scheduled for termination.
Between +00:05 and +02:00 – Your application makes all necessary preparation for shutdown. It can checkpoint work in progress, upload final log files, and remove itself from an Elastic Load Balancer.
+02:00 – The instance's operating system will be told to shut down and the bid status will be set to instance-terminated-by-price (be sure to read the documentation on Tracking Spot Requests with Bid Status Codes before writing code that depends on the values in this field).
Spot Instances in Action
Many AWS customers are making great use of Spot Instances and I'd like to encourage you to do the same! Here are a couple of examples:
Available Now
This feature is available now and you can start using it today! There is no charge for the HTTP requests that you will use to retrieve the instance metadata or for the calls to the DescribeSpotInstanceRequests API.
— Jeff;